Andrew Murray, close adviser to Jeremy Corbyn, reportedly offered advice on stopping investigation into Max Tasker using his Unite union e-mail address instead of his official Labour account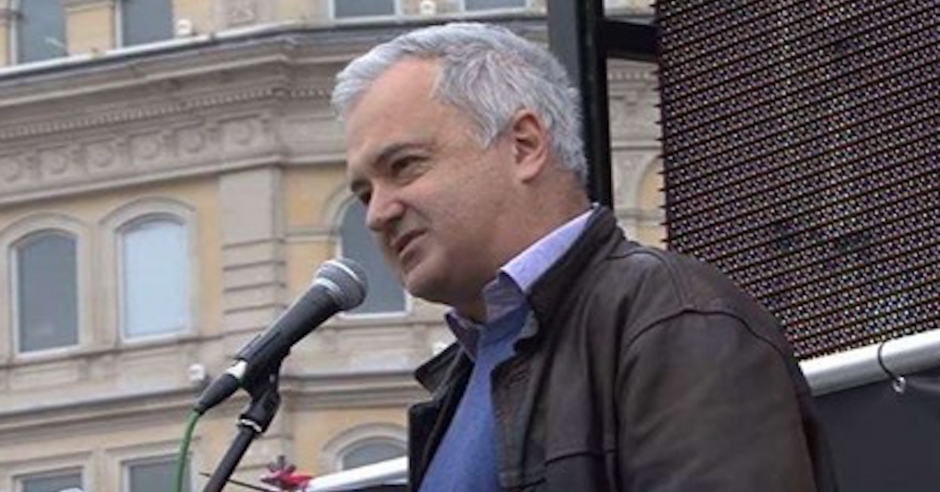 Andrew Murray, a close adviser to Jeremy Corbyn and Chief of Staff to the Unite union, reportedly offered advice on stopping the investigation into Labour activist, Max Tasker, using his e-mail address belonging to the Unite union, meaning that his message was not sent through the Labour Party's e-mail system.
The e-mail, obtained by the JC, exposed Mr Murray intervening in a case in which Mr Tasker, who is listed as a councillor for Welsh Labour on Bay of Colwyn Town Council and a member of the antisemitism denial group, the sham Jewish Voice For Labour (JVL), faced suspension after denying that an antisemitic mural defended by Jeremy Corbyn was in fact antisemitic.
Between 24th September 2014 and 13th October 2014, Mr Tasker posted YouTube videos to his Facebook page with the titles: "Is ISIS good for the Jews?", "The whole story of Zionist conspiracy: the filthy history of pedophilia, murder and bigotry", "Not for the immature! Zionist Antichrist will rule the [New World Order]" and "Ukraine's anti-Russian stance is a Zionist masterplan — Sheikh Imran Hosein."
In September 2017, Mr Tasker contacted Campaign Against Antisemitism and told us that he watched the YouTube videos that he posted to his Facebook page in order to "understand what was behind all these Jewish/Zionist conspiracy theories". However he did not explain why in addition to watching the videos, he also posted them without comment, nor did he explain his other comments. He also told us that: "My beef is with the policies of Israel's government due to its breaking of international law and human rights abuses, and not in any way with Jews".
The e-mail revealed by the JC was sent to Mr Murray's daughter, Laura, as well as Karie Murphy, Mr Corbyn's Chief of Staff and Seumas Milne, Labour's Director of Communications and Strategy. Ms Murray is the disgraced senior parliamentary aide to Mr Corbyn who was formally appointed to lead the Labour Party's disciplinary process. She was exposed for intervening to prevent the suspension of alleged antisemite Pat Sheerin from the Labour Party. In leaked e-mails, she said that she intervened on behalf of Mr Corbyn himself.
Mr Murray was reportedly "not sure" about a decision reached by staffer Sam Matthews to suspend Mr Tasker and argued that disagreeing about the nature of the mural was not antisemitic. He wrote that: "people disagree about the mural in a way that is not in itself antisemitic." He added that: "I would think that investigation without suspension at this stage may be sufficient."
In October 2012, Los Angeles-based street artist Mear One, painted a wall in London's East End which featured apparently-Jewish bankers beneath a pyramid often used by conspiracy theorists playing Monopoly on a board carried by straining, oppressed workers. It emerged that Mr Corbyn defended the public display of a huge mural on the "grounds of freedom of speech."
One senior Labour source told the JC that: "It would appear that discussions of many Labour antisemitism cases have taken place on e-mail addresses linked to Unite union [sic]. While some included open engagement with Labour members on e-mail addresses linked to the Party, there is obviously concern that some cases may have been discussed privately outside of Labour's e-mail trail among Party members who also retained the use of Unite e-mail addresses." They added that: "From what I can ascertain, we may be talking about a whole raft, rather than a few single e-mails."
Last month, it emerged that in 2005, Mr Murray authored an article in which he claimed that the roots of the 9/11 terror attacks lay in "Zionist colonialism" of the Balfour Declaration.
In 2017, Len McCluskey, General Secretary of the Unite union, told the BBC that claims of antisemitism in the Labour Party are "mood music" to "undermine Jeremy Corbyn's leadership" and that people who allege it have been "playing games".
Last Tuesday, the Equality and Human Rights Commission launched a full statutory investigation following a formal referral and detailed legal representations from Campaign Against Antisemitism, which is the complainant.
In recent months, eleven MPs have resigned from the Labour Party over antisemitism, along with a large number of MEPs, councillors and members.
Over 55,000 people have now signed our petition denouncing Jeremy Corbyn as an antisemite and declaring him "unfit to hold any public office."