Baroness Tonge shares and then deletes cartoon which claims that the situation in Gaza is the same as the Holocaust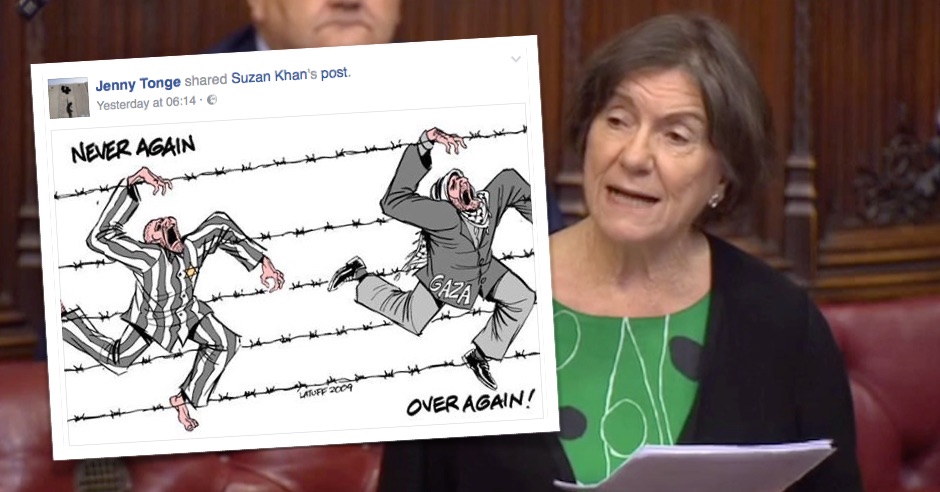 On the day that we noted the absurd comparisons which belittle the Holocaust, Baroness Tonge has brazenly compared the situation in Gaza to the situation of the six million Jews who were murdered during the Holocaust.
Baroness Tonge took to Facebook to share a cartoon by the notorious antisemitic cartoonist, Carlos Latuff, who won second prize in one of Iran's repulsive Holocaust denial cartoon competitions.
The cartoon portrays an anguished Jew in concentration camp prisoners' uniform hanging on barbed wire beneath the words "Never again", alongside an Arab man in an identical pose with the word "Gaza" on his leg, above the word "Over again!" Both figures' arms and legs are arranged in the shape of swastikas.
Under the International Definition of Antisemitism, "Drawing comparisons of contemporary Israeli policy to that of the Nazis" is antisemitic.
Baroness Tonge has now deleted the Facebook post, but it is merely the latest in a litany of incidents. The House of Lords Commissioner for Standards has previously refused to take action against Baroness Tonge, but we will complain again.
It is disgraceful that Baroness Tonge retains her title and position as a legislator.