BBC interviews YouTuber who filmed himself harassing Jewish community in Golders Green over "child-killing" for antisemitism documentary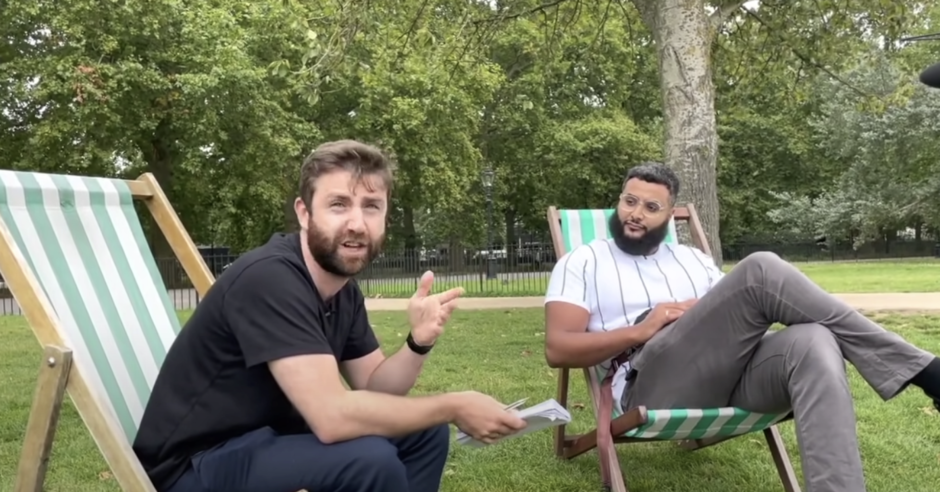 In a recent documentary intended to shine a light on British antisemitism, the BBC chose to interview Mohammed Hijab, a YouTuber who proudly filmed himself harassing members of the Jewish community in Golders Green over "child-killing" for a YouTube video.
The premise of the YouTube video in question, released in May, was initially outlined by one of the presenters as them just wanting to "have a dialogue…a discussion…a friendly debate," but quickly became an excuse for the presenters to accost passing members of the Jewish community, including children.
This involved one of the presenters, Ali Dawah, confronting Jewish passers-by with a microphone and asking: "Do you agree with what's happening [in Israel]?" Mr Dawah is also seen following and questioning a group of Jewish men and their children who are walking away from him.
When the YouTubers saw that Jews were crossing the street in order to avoid a confrontation, another one of the presenters, known as Smile2Jannah, commented: "The thing is, if somebody is being butchered in this way, the least you should be able to do is have a conversation. Provide your view. I mean, why would you cross the road and not be willing to engage?"
His co-host, Mohammed Hijab, then instructed the cameraperson to film them crossing the road, before Smile2Jannah said: "They should understand, they should realise that people want answers. People want to know your opinion, so go on record. Give your opinions. Discuss, debate."
The YouTubers also brought with them an LED billboard, upon which they displayed images of Jewish Holocaust victims in a concentration camp. Next to the images were the words: "Did we learn nothing from the Holocaust?" The images were then proceeded by photos from the conflict between Israel and Gaza.
Standing in front of the billboard, Mr Hijab went on to say that "as Muslims", they "have no problem with Jews, per-se," before pressuring them to "reveal their viewpoints." Shouting at a Jewish man who was walking away, Mr Hijab yelled: "Do you condemn the killing of children? Do you condemn it? Do you condemn it? See, look at you. The silence is deafening."
In an outtake from that video, uploaded to Mr Hijab's own YouTube channel, Mr Hijab is seen acting aggressively towards another Jewish man off-camera, yelling: "You need to go back to the Torah. That's what I tell you all. Go back to the Torah, read it from the beginning again."
A spokesperson for Campaign Against Antisemitism said: "It is astonishing that the BBC has tried to portray this man as some kind of champion of coexistence. During the period of peak racism against Jews in this country in the spring, Mohammed Hijab spent a Shabbat harassing Jews in Golders Green, trying to hold British Jews responsible for the politics of the Middle East and comparing Israel to Nazi Germany, both breaches of the International Definition of Antisemitism. In effect, the BBC has presented a documentary about 'both sides' of antisemitism, interviewing not only victims and experts, but also purveyors. It is shameful, but par for the course for an institution that has long ago set its face against the Jewish community."
A BBC spokesperson said: "The programme was a serious examination of the nature and impact of antisemitism on British Jews and included interviews with a range of people in the UK. We reject any suggestion that it presented anyone as a 'champion'. The reporter challenged the contributor throughout the interview on his past actions in a robust manner.
"As our editorial guidelines make clear, a serious examination of any issue can mean our output includes people whose views may cause offence to our audiences."
Recently, the BBC also used footage of a Jewish Chanukiah to illustrate a controversy about a Christmas party at 10 Downing Street.
Last night, hundreds of protestors attended Campaign Against Antisemitism's "BBC News: Stop Blaming Jews!" rally outside Broadcasting House in London, which was endorsed by Lord Grade and Dame Maureen Lipman.
The rally was prompted by the BBC's appalling coverage of an antisemitic incident on Oxford Street over Chanukah, when a group of Jewish teenagers celebrating the festival were accosted by racist thugs who forced them back onto their bus and began hitting the vehicle with their hands and then their shoes, spitting on it, trying to break windows and performing Nazi salutes, as well as shouting antisemitic insults and swearing.
Campaign Against Antisemitism has launched a new weekly podcast. New episodes of Podcast Against Antisemitism are available every Thursday and can be streamed here or downloaded wherever you get your podcasts.