Belgian-Israeli receives undelivered letter to Belgium after several months, with address rendered illegible by swastika and antisemitic insults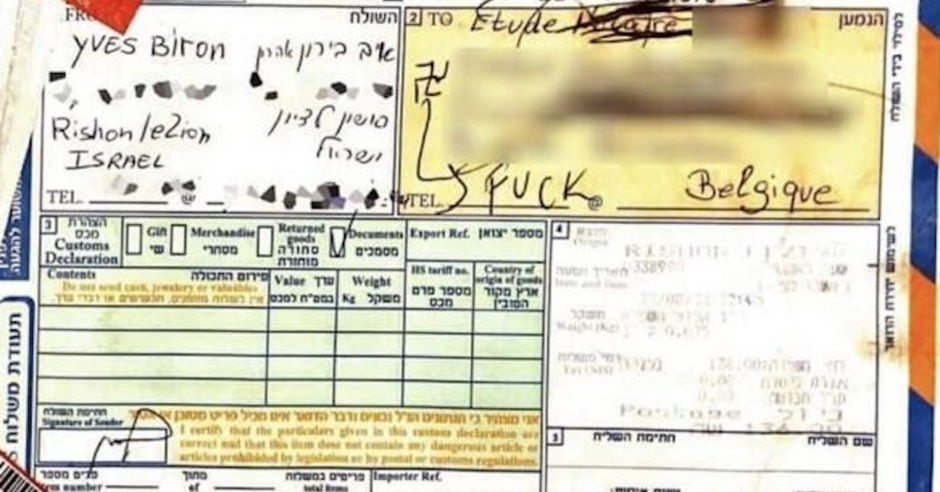 A Belgian-Israeli has, after several months, received back an undelivered letter originally sent to Belgium, with the address now rendered illegible by swastika and antisemitic insults.
The letter, addressed to the sender's notary in Anderlecht in August 2021, arrived in Belgium a few days after being posted in Israel, but has been sent back to Israel almost three-and-a-half months after arriving in Belgium due to an "insufficient/incorrect address". However, the envelope had clearly been altered with a swastika and the phrase "J F***".
The sender has reportedly asked the Israeli post office to file a complaint against its counterpart, BPost, and has contacted the Israeli Embassy in Brussels and communal Jewish groups.
A spokesperson for BPost said that an internal investigation was under consideration but that the company "does not have sufficient elements for the moment." The spokesperson added: "It goes without saying that we will do everything possible to shed light on this matter and that we are ready to take the appropriate measures to defend the values that we hold dear and that make up our identity. This kind of behaviour is not aligned with our values of diversity and inclusion, as well as our work rules, and we strongly condemn it."
Campaign Against Antisemitism has expanded our coverage of antisemitism worldwide. Please contact us if you would like to share feedback or volunteer to assist with this project.
Image credit: EJP