Blood Libel repeated by a regular contributor on Sydney-based Arabic platform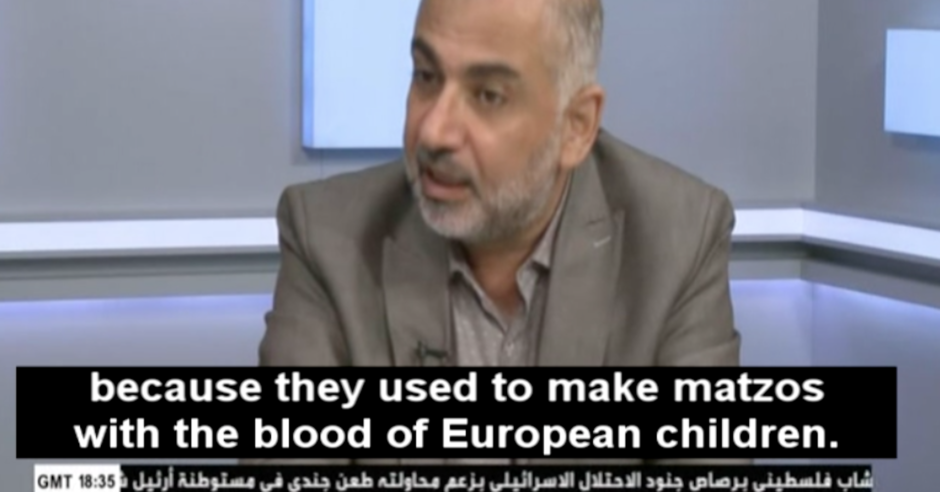 A commentator who regularly appears on a Sydney-based Arabic language channel was seen on film in September repeating the classic antisemitic blood libel that claims that the Jews use the blood of Christian children to bake unleavened bread for Passover (matzot), according to the Australia/Israel & Jewish Affairs Committee (AIJAC).
According to AIJAC, Dr Moustafa El-Lidawi, who is a former Hamas representative based in Lebanon, appeared on the Iranian Arabic language TV channel Al-Alam on 6th September. In a clip translated by the Middle East Media Research Institute (MEMRI), Dr El-Lidawi declared: "The Europeans hated the Jews because of this holiday [Passover] because they used to make matzot with the blood of European children."
He also claimed that although the practice had stopped, nevertheless "Israelis still believe that God commanded them to make matzot from the blood of the goyim [the non-Jews], and to distribute these matzot to every Jew."
Dr El-Lidawi is a regular contributor to Farah News, a Sydney-based Arabic language news and opinion platform with several thousand followers in Australia. In August 2019, Australian academic Dr Ran Porat argued in AIJAC's Australia/Israel Review that Farah News offered a wide range of "viciously antisemitic content" and hosted "conspiracy theorists, antisemites and fervent anti-Zionists."
AIJAC claims that in 2015 Dr El-Lidawi was reported to have repeated an even more gruesome libel concerning Christian babies and Passover. According to Dr Porat, Farah News has published many "venomous" claims by Dr El-Lidawi, including some "quite recently".
Earlier this year, Dr El-Lidawi reportedly claimed that Israel steals the organs of Arab prisoners due to "ancient malice, and Talmudic and Torah commandments", which is another type of blood libel, in a Canadian newspaper, and in 2018 he accused Jews of making festive pastries out of non-Jews' blood, which is also a classic blood libel. He apparently went on to claim that this justified the periodic expulsions of Jews from European countries during the Middle Ages.
Campaign Against Antisemitism have expanded our coverage of antisemitism worldwide. Please contact us if you would like to share feedback or volunteer to assist with this project.