CAA complains to Charity Commission and Home Office after Cambridge Union lets Malaysian PM Mahathir Mohamad spew antisemitism, unchallenged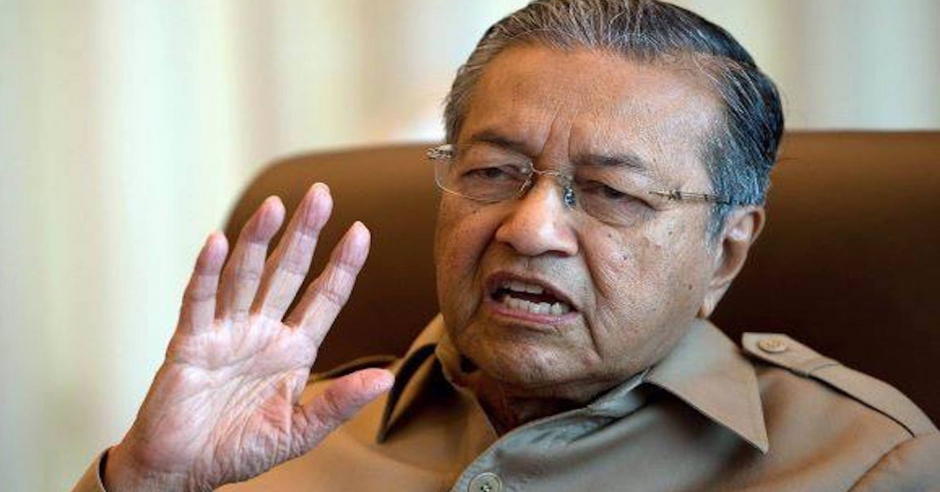 Campaign Against Antisemitism is making a complaint to the Charity Commission after Cambridge Union, a registered charity, permitted proud antisemite, Dr Mahathir bin Mohamad, the Prime Minister of Malaysia, to spew antisemitic comments at an event on Sunday evening without challenging him.
In a video recording of the event posted on YouTube, Dr Mohamad was questioned by the moderator, an elected official at the Union, about his past comments about Jews. He replied: "I have some Jewish friends, very good friends. They are not like the other Jews. That's why they are my friends." The audience laughed loudly.
When questioned on his views of the Holocaust, he said: "The Israelis should know from the sufferings they went through in the war not to treat others like that." Although he denied saying that only 4 million died in the Holocaust, something that he has previously stated on the record. Under the International Definition of Antisemitism, "Drawing comparisons of contemporary Israeli policy to that of the Nazis" is antisemitic.
On antisemitism, he said: "Of course if you say anything against the Jews, you are labelled antisemitic. No other race in the world labels people like that, why is it forbidden to criticise the Jews when other people criticise us?" He added that: "The Jews do a lot of wrong things, which force us to pass comment."
In response to a question about previous comments that he made calling Jews "hooked nosed", Dr Mohamad stated: "People do generalise, in describing certain people we take some general characteristics that they have, why is it that it's the Jews who resent this when other people don't resent being accused of some general characteristic that they have? Correct me if I'm wrong, but it seems that pretty much every group of people objects to being casually racially stereotyped." He followed this up by using an example that: "The British Jews used to say the Malays are lazy."
It is disgraceful and unforgivable that Cambridge Union, a club affiliated to the University of Cambridge, one of Britain's most prestigious educational institutions, rolled out the red carpet for this self-confessed and unrepentant antisemite, and presented him with a platform from which to share his dangerous views with students, unchallenged.
Dr Mohamad, 93, has a long history of making appallingly antisemitic comments.
In his 1970 book "The Makay Dilemma", he wrote that: "The Jews are not merely hook-nosed, but understand money instinctively." In 2012, he wrote on his personal blog that: "Jews rule this world by proxy."
He also notoriously boasted that: "I am glad to be labeled antisemitic…How can I be otherwise, when the Jews who so often talk of the horrors they suffered during the Holocaust show the same Nazi cruelty and hard-heartedness towards not just their enemies but even towards their allies should any try to stop the senseless killing of their Palestinian enemies."
In January this year, Dr Mohamad was controversially invited to speak at the Oxford Union. When challenged there about his comments about Jews, he responded that: "We talk about freedom of speech, but yet you cannot say anything against Israel, against the Jews, why is that so? If we are free to say what we like, we can say something that is regarded as antisemitic by the Jews, that is their right, to hold such an opinion of me. It is my right to tell them, also, that they have been doing a lot of wrong things."
Last Tuesday, Cambridge Union defended its indefensible position and told the JC: "At the Union we pride ourselves on defending free speech and allowing our members to hear from and to hold to account the people that shape our world. We are sure that this event will contribute further to this great tradition." In failing to properly challenge the views of this proud antisemite, the Cambridge Union has failed to hold him to account, instead allowing him to make light of his abhorrent antisemitism and present it as factual to his audience.
A Jewish student who attended the event told Campaign Against Antisemitism that a union staff member spoke to him during the event, telling him that he had seen him earlier near a small group of protestors and that security would specifically be keeping an eye on him. A member of security was subsequently positioned near him. On this he told Campaign Against Antisemitism that: "The way Jewish students were clearly targeted for extra surveillance by security personnel left them feeling extremely uncomfortable and in some cases, too intimidated to ask the speaker a question."
In a statement to Campaign Against Antisemitism, the student said that: "While the opportunity to challenge Mahathir Mohamad on his regressive views on homosexuals and Jews might have been prima facie valuable, in this instance the Union failed to adequately counter his unacceptable rhetoric. The questioner did manage to bring up controversial topics, but regularly let clearly racist and discriminatory comments go unchallenged. One horrific comment about Cambridge being colonised and renamed Israel was shockingly met with laughter from the floor. It seems the Union is conflicted between pampering its VIP guests, and truly holding them to account."
As well as complaining to the University of Cambridge and the Charity Commission, Campaign Against Antisemitism is writing to the Home Secretary to draw attention to these latest comments and to ask why Dr Mohamad was allowed into the country despite his history of using his visits to spread hatred against Jews. The event could breach the Government's counter extremism policy, Prevent. You may wish to support us by writing to your MP.
If Cambridge Union wished to host Dr Mohamad in the name of free speech, his longstanding Jew-hatred should have faced the harshest dissection and cross-examination that is the best of this country's academic tradition. Instead, the Union gingerly and respectfully provided a platform for a revolting bigot. The Union decided to allow Dr Mohamad to spew his vitriol against Jews without challenge and we intend to ensure that it bears the consequences of that unforgivable choice.