CAA deeply concerned after Met Police confirm that second 'Free Palestine' convoy can go ahead this weekend despite horrendous antisemitism of last convoy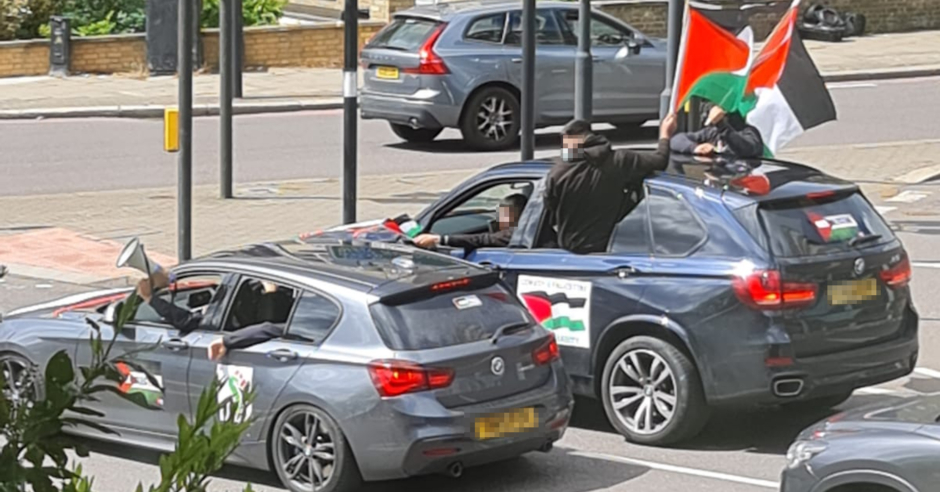 The Metropolitan Police Service has confirmed to Campaign Against Antisemitism that, notwithstanding our representations, another 'Free Palestine' convoy will be permitted to drive across the country and through the capital tomorrow.
Campaign Against Antisemitism took legal advice which we provided to the police and Home Office setting out the legal basis for prohibiting the returning convoy on the basis that it constitutes a "public procession" likely to cause "serious public disorder", engaging section 13 of the Public Order Act 1986.
The fact that the Metropolitan Police Service has not chosen to avail itself of legislation specifically designed to prevent this kind of intimidation is deeply concerning, particularly after the previous 'Free Palestine' convoy drove through a Jewish neighbourhood shouting "F*** the Jews…rape their daughters" through megaphones, and a vehicle, believed to be from the convoy, chased a Jewish mother down a London street and rammed her car whilst she was driving her four-year-old child. Four men were arrested and bailed over the former incident and an alleged antisemitic incident committed in Manchester before the convoy arrived in London.
Instead of banning the convoy under section 13 of the Public Order Act, police instead appear to have opted for imposing conditions on it under section 12, but as we noted in our representations, we can conceive of no conditions that will be both sufficient to protect the Jewish community and enforceable against a convoy potentially consisting of hundreds of vehicles.
The returning convoy is due to leave Bradford on Saturday morning and arrive outside Number 10 Downing Street at 13:00, joining a 'Free Palestine' protect that will be underway in Whitehall. The convoy's passage through London will coincide with Jewish families leaving synagogue and walking home. Due to Jewish religious practices outlawing the use of mobile telephones during the Sabbath, they will have neither the means to call the police or take recordings in the event that they are targeted in antisemitic hate crimes.
Despite our request and legal representations, the Metropolitan Police Service has confirmed to Campaign Against Antisemitism that it will permit this convoy to proceed. In a letter, the police force insisted that it is "taking this incident very seriously" and understands "how alarming it is to feel threatened within your home community". The letter promised that the force has "put in place a central command team to monitor any convoy and accompany it if it travels into London" and "will try to ensure any convoy takes a central route into London avoiding any residential areas".
The letter also sought to assure the Jewish community that it will have high levels of policing, including outside synagogues. It is remarkable that the police can recognise that the threat to the Jewish community and its religious institutions is real enough to warrant enhanced policing, but at the same time permit a convoy from which it recognises that that threat may emanate.
The Metropolitan Police Service's insistence that it will be monitoring the convoy provides limited reassurance, given the events of the previous convoy and the numerous recent incidents of police officers standing by while alleged antisemitic hate crimes were being committed before their eyes.
Yesterday, the London Assembly unanimously passed a motion calling on the Mayor and the Metropolitan Police Service to commission and publish a strategy to tackle antisemitism in the capital.
Gideon Falter, Chief Executive of Campaign Against Antisemitism, said: "This week we have been at pains to explain to the authorities why we do not believe that imposing conditions on this convoy offers sufficient protection and that instead they must prohibit it. They have specific authority to ban any 'public procession' that poses a risk of 'serious public disorder' but they have chosen not to use their powers.
"The Jewish community is already traumatised by the recent convoy and will be even more severely impacted if cars are once again permitted to drive across the country terrorising Jews. Vehicles from the last convoy are suspected of involvement in antisemitic crimes, including incitement to rape Jewish girls, violence and the ramming of a car containing a Jewish woman driving her 4-year-old child. The convoy organisers have of course condemned this, but once in motion we have seen that they have no control over their members.
"The Commissioner of the Metropolitan Police Service has permitted this convoy to proceed and all eyes are now upon her and her officers to prove that they can ensure that British Jews are able to go about their lives without incident this weekend."
Campaign Against Antisemitism's analysis of Home Office statistics shows that an average of over three hate crimes are directed at Jews every single day in England and Wales, with Jews almost four times more likely to be targets of hate crimes than any other faith group.