CAA writes to BBC Director-General demanding proper response after BBC Arabic journalist who blamed "Israel lobbyists" for wanting Prof. David Miller fired is let off with mere reminder of social media guidelines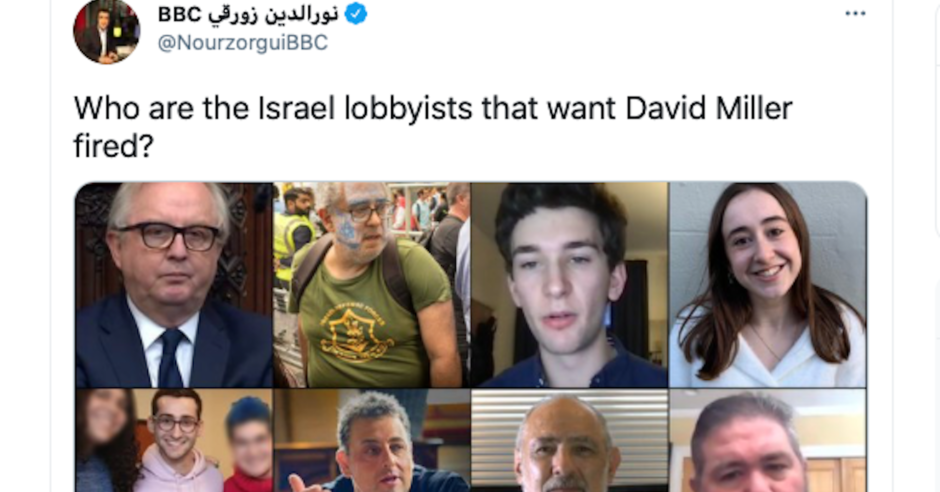 Campaign Against Antisemitism will be writing to Tim Davie, the BBC's Director-General, after our concerns over a BBC journalist's social media activity were dismissed by BBC Arabic's Head of Daily Output.
Last month, Nour Eddine Zorgui shared an article titled "Who are the Israel lobbyists that want David Miller fired?" that referred to Zionism as "Israel's racist ideology".
The article was published by The Electronic Intifada, an online news outlet which has also previously attacked Campaign Against Antisemitism.
In a letter from the BBC Arabic's Head of Daily Output, we have been informed that Nour Eddine Zorgui was merely "reminded of the BBC social media guidelines."
However, not only is the description of Zionism in the article offensive, but the article and tweet represents an intervention in the public debate over Prof. David Miller, a Professor of Political Sociology at the University of Bristol with a history of peddling conspiracy theories relating to Jewish students. Most recently, he asserted that "Zionism is racism", declared his objective "to end Zionism as a functioning ideology of the world" and accused the Bristol University Jewish Society of being part of a worldwide Zionist conspiracy, adding that it is "fundamental to Zionism to encourage Islamophobia and anti-Arab racism". At the same online event, Prof. Miller also observed that the Jewish Society and the Union of Jewish Students are Zionist, thereby implying that Jewish students (and the wider Jewish community) inherently "encourage Islamophobia and anti-Arab racism".
For a BBC journalist to intervene in this debate, share an offensive article and defend an academic accused of antisemitism – and to do so by suggesting that those making the allegations do so in service to Israel, which is precisely the sort of antisemitism-denial found by the Equality and Human Rights Commission to have contributed to institutional antisemitism in the Labour Party – is unacceptable. It is woefully insufficient for the BBC to be served with a mere reminder of the Corporation's guidelines.
Campaign Against Antisemitism's Antisemitism Barometer 2020 revealed that two thirds of British Jews are deeply concerned by the BBC's coverage of matters of Jewish concern, and 55% by its handling of antisemitism complaints.
Campaign Against Antisemitism monitors traditional media and regularly holds outlets to account. If members of the public are concerned about reportage in the media, they should contact us at [email protected].