Crown Court upholds Chabloz conviction, first UK conviction over Holocaust denial, calling her "manifestly antisemitic" and a "Holocaust denier"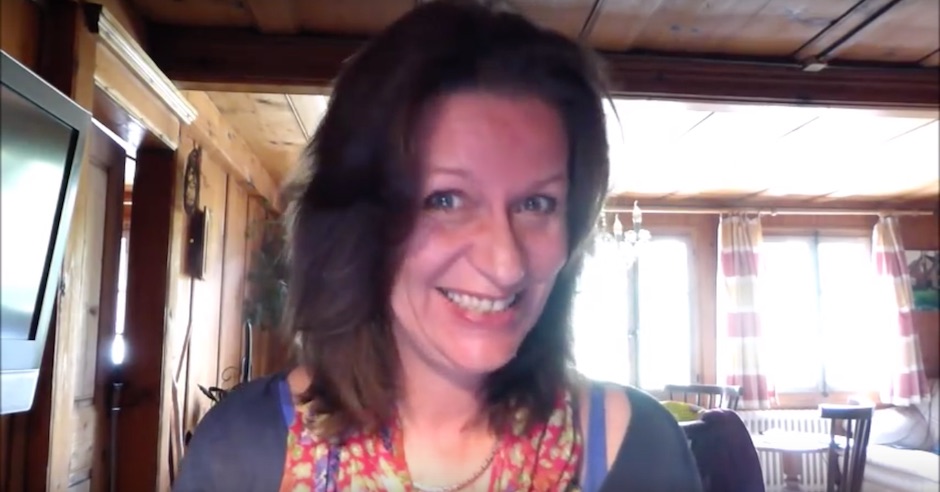 Moments ago, Judge Christopher Hehir, sitting with a lay magistrate, Ms M Rego, upheld the conviction of Holocaust denier Alison Chabloz over her Holocaust denial on social media.
The decision sets a new precedent in British law.
The case effectively delivered a landmark precedent verdict on incitement on social media and on whether the law considers Holocaust denial to be "grossly offensive" and therefore illegal when used as a means by which to hound Jews.
Ms Chabloz was appealing a decision last year by Westminster Magistrates' Court convicting her on three charges of sending grossly offensive communications via a public communications network. The case began as a private prosecution by Campaign Against Antisemitism, which was then taken over and continued by the Crown Prosecution Service.
Ms Chabloz, from Glossop in Derbyshire, had pleaded "not guilty" to charges relating to three self-penned songs in which she denounced a supposed Jewish conspiracy to dominate the world and denies the Holocaust.
Gideon Falter, Chairman of Campaign Against Antisemitism, said: "This is the first conviction in the UK over Holocaust denial on social media. The Crown Court is a court of record, meaning that its judgement upholding the previous Magistrates' Court decision sets a new precedent in British law.
"Many brave British patriots died in the cause of defeating the Nazis. Alison Chabloz is no patriot and her actions defending the Nazis and claiming that the Holocaust was a fraud seek to defile their sacrifice. This sentence sends a strong message that in Britain, Holocaust denial and antisemitic conspiracy theories will not be tolerated.
"Alison Chabloz is a remorseless and repulsive antisemite who has spent years obsessively inciting others to hate Jews, principally by claiming that the Holocaust was a hoax perpetrated by Jews to defraud the world. Other antisemites who believe that they can abuse the Jewish community online with impunity should take note."
Reading the court's judgement, Judge Hehir said that the court did not have to entertain "absurdity or fiction" in cases of Holocaust denial and that "We take judicial notice of the fact that the Holocaust occurred." Turning to Ms Chabloz, he said: "She is a Holocaust denier…she is manifestly antisemitic and obsessed with the wrongdoing of Jews," adding that on the subject of the Holocaust "she has lost all sense of perspective." Addressing the songs themselves, Justice Hehir said of the first song: "It is by no means an exaggeration to call this song disgusting", before describing her other songs in similar terms. He added that "she positively intended to be grossly offensive to Jews" before confirmed that her original sentence was upheld. We will soon post a copy of the full judgement.
Last year at Westminster Magistrates' Court, District Judge John Zani found Ms Chabloz guilty and sentenced her to a 20-week prison sentence suspended for two years, 180 hours of unpaid community service, an indefinite order against contacting two leaders of Campaign Against Antisemitism, as well an an order banning her from social media for 12 months. She was also ordered to pay a £115 victim surcharge, and costs of £600. The suspension of her sentence was on the basis that District Judge Zani said that he did not wish to satisfy her desire to become a "martyr".
Ms Chabloz had published on YouTube a series of songs mocking Holocaust survivors and inciting hatred against Jews, including:
"Did the Holocaust ever happen? Was it just a bunch of lies? Seems that some intend to pull the wool over our eyes. Eternal wandering liars haven't got a clue, and when it comes to usury, victim's always me and you."
"Now Auschwitz, holy temple, is a theme park just for fools, the gassing zone a proven hoax, indoctrination rules."
"Tell us another, come on, my brother, reap it, the cover, for tribal gain. Safe in our tower, now is the hour, money and power, we have no shame."
"History repeats itself, no limit to our wealth, thanks to your debts we're bleeding you dry. We control your media, control all your books and TV, with the daily lies we're feeding, suffering victimisation. Sheeple have no realisation, you shall pay, all the way, until the break of day."
The songs were partly set to traditional Jewish folk music such as Hevenu Shalom Aleichem and Hava Nagila. She mocked prominent Jewish figures persecuted by the Nazis, including Nobel Peace Prize winner Elie Wiesel and Anne and Otto Frank.
Appealing her conviction, Ms Chabloz showed no contrition. Under cross-examination, she said that there are liars in all ethnicities but: "Jews are more likely to tell lies. In the Talmud, it's even encouraged. In the verses. Lying is following religious duty."
When asked if she thinks Jews are responsible for their own persecution, she explained that a "certain amount of evidence occurred throughout history" to support that view. Judge Hehir noted that her claim was identical to that of notorious antisemite Gilad Atzmon, who caved in after just two hours in court in a defamation case brought over his claims that Campaign Against Antisemitism fabricates cases of antisemitism.
She also claimed that Jews have disproportionate power and influence, saying that "Jews are over-represented in banking, finance, the media. There's information that's out there. 8% in the Houses of Parliament." She added that: "They control Twitter" too.
Asked about her views on the Holocaust, Ms Chabloz described herself as a "revisionist", stating that the number of Jews murdered in the Holocaust was 600,000: "Revisionists think 10% of those [Jews] reported in the mainstream media" were murdered by the Nazis.
She disputed that there were death camps, saying that "Jews were deported, sent to camps but they were prisoner camps." On the subject of gas chambers, she said that: "There's no evidence of gas chambers. Gas chambers were used for disinfection purposes, as life-saving devices." She also claimed that Holocaust survivors lie, telling the court: "There's great incentive for survivors to elaborate their story."
In a comment that drew gasps in court, Ms Chabloz said that Jewish concentration camp inmates forced to play in an orchestra at Auschwitz were luckier than her. She said: "Musicians in the orchestra were luckier than me" because she said it was "heartbreaking" that venues no longer booked her to perform on account of her views and songs. When challenged by Judge Hehir, she said that she might not have chosen her words as well as she could have.
She claimed that her songs were an act of love towards Jews, saying: "My songs are a product of love. To free Jews from the shackles of atrocity propaganda." She added that: "I wish they will liberate us from this false narrative."
At one point she even claimed that she had invented the melody of Hava Nagila on her own and had no idea that it was also a piece of Jewish folk music. Asked how she came up with the tune all on her own, she claimed: "The tune was a gift from G-d."
Ms Chabloz was represented by barrister Adrian Davies, who has a track record of unsuccessfully defending antisemites and Holocaust deniers including David Irving and Jeremy Bedford-Turner. At one point Mr Davies injected his own views into proceedings whilst cross-examining Campaign Against Antisemitism's Chairman, Gideon Falter. While debating Mr Falter, Mr Davies suggested that the Nazis did not deliberately murder Anne Frank, declaring "She died of typhus, there is no dispute. They didn't deliberately murder her. They might be responsible for her death by mistreatment." Judge Hehir stopped the debate, telling Mr Davies: "I'm not sure that's your strongest point Mr Davies."
The tens of supporters who even performed Nazi salutes when the judge was not looking at Westminster Magistrates' Court were apparently dispirited and stayed away from Southwark Crown Court, numbering only around half a dozen.
The case began as a private prosecution brought by Campaign Against Antisemitism after the authorities failed to act. Once we had begun the private prosecution and won a judicial review against a decision not to prosecute a separate case, the Crown Prosecution Service (CPS) decided to take over our private prosecution of Ms Chabloz. Due to strict deadlines for bringing prosecutions, had Campaign Against Antisemitism not brought our private prosecution, the CPS would have missed its chance to take action against Ms Chabloz. Campaign Against Antisemitism's Chairman, Gideon Falter, and Director of Investigations and Enforcement, Stephen Silverman, were the only prosecution witnesses to be called.
This case comes amidst a crisis of confidence in the Jewish community. Each year, the CPS prosecutes in the region of 15,000 hate crimes, but there has yet to be a year in which there have been more than two dozen known prosecutions of antisemitic hate crimes. With antisemitic crime rates surging, the failure to prosecute has led to a crisis of confidence in Britain's Jewish community, with Campaign Against Antisemitism's Antisemitism Barometer research showing that just 35% of British Jews believing that an antisemitic crime against them would be acted on by the authorities, even if there was enough evidence, and only 26% of British Jews saying that the CPS does enough against antisemitic crime.
Whilst Campaign Against Antisemitism brought its private prosecution of Ms Chabloz because the authorities had failed to act and due to a consistent failure by the CPS to adequately tackle antisemitic crime, we could not be more satisfied with the professional excellence of the expert prosecuting team from the CPS, led by barrister James Mulholland QC at Crown Court and Karen Robinson at Magistrates' Court, with the outstanding support of Hazel Allen and Tim Mackenzie throughout. Before it was taken over by the CPS, our private prosecution was led pro bono by Jonathan Goldberg QC, with junior barristers Senghin Kong and Jeffrey Israel, supported by solicitor Stephen Gilchrist.