Alleged follower of Islamist group who called for a "jihad" to wipe out the Jewish state under investigation by police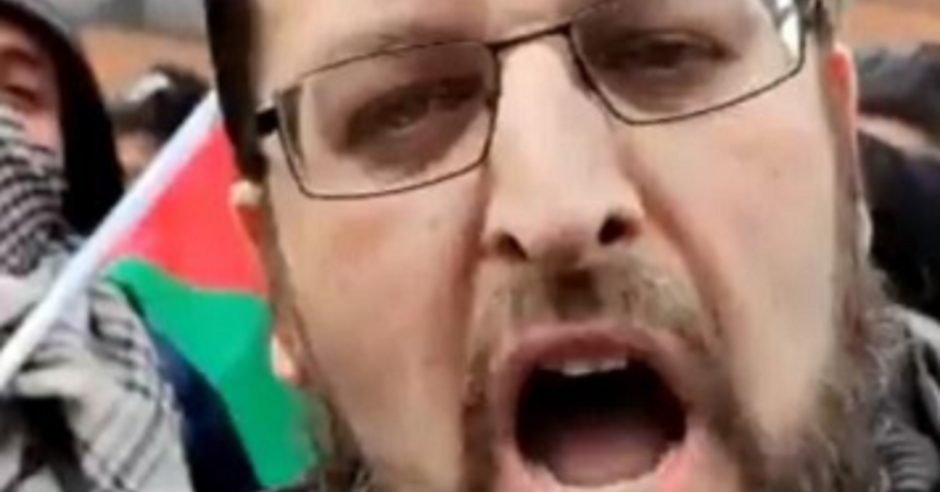 An alleged follower of the Islamist group, Hizb ut-Tahrir, who called for a "jihad" to wipe out the Jewish state, is now under investigation by police, following publicity campaign by Campaign Against Antisemitism on social media and reports to the police by Jewish groups.
Captured on video last month, the man said directly into the camera: "This goes out to the Muslim armies, what are you waiting for? Jihad is responsibility on you. Wipe out that Zionist entity. How dare they occupy Masjid Al-Aqsa [the Al-Aqsa mosque in Jerusalem].
"The Muslim youth here, we the Muslims in the West, we are with you…We don't fear the United Nations, British government. We don't give a damn. We only fear Allah. Jihad fi sabilillah via the armies."
The individual made the comments in a video filmed during an anti-Israel rally outside the Pakistani consulate in Birmingham.
A West Midlands Police spokesman said: "We are aware of a video posted on social media taken during a pro–Palestine event in Centenary Square in May. We have received a report raising concerns over the nature of the language used by one of the speakers, alleging it was antisemitic hate speech.
"A hate crime has been recorded and it's currently with our investigators for an assessment. We will not tolerate hate crime, and we would always encourage people to report offences to us so we can take appropriate action."
It was reported that on 11th May, Hizb ut-Tahrir issued a statement saying: "The monstrous Jews are spreading their brutal aggression on all parts of Palestine."
Hizb ut-Tahrir was mentioned in a report from the Tony Blair Institute for Global Change titled "Narratives of Division: The Spectrum of Islamist Worldviews in the UK," which found that a number of UK Islamic activist groups promote views that align with proscribed extremist groups.
Campaign Against Antisemitism's Antisemitism Barometer 2020 showed that over eight in ten British Jews consider the threat from Islamists to be very serious.