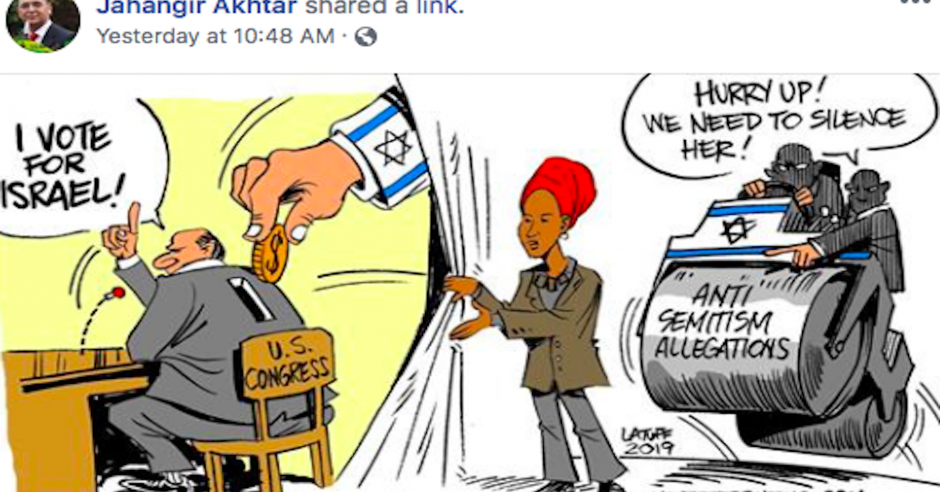 Antisemitic images have been posted and shared on Facebook by Jahangir Akhtar, the former Labour Deputy Council Leader in Rotherham, according to a report by The Times.
Mr Akhtar has shared images, uncovered by The Times, that suggested that complaints of antisemitism made against politicians and political parties were guided by those seeking to silence criticism of Israel. One image implied that MPs who left Labour to form the Independent Group criticised their former Party's handling of antisemitism issues as a response to Jeremy Corbyn's support for Palestinian rights.
Another image showed an Israeli steamroller, labelled "antisemitism allegations", poised to crush a woman to prevent her from revealing that secret Israeli money funded US congressmen. The cartoonist, Carlos Latuff, had won second prize in one of Iran's repulsive Holocaust denial cartoon competitions.
Under the International Definition of Antisemitism adopted by the British Government, it is antisemitic to make "mendacious, dehumanising, demonising, or stereotypical allegations about Jews as such or the power of Jews as collective — such as, especially but not exclusively, the myth about a world Jewish conspiracy or of Jews controlling the media, economy, government or other societal institutions." According to The Times, "Mr Akhtar did not respond to a request for comment."
Some of Mr Akhtar's posts are so racist against Jews that they may even constitute hate crimes which Campaign Against Antisemitism will be reporting to the police. Mr Akhtar's persistent posting about supposed Jewish conspiracies and power are not moments of madness: they are evidence of an obsession with Jews by a former elected official who carefully measured what he was saying to his supporters.