Four men from Blackburn charged over alleged antisemitic abuse blared from megaphone by 'Free Palestine' convoy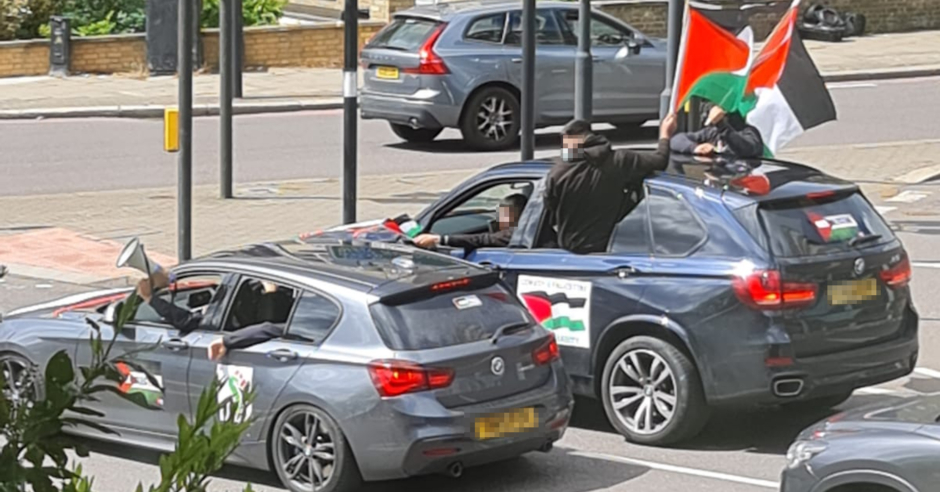 Four men from Blackburn have been charged in connection with the alleged antisemitic abuse shouted from a 'Free Palestine' convoy in North London in May.
Participants in the convoy were caught on video allegedly shouting through a megaphone "F*** the Jews…rape their daughters" as they drove through Jewish neighbourhoods waving the flag of the Palestinian Authority, during fighting between Hamas and Israel.
The incident took place a stone's throw from a synagogue in West Hampstead and continued into St John's Wood. The convoy had previously and provocatively passed through other Jewish neighbourhoods as well, including Hendon and Golders Green.
The abuse was condemned by the Prime Minister and Home Secretary.
In a statement, the Metropolitan Police Service admitted that they had failed so badly to monitor the convoy that it took hours to find the car in question, which was identified from photographs taken by a Jewish member of the public who had the presence of mind to capture images of the vehicles' licence plates.
Later that day, the Met made four arrests, and today the police force has announced that it has charged Mohammed Iftikhar Hanif, 27; Jawaad Hussain, 24; Asif Ali, 25; and Adil Mota, 26, all from Blackburn, with using threatening, abusive or insulting words, or behaviour, with intent, likely to stir up racial hatred.
They were charged on 16th September and are due to appear at Westminster Magistrates' Court on 6th October.
A spokesperson for Campaign Against Antisemitism said: "This was an extremely distressing incident. Jewish families have told us that they were sent running in fear as a convoy of cars drove through London flying the flag of the Palestinian Authority and shouting 'F*** the Jews…rape their daughters'. We are pleased that suspects have now been charged but the convoy should never have been allowed in the first place and there remain many other unsolved crimes committed against British Jews from that same period of fighting between Hamas and Israel. The perpetrators in these cases must be brought to justice."
Campaign Against Antisemitism has written to the Home Secretary calling on her to proscribe Hamas in full in the UK, and has urged all MPs to do the same.
Campaign Against Antisemitism's analysis of Home Office statistics shows that an average of over three hate crimes are directed at Jews every single day in England and Wales, with Jews almost four times more likely to be targets of hate crimes than any other faith group.
The image on this article has been partially obscured due to legal restrictions on the reporting of active criminal cases.