Labour councillor who criticised fellow member's resignation from Party over antisemitism is himself flagged for antisemitic posts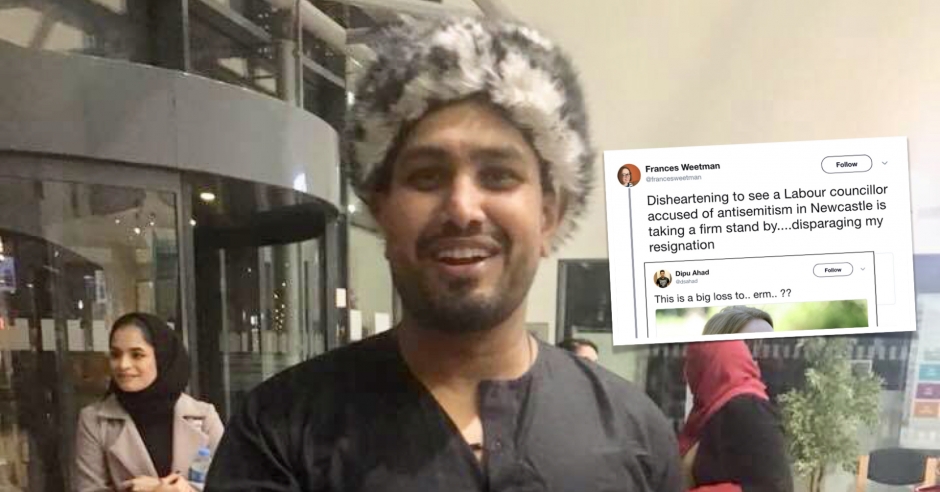 A Newcastle Councillor, Dipu Ahad, has posted a tweet dismissing Frances Weetman's resignation from the Labour Party in protest at the Party's handling of antisemitism by sarcastically asking: "this is a big loss to ..erm..??"
Ms Weetman described the comment as "disparaging" and "disheartening."
This is not the first time Mr Ahad, who describes himself on Twitter as a "race and human rights activist", has made news over his controversial remarks. In April,  it was reported that Mr Ahad had repeatedly made comments about "Zionists" on social media, 'liked' posts referring to Zionists controlling the media and countries being in debt to "Rothschilds" and had voted against a Marks & Spencer on the grounds that it is "funding the Zionist regime". 
Mr Ahad was also named by BuzzFeed News as one of ten active Labour MPs who reportedly feature on a dossier of potential antisemitic hate crimes reported to the police.
Following the leak of the dossier, which the Metropolitan Police has announced it is investigating, a Labour Party spokesperson said: "The Labour Party has a robust system for investigating complaints of alleged breaches of Labour Party rules by its members. Where someone feels they have been a victim of crime, they should report it to the police in the usual way."
Previously, Mr Ahad had been accused of "flout[ing] all rules of impartiality, fairness and racial tolerance" when he chaired the Holocaust Memorial Day Working Group in Newcastle in 2014. Amid concerns over his "suitability to serve as chair of the Holocaust Memorial Working Group given the publicly expressed lack of confidence in him by the Jewish Community," all of the Working Group's Jewish members resigned, including founder members.
Earlier this year, Mr Ahad responded to complaints against him by suggesting that his critics were not "sincere anti-racists" and were wasting funds in search of "spurious" reasons to condemn him. "It is possible there will be Muslim councillors and members of [the] Labour Party who will view the need to justify our innocence as McCarthyism." Mr Ahad said.
Despite this history, Mr Ahad was been permitted to stand as a candidate in local elections in May.
Campaign Against Antisemitism has strongly condemned Jeremy Corbyn and the Labour Party for their failure to address institutional antisemitism in the party. Mr Corbyn has repeatedly responded to criticism with evasion and empty promises. Ms Weetman's resignation, and Mr Ahad's shameful response and his candidacy in the local elections, underline that the Labour Party is severely broken, and that its current leader has no intention of fixing the problem.