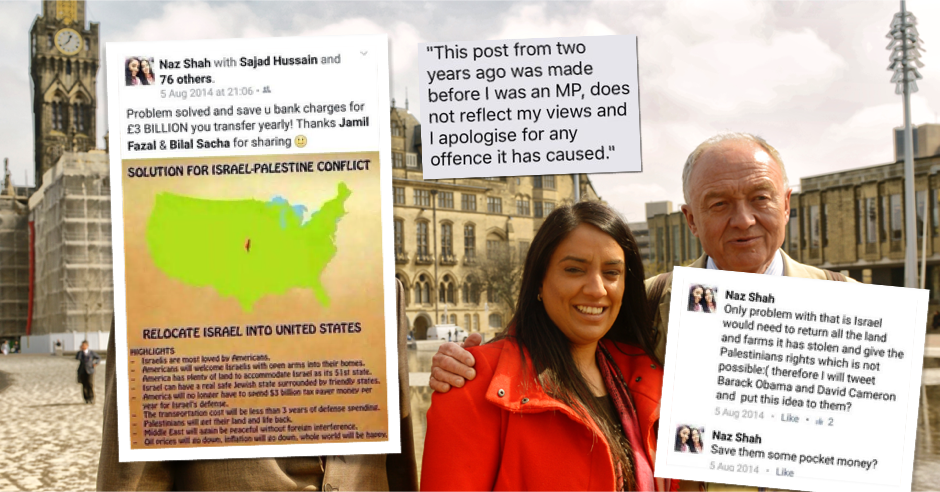 Social media posts from 2014 by Labour MP Naz Shah have been discovered proposing that the Jewish state should be "relocated" to America, suggesting that she would "tweet Barack Obama and David Cameron and put this idea to them". She has also tweeted an image with the quote "Never forget that everything Hitler did in Germany was legal" and added "#ApartheidIsrael". In August 2014 Shah tweeted a link to an article claiming that Zionism used "religious symbolism…to groom other modernised men and women of Jewish descent to exert political influence at the highest levels of public office by using the guilt of the pogroms and offered a solution to the 'Jewish Question' in Europe." In July 2014, she posted a link on Facebook to a newspaper poll asking whether Israel had committed war crimes in Gaza, commenting: "The Jews are rallying to the poll."
Naz Shah currently sits as one of only 11MPs on the Home Affairs Committee about to launch an inquiry into antisemitism, despite openly and publicly expressing these views.
Earlier this month Naz Shah alleged in a letter to the Prime Minister that Abdul Zaman, the deputy chairman of the Bradford Conservative Association, had made antisemitic comments in a public speech made in the Mirpuri dialect.
Shah shot to prominence int he Labour Party when she beat George Galloway in the last General Election.
In response, the Labour Party has issued a statement from Naz Shah saying: "This post from two years ago was made before I was an MP, does not reflect my views and I apologise for any offence it has caused."
One cannot simply apologise for "any offence caused" and expect evidence of gross and brazen antisemitism to disappear. Once again the Labour Party has been revealed to have within its ranks people who express extreme prejudice towards Jewish people in their public statements; once again the party has failed to find these statements itself, and reject those who freely and willingly express them. How can we believe Labour when it says it takes the problem of Jew-hatred seriously when it repeatedly defends antisemitic MPs. It seems that Jeremy Corbyn's anti-racism policy only operates when convenient.
Jewish people cannot be considered fair game for this kind of racism. It's time for a concerted and united effort to fight antisemites.
We have offered to assist the Select Committee in its work investigating antisemitism, however if Naz Shah remains on the committee it will be hard for those of us giving evidence to take the inquiry seriously.
Please take a moment to sign the petition calling for Naz Shah to be removed from the inquiry.