Labour selects seven candidates for upcoming elections who have been engulfed in Party's antisemitism crisis, including activist photographed with convicted Holocaust denier Alison Chabloz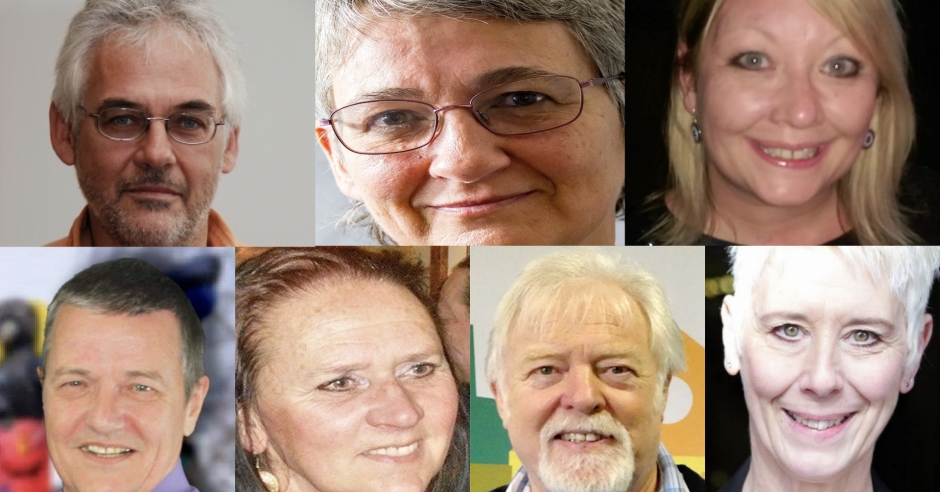 The Labour Party has selected six candidates for the upcoming local council and European Parliament elections who have been engulfed in the Party's antisemitism crisis, including a former ally of Alison Chabloz, the convicted Holocaust denier.
Martin Mayer
Martin Mayer, a Labour Party activist who reportedly claimed that the Israeli lobby had "manufactured" the Labour's antisemitism crisis has been selected as a candidate for the upcoming European Parliament election. According to the Sunday Telegraph, Mr Mayer, a former member of Labour's National Executive Committee and a Unite union activist, has been chosen to stand as the Member of European Parliament (MEP) for Yorkshire and Humber.
Mr Mayer, who is a retired transport worker, has also reportedly been active in Labour Against the Witchhunt (LAW), a group set up to protest the expulsion of Labour members for alleged antisemitism. A report of a meeting of LAW in Sheffield last May said Mr Mayer had "shared fascinating stories from his time on the Labour Party NEC and the many 'bogus' claims of antisemitism he witnessed first hand." According to the newspaper, in 2016 Mr Mayer sent an e-mail entitled "How Israel lobby manufactured UK Labour party's antisemitism crisis." In the e-mail he allegedly complained that "Labour's Blairite right wing have used the smear of antisemitism to undermine Jeremy Corbyn's leadership." Mr Mayer also reportedly circulated an e-mail from Tony Greenstein, who was expelled from the Labour Party for abusive conduct including calling Jews "Zios" on social media, in which Mr Greenstein accused Mr Corbyn's critics of "a dirty tricks operation" worthy of the CIA.
In a statement to the Sunday Telegraph, Mr Mayer said that: "When I was on the NEC I was shocked and appalled to see cases of antisemitism within our Party. I said back then and I say again now: it does exist within our Party, it is a problem, and we must not tolerate it. I was also concerned about factionalism undermining the integrity of the disciplinary processes and the fight against antisemitism. I regret the language I used to express this and I would not use it today. Since then, I have learnt a lot more about this subject and I realise that words like 'smear' have the effect of downplaying and dismissing this very serious issue." He added that: "I did not deny the problem exists within our Party, and I believe anyone who denies it is contributing to the problem. As we've seen from the figures that the Party recently released, this is a small minority in our Party, but they must be kicked out."
David Sheard
The Sunday Telegraph also revealed that three more Labour councillors and candidates for the local elections have recently posted material appearing to endorse the claim that accusations of antisemitism have been exploited by the "Israel lobby" and Jewish groups in the UK.
In a tweet responding to concerns raised by Wes Streeting MP about voters being put off Labour by claims of antisemitism, David Sheard, the Deputy Leader of Kirklees Council, reportedly responded that: "Jewish organisations run a concerted campaign against JC [Jeremy Corbyn] and Wea [sic] Streeting is not surprised that it is working." Mr Sheard did not respond to a request for a comment from the Sunday Telegraph.
Eleanor Tristram
Eleanor Tristram, a candidate for Stafford Borough Council, reportedly shared a claim on Facebook that the Jewish MP Ruth Smeeth was funded by the "Israel lobby" and also described the Labour antisemitism crisis as a "smear" organised by "pro-Israel Labour MPs". Ms Tristram also reportedly shared a Facebook post that stated that: "The current antisemitism witch-hunt against Chris Williamson, Jackie Walker and others, and against our own Labour Party constituencies is a fraud…The attacks, orchestrated by the right-wing of the Labour Party led by Tom Watson, reinforced by the MSM [mainstream media], are not really about antisemitism. They are a cover for sabotage…These pro-Israel Labour MPs know that such a government would oppose attacks on the Palestinian people." Responding to claims that she was helping to spread antisemitic comments, Ms Tristram told the Sunday Telegraph that: "The current row over antisemitism is a witch hunt against Jeremy Corbyn. There is no problem with antisemitism in the party. I've not seen any examples of it at meetings or at party conference. It's part of a campaign in the mainstream media to discredit the leadership." She added that: "The majority of antisemitism directed at [Jewish members] has not come from Labour members and if it has they have been expelled."
Mick Bone
Another Labour candidate, Mick Bone, who is seeking election to Middlesbrough Council, reportedly shared a graphic suggesting that the Israeli Embassy controls BBC News, and that Jewish employees such as the BBC's former Director of Television, Danny Cohen had dual loyalty to Israel. Mr Bone also reportedly shared Facebook memes calling for Israeli diplomats to be expelled from Britain and accused the "Israeli lobby" of leading a witch hunt against Mr Corbyn. He refused to comment when contacted by the paper.
In relation to Mr Sheard, Ms Tristram and Mr Bone, a Labour Party spokesperson told the Sunday Telegraph that: "The Labour Party takes all complaints of antisemitism extremely seriously and we are committed to challenging and campaigning against it in all its forms. All complaints about antisemitism are fully investigated in line with our rules and procedures and any appropriate disciplinary action is taken."
These latest revelations came after The Telegraph reported on 15th April that Labour was forced to suspend Alexandrina Braithwaite, a council candidate, after the newspaper revealed that she had posted a web of online Rothschild and Israel conspiracy theories.
Frances Naggs
Separately, The Independent has reported that the author of an open letter that claimed that a Jewish community protest in Parliament Square last March was the work of a "very powerful special interest group" has been selected as a Labour council candidate. Frances Naggs, a Labour activist in Staffordshire, is standing for Labour as a councillor in Staffordshire Moorlands. Ms Naggs' letter was reportedly shared widely on social media and received thousands of likes. She reportedly wrote: "Yesterday we witnessed the full onslaught of a very powerful special interest group mobilising its apparent, immense strength against you. It is clear this group can employ the full might of the BBC to make sure its voice is heard very loudly and clearly. It is a shame not every special interest group can get the same coverage." She added: "But, and it is a very big but, we live in a democracy, a one member one vote democracy and no special interest group, regardless of their history or influence, can be allowed to dictate who the rest of us can vote for or how we vote." Ms Naggs told Independent that the letter was a "naïve mistake" and that she had not been referring to Jewish groups.
Kasey Carver
Additionally, The Jewish News reports that Kasey Carver, who was photographed with convicted Holocaust denier Alison Chabloz, is standing for Labour for the St John's Ward in High Peak. Ms Chabloz was convicted of criminal offences in relation to songs mocking Holocaust survivors and claiming that the Holocaust was a Jewish fraud. She was convicted in the first case of its kind, following a private prosecution by Campaign Against Antisemitism, which the Crown eventually agreed to take over. She appealed the decision in the Crown Court and the conviction was upheld in February this year, setting a new precedent. Ms Carver, a committee member of Glossop Labour Club, was reported to the Party's Governance and Legal Unit, as confirmed by local MP Ruth George a year ago. Ms Carver reportedly organised fundraising events with the group Glossop for Kids in Gaza which were attended by Ms Chabloz. A photo from 2014 shared by Glossop for Kids in Gaza shows Ms Carver with Ms Chabloz and other activists holding up a Palestinian flag at an event. The photo appears on Ms Chabloz's Facebook page. Ms Carver told the Jewish News that: "I ran those benefits and [Chabloz] sang in one of them and that's the photograph you refer to. She came to those benefits often. Then she left the area and then it came to our attention [in 2016] that some of the stuff she was putting out was outrageous antisemitism."
Screenshots of deleted Facebook posts sent from Carver's personal account have been widely circulated online. A Facebook post from 2015 linked back to a blog post published on the website "Semitic Controversies", above which Ms Carver commented: "Just looked at the potentially Zionist influence of the BBC." Another deleted post linked to a story published in "Global Research CA", which suggested that Israel backs ISIS. The post read that: "Various indications of Israel support for ISIS in the past but this is looking more convincing. If true, just shows what a mixed up and morally reprehensible mess that has been created in Syria." Ms Carver told The Jewish News: "I regret that and I have been to antisemitism training then and I am very much more aware of the sensitivity of the [BBC] post and I have apologised." She added that she had not intended to promote the view that Israel backs ISIS. "Our branch has been put on antisemitism training to make people more aware."
Kate Linnegar
The BBC has also reported that Kate Linnegar, Labour's candidate for Swindon Borough Council, as well as its prospective parliamentary candidate for the North Swindon seat at the next general election, has shared articles arguing that false allegations of antisemitism were being manufactured or "weaponised" to discredit Jeremy Corbyn. In a statement, she told the BBC: "I sincerely apologise for having liked or shared these posts in the past and for the offence this has caused" adding that she has since "developed a deeper understanding about the issue". Labour said the posts were published in 2016, before the UK government and the Party adopted the International Definition of Antisemitism and that Ms Linnegar was "committed to tackling anti-Semitism within her own party and society" but regardless of when the definition was formally adopted, it pointedly failed to apologise or commit to taking any kind of disciplinary action.
The Equality and Human Rights Commission has begun pre-enforcement proceedings against the Labour Party following a formal referral and detailed legal representations from Campaign Against Antisemitism, which is the complainant. The pre-enforcement proceedings are a precursor to opening a full statutory investigation.
In recent months, eleven MPs have resigned from the Labour Party over antisemitism, along with numerous councillors and members.
Over 50,000 people have now signed our petition denouncing Jeremy Corbyn as an antisemite and declaring him "unfit to hold any public office."