Man found guilty of promoting hate against Jews in British Columbia, Canada reportedly breaches his probation by posting offensive cartoons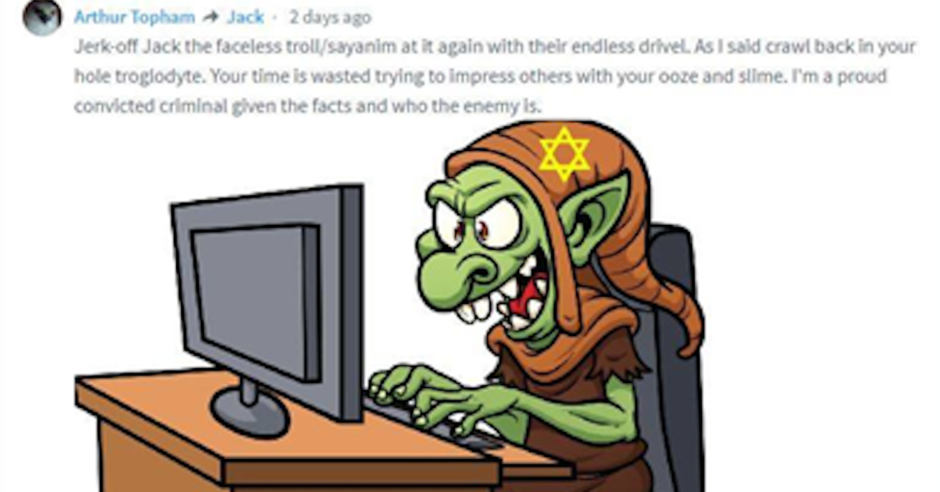 A man has been found guilty of breaching his probation following his conviction for wilfully promoting hatred against Jews in 2017 in British Columbia, Canada, according to B'nai Brith Canada.
Through his website RadicalPress.com, Arthur Topham allegedly called for Jews to be forcibly sterilised and claimed that Canada was "controlled by the Zionist Jew lobby" while also describing Jewish places of worship as "synagogues of Satan". He was first charged in 2012 over the hateful content and the website was taken down.
He was convicted by a jury in November 2015 for one count of communicating online statements that wilfully promoted hatred against Jewish people. According to evidence provided during the trial, Mr Topham's online newspaper allegedly endorsed overt antisemitic conspiracy theories and tropes. The trial was the first hate crime prosecution in British Columbia in almost a decade.
The British Columbia Supreme Court rejected a subsequent appeal, brought on constitutional grounds, in 2017 and Mr Topham's sentence to a six-month conditional sentence, two years probation and a curfew was brought into force. The sentence has been criticised as too lenient. Mr Topham was also ordered to abide by terms of his probation, which included a ban on all online activity that related to "any information about persons of Jewish religion or ethnic origin".
Earlier this year, however, Mr Topham was charged with violating his probation by allegedly posting offensive cartoons across his social media platforms. The captions that accompanied the antisemitic images are alleged to have included the claims that "I'm a proud convicted criminal given the facts and who the enemy is" and "It's time to stand up and be proud to call yourself an 'antisemite'".
A date for Mr Topham's sentencing on the breach of probation charge is set to be confirmed shortly.
Campaign Against Antisemitism has expanded our coverage of antisemitism worldwide. Please contact us if you would like to share feedback or volunteer to assist with this project.Image credit: B'nai Brith Canada