Police and Crime Commissioner for hate crime left "shocked" but resolute after CAA arranges meetings with Holocaust survivors, Jewish students and BCCA members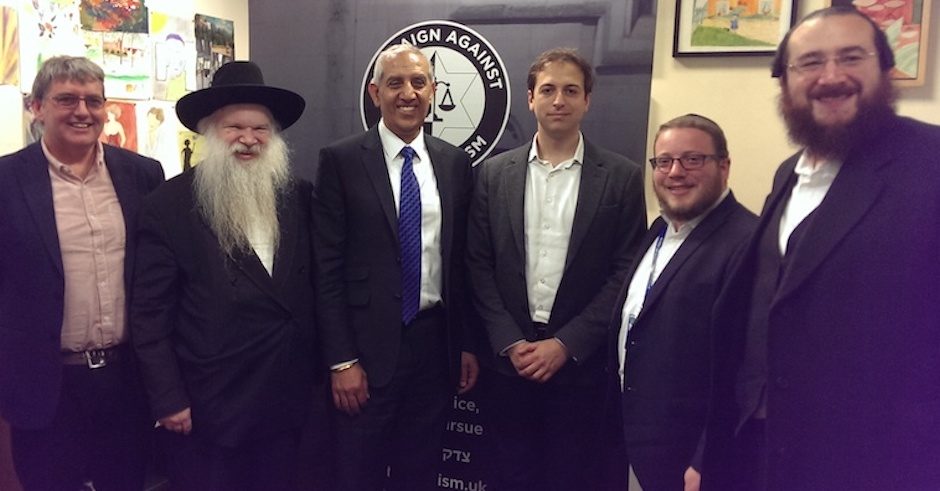 Campaign Against Antisemitism was pleased to welcome the Police and Crime Commissioner (PCC) charged with overseeing the police response to hate crime for the Association of Police and Crime Commissioners last week.
Hardyal Dhindsa is the PCC for Derbyshire and has been appointed the national lead on hate crime. Last week, Campaign Against Antisemitism hosted him in London to discuss antisemitic hate crime, and the police response.
The Holocaust Survivors' Centre kindly hosted a meeting for us and Mr Dhindsa with a group of Holocaust survivors who told Mr Dhindsa that in addition to more education about antisemitism, they expected to see more prosecutions for antisemitism, expressing frustration that antisemitism disguised as political discourse against Israel and antisemitic hate speech often goes unpunished.
We then arranged for Mr Dhindsa to meet members of the newly-launched British Council for Countering Antisemitism who told Mr Dhindsa about their work on the front lines protecting Jews from antisemitic hatred on the streets.
To round off Mr Dhindsa's visit, we took him to the School of African and Oriental Studies, SOAS, which has sometimes been nicknamed the "School of Antisemitism", to meet Jewish students from across the UK who we brought to London to talk about their experiences as Jews on modern campuses.
Mr Dhindsa said: "I'm shocked. Like many, I believed that antisemitic behaviour had been consigned to the past and clearly that is not the case. I will do whatever I can, with my fellow PCCs and the wider policing family, to see this unacceptable bigotry replaced by tolerance and respect."