Police fail to act as demonstrators protesting Conservative Party Conference tell Jews to "get back to Auschwitz"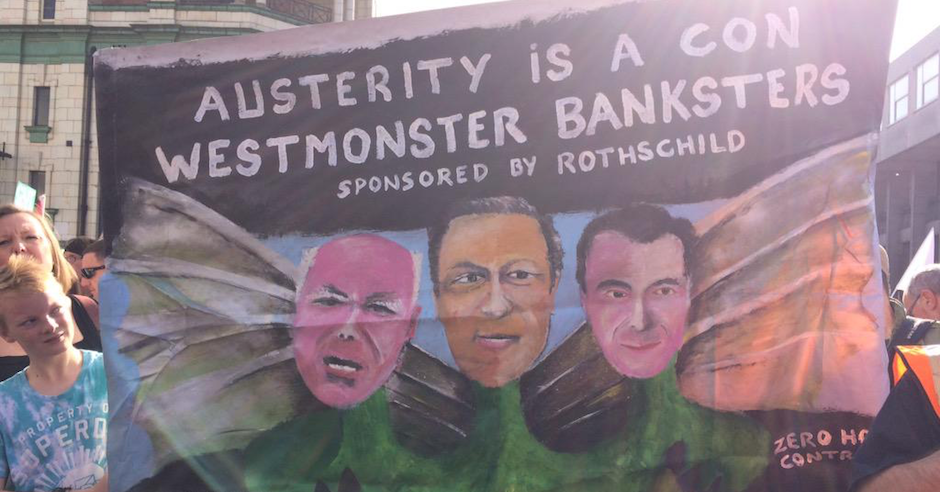 Jewish delegates to the Conservative Party Conference in Manchester have reportedly been subjected to antisemitic abuse by anti-Conservative protesters. Stephen Woods, Chairman of the Conservative Sale East and Wythenshawe Association, told the Jewish News: "The abuse we had to endure was despicable, with a number of protestors screaming 'Jewish Tory scum, get back to Auschwitz.' I have never heard such vile language. The whole incident left us all shaken up." Woods told the Times: "This was definitely in the earshot of the police but they did nothing. It was disgusting."
In response, Greater Manchester Police told the Jewish News that it has "not received any reports in relation to this matter…If anyone has been a victim of any such incident, they are encouraged to please report this to the police and we will investigate." This is akin to the police saying that they witnessed someone being assaulted but did not intervene because nobody came and reported the assault to them.
We continue to see government ministers including the Prime Minister issue strong calls for firm action against antisemitism, but we are increasingly concerned that the expected firm police stance is not materialising.
Another example of antisemitism amongst protesters outside the conference was an antisemitic banner made by a 13-year-old boy. It seems that no action was taken by the police in that case either.
The Prime Minister has publicly identified antisemitism as a major societal problem and a gateway to extremism. Antisemites must be shown no quarter by the police; the law must be enforced.
https://twitter.com/helenpidd/status/650631944292704256
Thanks to Sussex Friends of Israel for pointing out Helen Pidd's tweet to us.