Police release images of men they want to speak to after "frankly disgusting" antisemitic chanting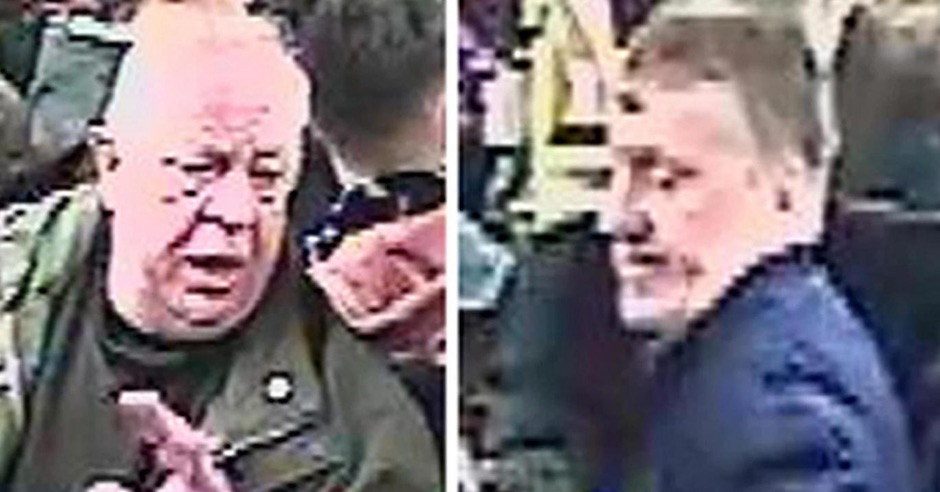 Greater Manchester Police has released images of men they would like to talk to in relation to an incident two weeks ago in which Manchester City Football Club fans shouted antisemitic slogans on a tram on their way to watch their team play against Tottenham Hotspur at Manchester's Etihad Stadium.
The Manchester City fans bellowed at passengers: "F*** off, you F***ing yids! F***ing gas isn't good enough for ya!" They continued: "You're getting gassed in the morning, gassed in the morning!"
In a statement, Greater Manchester Police confirmed that a 59-year-old man has been interviewed under caution and enquiries are ongoing, and that Manchester City Football Club has been working with police to identify the men.
Detective Inspector Rebecca Boyce said: "While our enquiries are ongoing, we have identified two men who we want to speak to in connection with the incident. We take all reports of hate crime tremendously seriously and it is imperative that we follow all lines of enquiry to ensure the people involved in this frankly disgusting incident are brought to justice. The tirade of abuse that was chanted has immensely impacted not only the people at the match, but members of the wider society and we will do everything in our power to make it known that hate crime is absolutely unacceptable. If anyone recognises the men in the images, I'm strongly urging you to contact us at the earliest opportunity."
The original smartphone footage was captured by a fellow Manchester City fan, Anthony Fallon, who was horrified. At the time, he told Manchester Evening News: "I'm not sure if there were Tottenham fans on the tram or if it was just City fans trying to cause a melée between themselves or a raucous atmosphere, but they started saying 'come on you Spurs'. The City fans next to me, two men in their 50s, then started chanting 'You're getting gassed in the morning'. It was making people very uncomfortable and there was a guy who obviously couldn't wait to get off the tram. It was like being back in the 1980s. I went to a game in Leeds in 1983 where fans were throwing banana peels at a black player. This was like a throwback to the 1980s. I haven't heard anything like that, certainly not in the last decade. I was completely taken aback. They need to be identified. This was not just borderline racism, it was bile and hatred."
Mr Fallon's smartphone then caught the fans' attention. One tells him: "Hey mate, don't be f***ing filming everybody. I'm f***ing camera shy me, do you know what I mean? You need permission to film in public. It's a fact so don't do it."
The incident took place on a Metrolink tram travelling from Market Street to the Etihad Stadium at approximately 17:10 on Saturday 21st January.
We commend Anthony Fallon for his presence of mind and for ensuring that this incident was brought to the attention of the police and the media. Any witnesses should contact Greater Manchester Police on 101.