Polish historian resigns from "dream job" over alleged links to far-right organisation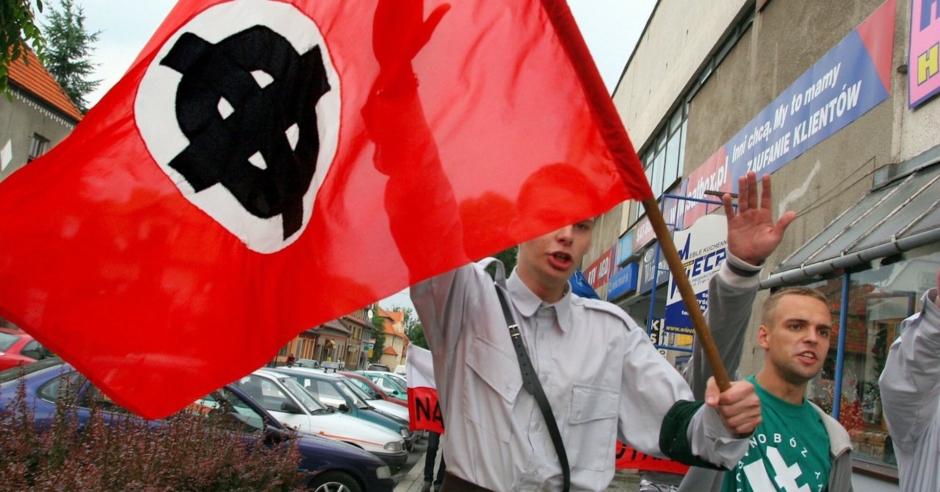 A historian in a Polish institute that researches World War II war crimes has resigned after alleged links to a far-right organisation emerged, along with pictures of him performing a Nazi-style salute.
Tomasz Greniuch, who was appointed in February as the head of the Wroclaw branch of the Institute of National Remembrance (IPN), resigned less than two weeks later amid outrage over his alleged links to the National Radical Camp, a far-right group, and after pictures appeared of him apparently performing a Nazi-style salute at rallies in the early 2000s.
The director of the Prime Minister's Office, Michal Dworczyk, urged him to resign "for the sake of the institution and the image of Poland."
Mr Greniuch's appointment to such a sensitive role has caused controversy in Poland, where the governing Law and Justice Party has faced accusations of encouraging far-right sentiment, a charge that the Party denies.
Some politicians have called for the resignation of the head of the IPN, Jaroslaw Szarek, who went ahead with Mr Greniuch's appointment despite concerns voiced by members of the Government and by the Polish President.
Mr Greniuch issued a public apology on Friday declaring: "I have never been a Nazi and I apologise for the irresponsible gesture I made a dozen years ago, which was a mistake." He added. "The gesture was the result of youthful bravado," and was not aimed at "glorifying totalitarianism".
In a 2019 interview, he said that he had not cut himself off from his earlier views but had changed his behaviour and noted that "when you have your dream job, you try to be a professional."
Campaign Against Antisemitism has expanded our coverage of antisemitism worldwide. Please contact us if you would like to share feedback or volunteer to assist with this project.