Proscription nears for National Action as they declare Newbury a "White zone"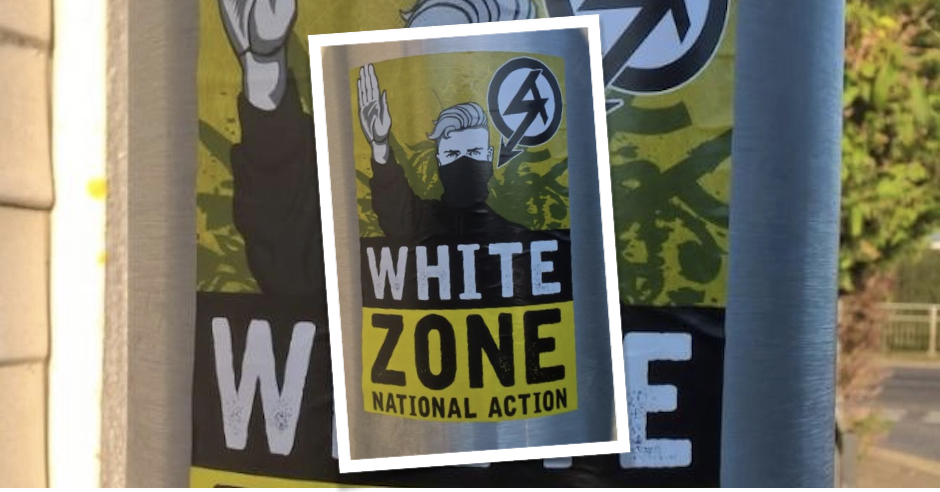 For the second time in a month, violent neo-Nazi group National Action has tried to claim territory. Last month, National Action absurdly declared parts of Liverpool a "Nazi controlled zone". Now, National Action stickers have been found declaring parts of Newbury to be a "White zone", with a drawing of a man with his face covered making a Nazi salute.
In a statement, Sergeant Holly Nicholls, of Newbury Police Station, said "Thames Valley Police has received a complaint from a member of the public. The offensive nature of the 'white zone' posters, in addition to the fact that they were fly-posted, led to the removal of the posters. If you witnessed anyone hanging these posters, see any posters of concern, or have information that will help our investigation, please call Thames Valley Police on 101 citing reference number 43160334514."
Campaign Against Antisemitism has asked the Home Secretary to proscribe National Action under section 3(3)(a) of the Terrorism Act 2000, which would instantly render it a criminal offence to recruit for, be a member of or in any way support National Action.
National Action is a growing neo-Nazi group in Britain. It radicalises and indoctrinates the young, teaches them violence, attacks the police and the public and demands a new Holocaust. Many of its activities are already criminal, but its members are not being prosecuted. Earlier this week, Campaign Against Antisemitism released a video about National Action, and called on supporters to sign a petition adding their voices to Campaign Against Antisemitism's call for National Action to be proscribed.
There are now positive signs that proscription is nearing for this violent neo-Nazi organisation. If you have not already done so, please show your support by signing our petition and calling on your friends to do so too.