Protests outside conservative conference feature Nazi and SS flags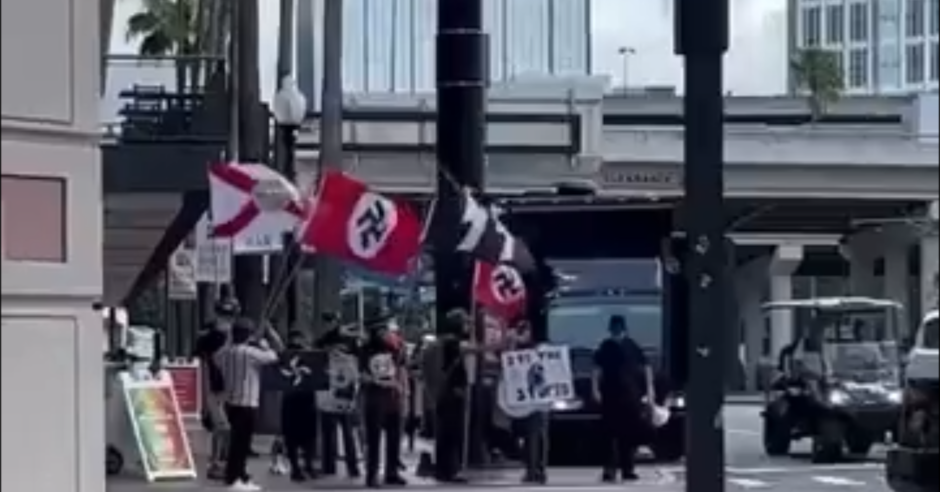 A group of protesters have held a rally featuring Nazi and SS flags outside a conference organised by a conservative group in Tampa, Florida, prompting outrage.
Video footage shows a small group gathered outside the convention centre where the Turning Point USA conference was being held, featuring speakers including the former US President, Donald Trump, and the current Florida Governor, Ron Desantis.
The group can be seen apparently brandishing flags and signs with neo-Nazi imagery, including Nazi flags and flags with the insignia of the SS Nazi paramilitary organisation.
Following the events in Tampa, Turning Point USA released a statement denying any connection between the protestors and the conference.
In a statement, the Chairman of the Florida Holocaust Museum, Mike Igel, said that "This isn't about politics or religion. It's about humanity. The Florida Holocaust Museum calls upon everyone, Jew and non-Jew, regardless of political affiliation, to condemn this blatant antisemitism in the strongest possible terms. This should matter to everyone."
Florida Senator Rick Scott, tweeted: "This is a disgusting act of hateful antisemitism and doesn't belong in Florida, our nation or anywhere across the world. We stand with our Jewish community and against this hate. It must end."
Campaign Against Antisemitism reports on news and incidents relating to antisemitism throughout the United States.