Report claims Labour Party readmitted Naz Shah before police investigation concluded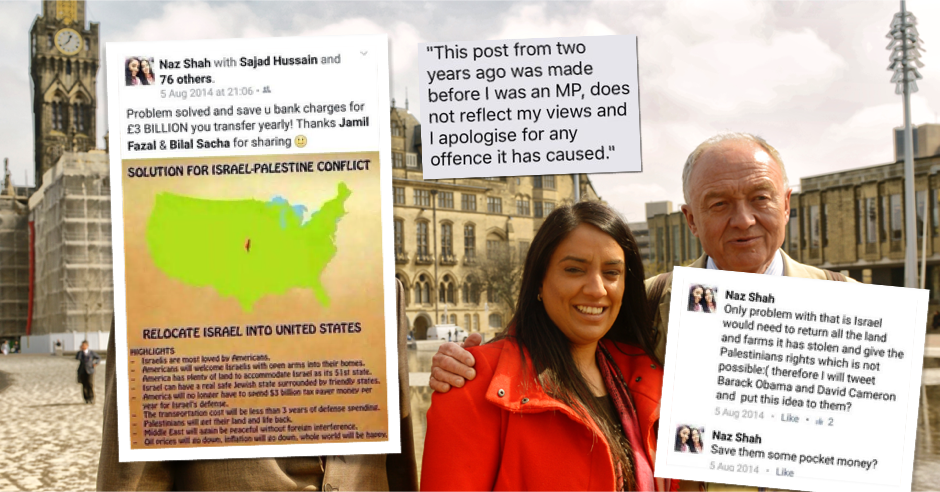 Labour has gone from being a pioneering force against racism to being the favoured political home of antisemites. We did not think that the situation could get worse after Jeremy Corbyn rewarded Shami Chakrabarti with a peerage for her whitewash of an investigation into antisemitism in Labour, but now we are hearing that Labour may have prejudiced a police investigation into one of its MPs.
The Daily Mail has reported that Naz Shah, who was suspended from the Labour Party over antisemitic social media posts, was readmitted to the Party despite being under active police investigation. It took considerable pressure for Jeremy Corbyn to suspend Naz Shah, who has admitted the antisemitic nature of her comments and apologised for them.
If it is true that there is an ongoing police investigation into antisemitic hate crime allegedly committed by Naz Shah and Labour was aware of it but decided to end her suspension before the police investigation had concluded, then this is yet further evidence of the Party's abject failure to grasp its antisemitism problem.
In recent months we have seen Labour operate a revolving door of suspensions and readmissions for some of its antisemitic members and this latest revelation, if true, would be another clear indicator that the Party's disciplinary process is being distorted for political effect.