Sadiq Khan welcomes "All about the Benjamins" Congresswoman Ilhan Omar to London as heroine of "equality and inclusion" as she meets with fawning MPs and peers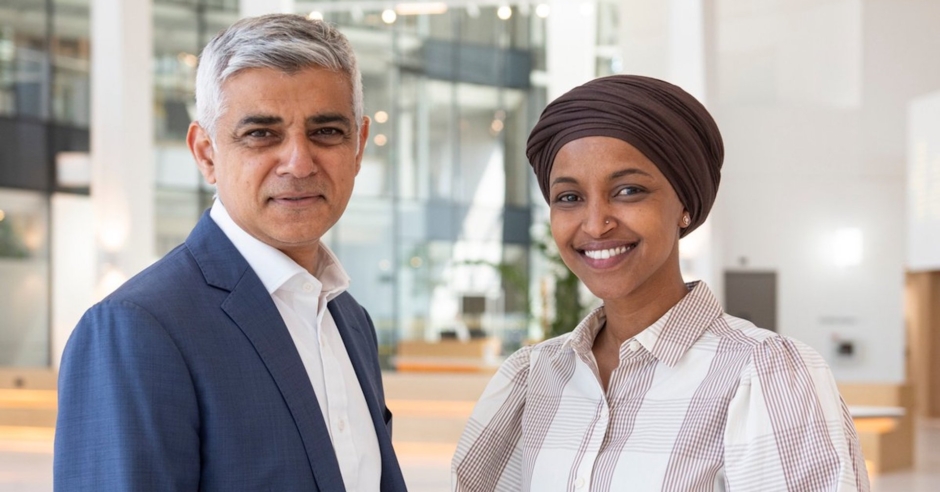 The Mayor of London, Sadiq Khan, has welcomed Congresswoman Ilhan Omar to London as a heroine of "equality and inclusion" as she began a trip that saw her meet with fawning parliamentarians.
In a statement on Twitter, Mr Khan wrote: "From the lakes of Minnesota to the bright lights of London, we must stand firm in upholding progressive values of equality and inclusion in the face of those who seek to divide us", adding that they had discussed "how we can keep building bridges, not walls."
Rep. Omar has been described as a "virulent antisemite" for saying that "Israel has hypnotised the world, may Allah awaken the people and help them see the evil doings of Israel."
On another occasion, Rep. Omar suggested that Jewish people buy political support. She tweeted: "It's all about the Benjamins baby", referencing a song about a $100 bill and AIPAC, a pro-Israeli lobbying group.
This is not the first time that Mr Khan has praised Rep. Omar and her controversial colleagues.
Rep. Omar also met with Conservative peer Baroness Sayeeda Warsi and Labour MPs Naz Shah, Zarah Sultana and Sarah Owen, who tweeted selfies, photographs of warm embraces, and words of praise for the controversial Congresswoman.
Ms Shah welcomed Rep. Omar to the Houses of Parliament, tweeting: "It has been an absolute honour to host my fellow Muslim sister @IlhanMN…at Parliament today" before adding: "The sisterhood is international!"
Ms Shah, Baroness Warsi and Ms Sultana have all faced criticism for their inflammatory comments about Jews. According to analysis conducted by Campaign Against Antisemitism, Naz Shah has acted or spoken in ways that breach the International Definition of Antisemitism and therefore qualify as antisemitic discourse on at least four occasions.
Ms Shah's previous dalliances with antisemitism were so grave that they led to her suspension from the Labour Party even under Jeremy Corbyn's leadership, and she has appeared to resent how she was held to account. She also shared a platform with Mr Corbyn but has not been disciplined, even though Mr Corbyn, like Ms Shah before him, was suspended from the Party for antisemitism.
In June, Ms Shah reportedly spoke at a rally where calls were made to "lift the curse of the Jews off the Muslims in Palestine!"
In 2017, Baroness Warsi reportedly made divisive comments claiming that Jews, Sikhs and black people do not do enough to speak out against the far-right and anti-Muslim hatred, and only months prior, she claimed that British Jews who volunteer for the Israeli Defence Force should be prosecuted as though they had been fighting for genocidal terrorist groups such as ISIS.
Ms Sultana also has a history of unseemly comments about Jews, including telling a Jewish student that it was "privilege" that allowed them to argue for peace in the Middle East, saying: "it is your privilege that lets you speak on stage and call for peace"; saying that students who "go to Zionist conferences and trips should be ashamed of themselves" because they were advocating a "racist ideology"; describing Israel as a "state created through ethnic cleansing"; saying that "those who lobby for Israel" would "in the near future feel the same shame and regret as South African Apartheid supporters"; advocating for "violent resistance" against Israelis; saying that she would celebrate the deaths of Tony Blair and other past and present world leaders (for which she was forced to apologise and was defended by Labour frontbencher John McDonnell); writing that "the Labour Right are scum and genuinely make me sick. Is there any form of discrimination that they won't weaponise to politically point score like they've done in the past with antisemitism and now with homophobia?"; and accusing Jewish students on social media of being on the payroll of Israel's Prime Minister.
Also pictured in Ms Shah's photographs is the expelled Labour Party MP Claudia Webbe, who has previously defended Ken Livingstone after he compared a Jewish journalist to a concentration camp guard.
In 2018, when Ms Webbe was the Chair of the Labour Party's Disciplinary Panel, she tweeted a claim that the "combined machinery of state, political and mainstream elite" are conspiring to smear Jeremy Corbyn with "false allegations."
Joe Glasman, Head of Political and Government Investigations at Campaign Against Antisemitism, said: "We are seeing a budding transatlantic relationship between far-left politicians and even some otherwise moderate left-wing politicians, most of whom have controversial records when it comes to antisemitism. For the UK, these meetings one again undermine Sir Keir Starmer's repeated and unsubstantiated claims to have addressed the antisemitism problem in the Labour Party.
"But for the US, too, the problem of far-left antisemitism in Labour is looking worryingly like the Ghost of Christmas Future for the Democratic Party if they do not get a grip. In the UK, for years the Jewish community made the mistake of thinking that this ideology was fringe and irrelevant in Labour until suddenly it took hold of the leadership. American Jews and Americans in general cannot afford to make the same mistake."
The Labour Party was found by the Equality and Human Rights Commission (EHRC) to have engaged in unlawful discrimination and harassment of Jews. The report followed the EHRC's investigation of the Labour Party in which Campaign Against Antisemitism was the complainant, submitting hundreds of pages of evidence and legal argument. Sir Keir Starmer called the publication of the report a "day of shame" for the Labour Party.
Campaign Against Antisemitism's Antisemitism Barometer 2019 showed that antisemitism on the far-left of British politics has surpassed that of the far-right.
Campaign Against Antisemitism advocates for zero tolerance of antisemitism in public life. To that end we monitor all political parties and strive to ensure that any cases of concern are properly addressed.