Show Racism the Red Card gets its own red card as trustee bravely quits the charity in protest against its support for Ken Loach despite concerns of Jewish community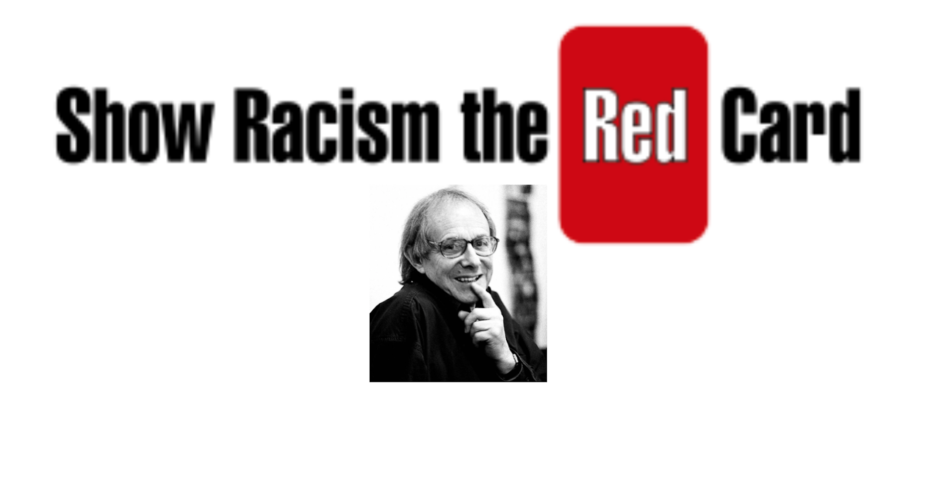 A trustee of Show Racism the Red Card has bravely quit from the charity over its support for Ken Loach despite the concerns of the Jewish community about the filmmaker's record, according to the JC.
Azeem Ahmad resigned from the group's Management Committee because he was "troubled and uncomfortable" by the charity's refusal to reverse its decision to enlist the controversial director to be a judge in an anti-racism competition that it was running for hundreds of schools across the country.
Despite concerns being raised by Campaign Against Antisemitism and others regarding the appointment, Show Racism the Red Card stood by its decision before eventually reversing itself under pressure. Even then, however, the organisation partly blamed the "abuse" that Mr Loach was apparently receiving online. As we pointed out at the time, abuse is never acceptable, and Campaign Against Antisemitism hopes that Show Racism the Red Card was not suggesting that highlighting Mr Loach's history of inflammatory comments on the subject of antisemitism and his consequent unfitness to serve as a judge in an anti-racism competition constitutes abuse.
Mr Ahmad quit before the group dropped Mr Loach from the panel, and his resignation was in reaction towards the insistence of the group's CEO, Ged Grebby, that Mr Loach remain as a judge, as well as wider concerns over the charity's stance on antisemitism in the Labour Party and the International Definition of Antisemitism.
Mr Ahmad told the JC that he had resigned after six years as a trustee in February, and that his resignation was accepted in March. He said: "What makes the whole antisemitism issue and the whole Ken Loach issue so uncomfortable for me is that Ged is very clear on what is and what isn't racism. He knows what he is doing, and it is not like he doesn't understand what racism is and how it can manifest itself. That is where I have been left deeply uncomfortable with the way the Jewish community has been treated. Not just with the Ken Loach issue, but also with Jeremy Corbyn's appearance at (the charity's annual) Arsenal stadium event. That last event the Labour leader attended after the EHRC investigation had been announced. That to me is deeply troubling.
Mr Ahmad was referring to the full statutory investigation into antisemitism in the Labour Party launched by the Equality and Human Rights Commission on 28th May 2019 following a formal referral and detailed legal representations from Campaign Against Antisemitism, which is the complainant.
Campaign Against Antisemitism also criticised the inclusion of Mr Corbyn at the Arsenal stadium event.
Mr Ahmad went on to say that this episode reflected deeper administrative failings at Show Racism the Red Card and problems over dealing with antisemitism. Noting that the criticism of Mr Loach's appointment was due to be discussed at a trustee meeting on 21st February, Mr Ahmad recalled: "I knew the recruitment of Ken Loach was going to be a problem. There were public accusations of antisemitism being made (on social media) towards the chief executive of the organisation. They one way or another had to be addressed. It was the failure to do that, combined with an email forwarded to the trustees in which Ged sent an email from Ken Loach and all the other letters of support for him. At that point, I knew the decision to appoint him would have been upheld, it was a forgone conclusion. I just felt I couldn't have anything to do with it, so my resignation got submitted via my solicitor on the morning of the meeting of 21st February where it was discussed."
It also emerged that concerns from the Jewish community that had been relayed to Mr Grebby about the appointment were not discussed at the meeting.
Mr Ahmad continued: "I don't want to turn this into a political debate but left-wing politics overrides the organisation, in my view. Through association, through the funders, it's very much about doing what they want us to do. I'm not sure where the autonomy has been."
Regarding Mr Grebby, Mr Ahmad said: "He has his vision. Things stem from that. He leads by statement, rather than through discussion. There has not been a great deal of consultative leadership."
Campaign Against Antisemitism has previously written in depth about Mr Grebby's own problematic record.
Mr Ahmad also lamented Mr Grebby's failure to "understand the value" of the International Definition of Antisemitism. "Where has the organisation been on this issue over the past two and a half years? To me it seems like a lost opportunity. A lot of the work the charity does is quite good."
Campaign Against Antisemitism has in the past also noted that Show Racism the Red Card describes itself as an anti-racism educational charity and appears to focus on discrimination and hate towards Black and Asian communities in the UK. It does not appear to offer resources on antisemitism.
Mr Ahmad spoke to this point as well, responding to Mr Grebby's apparent insistence that the charity's educational materials do include resources on antisemitism by saying: "That is just not true. I have never known any specific antisemitism activities that the organisation has run in the past. As far as I'm aware there has never been anything specific on it."
"Ultimately racists are racists," Mr Ahmad said. "They don't care whether we are Jewish or Muslim, we are other."
Campaign Against Antisemitism applauds Mr Ahmad for courageously protesting Show Racism the Red Card's failures to take the concerns of the Jewish community into account. It is probable that Mr Ahmad's resignation helped to bring about about the reversal of the appointment of Mr Loach, and Mr Ahmad is to be commended for his principled stance. We hope that this will be a wake-up call to Show Racism the Red Card.