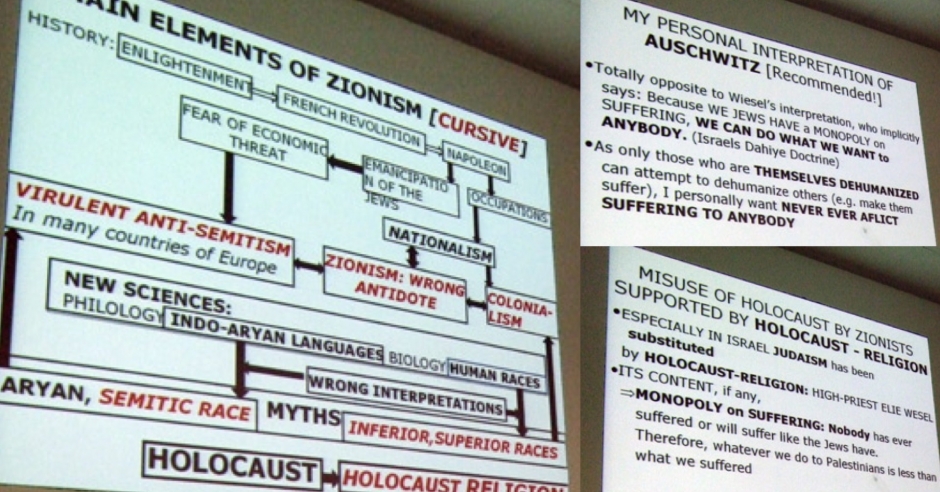 Slides used during Jeremy Corbyn's Holocaust Memorial Day event proclaimed that "Judaism has been substituted by Holocaust religion" with "monopoly on suffering". According to the slides, under Israel's "Holocaust religion", a new Holocaust was being inflicted by Israel, supposedly under the supervision of Nobel Prize laureate and Holocaust survivor Elie Wiesel, who the slides said was the "high priest" of the "Holocaust religion".
Campaign Against Antisemitism became aware of the slides four days ago but only now have activists who were present in 2010 confirmed that they were the same slides used at the event chaired by Mr Corbyn.
Jewish anti-racism activists, including an elderly Holocaust survivor, who attended Mr Corbyn's event were silenced by him. According to their accounts, when the anti-racism activists remonstrated with the speakers, Mr Corbyn pointed at them and police escorted them out.
One speaker told the event, which was timed to coincide with Holocaust Memorial Day, that "Nazism has won because it has finally managed to 'Nazify' the consciousness of its victims."
According to the International Definition of Antisemitism, "Drawing comparisons of contemporary Israeli policy to that of the Nazis" is antisemitic.
However, it is clear that the slides do not refer only to Israeli Jews as one of them states that "Judaism has been substituted by Holocaust religion" not exclusively in Israel but "especially" in Israel.
Mr Corbyn did not apologise to the Jewish community at the time of the event, despite an outcry. Instead, the event went unaddressed until an academic studying old reports rediscovered it. Under considerable pressure, Mr Corbyn then issued a meaningless apology for any "anxiety caused".
The year after the event, Mr Corbyn and John McDonnell launched an attempt on Holocaust Memorial Day in 2011 to remove the word "Holocaust" from "Holocaust Memorial Day". In response to the revelation of the motion, Mr McDonnell and Mr Corbyn issued a statement saying that "It is not our policy to seek a name change for this important commemoration."
Campaign Against Antisemitism has made a disciplinary complaint against Mr Corbyn – our third – and referred the Labour Party to the Equality and Human Rights Commission.
These slides are utterly depraved, inverting the Holocaust so that the Nazis' victims are cast as their successors. Jews are accused of practising a form of religious Nazism in which revered humanitarian Holocaust survivor Elie Wiesel is a "high priest". Mr Corbyn sat through that slideshow and the only time he intervened was to silence Jewish anti-racism activists and have them escorted from the room. His insincere apologies under duress do not change the fact that he is an antisemite, and that under his leadership the Labour Party has become institutionally antisemitic and an existential threat to British Jewry.