Success for CAA as London venue cancels appearance from notorious antisemite Alison Chabloz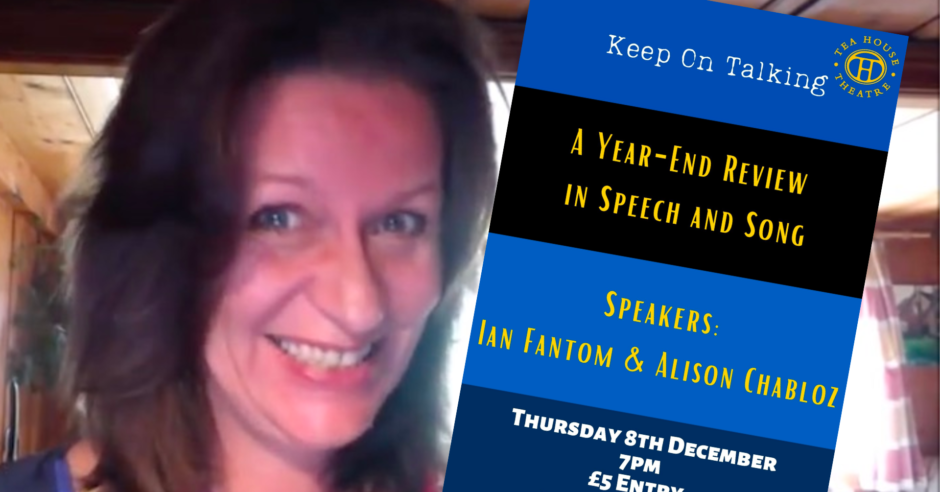 A venue in South London has cancelled a scheduled appearance from the notorious antisemite Alison Chabloz, following action by Campaign Against Antisemitism.
The Tea House Theatre, whose events have courted controversy in the past, promoted the "Year-End Review in Speech and Song" event on Twitter and Instagram, writing that Ms Chabloz "will talk about her own experiences in being cancelled".
Lambeth's Vauxhall Ward condemned the event, tweeting: "Shameful that @theatre_tea here in Vauxhall would welcome someone with such abhorrent views. The right to free speech is not a right to platform, and we hope they will reconsider this event."
It added: "Antisemitism has no place in Vauxhall."
Labour Party MP Florence Eshalomi, representing Vauxhall, expressed similar sentiments, writing: "This is worrying – #Vauxhall is a vibrant diverse constituency. I hope the venue in question will reconsider- free speech should not be a platform for people to share any form of hate, racism, discrimination or antisemitism."
However, it has now been announced that while the event hosted by conspiracy theorist Ian Fantom will go ahead, Ms Chabloz will no longer be appearing.
Speaking to the JC, Tea House Theatre owner Harry Iggulden said: "I've looked now into her history a bit more, I understand a bit more of who she is and quite what a repugnant human being she is, and found myself in the position of this horrible person coming to my house.
"I put my colours to the mast a long time ago about being a free speech house, and sometimes I have to let people who I don't agree with, speak in my house. But there are limits. And last couple of days, I've been weighing those limits."
A spokesperson for Campaign Against Antisemitism said: "We are pleased that convicted Holocaust-denier Alison Chabloz will no longer be appearing at this venue. We have worked for a number of years to repeatedly send Ms Chabloz to prison over her attempts to spread her antisemitic vitriol. Her landmark conviction following a private prosecution that we initiated was the first conviction over Holocaust denial in this country. It is prudent of the venue to have heeded our call for her to be denied a platform, and we are grateful to Vauxhall Ward councillors and local MP Florence Eshalomi for their support.
"However, the venue's continued platforming of Ian Fantom, a senior figure in the notorious Keep Talking group, who has had long affiliations with promoters of antisemitic conspiracy theories, is worrying. If the Theatre is serious about creating a safe environment for Jews, it will think twice about hosting an event organised by him."
Earlier this year, Ms Chabloz was found guilty of a communications offence after action by Campaign Against Antisemitism.
The two-day trial at Westminster Magistrates' Court concerned a video of the scene in the classic Oliver Twist film when Fagin, a fictitious Jewish criminal (a character that has come under significant criticism over the past century for its antisemitic depiction), is explaining to his newest recruit how his legion of children followers pick pockets. Ms Chabloz uploaded the video and sings an accompanying song of her own about how Jews are greedy, "grift" for "shekels" and cheat on their taxes.
The video appeared to be either a bizarre fundraising effort for her mounting legal costs due to numerous charges she has faced, including several ongoing prosecutions in which Campaign Against Antisemitism has provided evidence, or an attempt at mockery of Campaign Against Antisemitism for pursuing her in the courts.
At court, Ms Chabloz tried to suggest that the video was part of a personal quarrel and that her racism is directed not at "Jews" but at "Zionists". She expressed scepticism about the facts of the Holocaust on the stand, and replicated a racist Quennelle gesture, which she has performed in the past. She rather insightfully observed that "antisemitism is not a crime. If it was, the prisons would be full."
Ms Chabloz is a virulent antisemite and Holocaust denier who has an extensive record of using social media to publicise her hatred for Jews and to convert others to her views about Jewish people. Following a private prosecution by Campaign Against Antisemitism, which was later continued by the Crown Prosecution Service (CPS), Ms Chabloz became the first person in Britain to be convicted over Holocaust denial in a precedent-setting case.
Ms Chabloz is fixated on the idea that the Holocaust did not occur, and that it was fabricated by Jews and their supporters as a vehicle for fraudulently extorting money in the form of reparations. This forms the basis for her second obsession, that Jews are liars and thieves who are working to undermine Western society. Ms Chabloz is also connected to far-right movements, at whose meetings she gives speeches and performs her songs, in the UK and North America. She is currently banned from entering France, where Holocaust denial is illegal.
She is also connected to far-right movements, at whose meetings she gives speeches and performs her songs, in the UK and North America, and is currently banned from entering France, where Holocaust denial is illegal.
Earlier this year, Campaign Against Antisemitism produced a video detailing the complete history of our legal battle with Ms Chabloz, which you can watch in full here.