Suspended Labour members, Twitter trolls and controversial parliamentarians to celebrate Jeremy Corbyn's birthday tonight and discuss how to restore the whip to the antisemitic former Party leader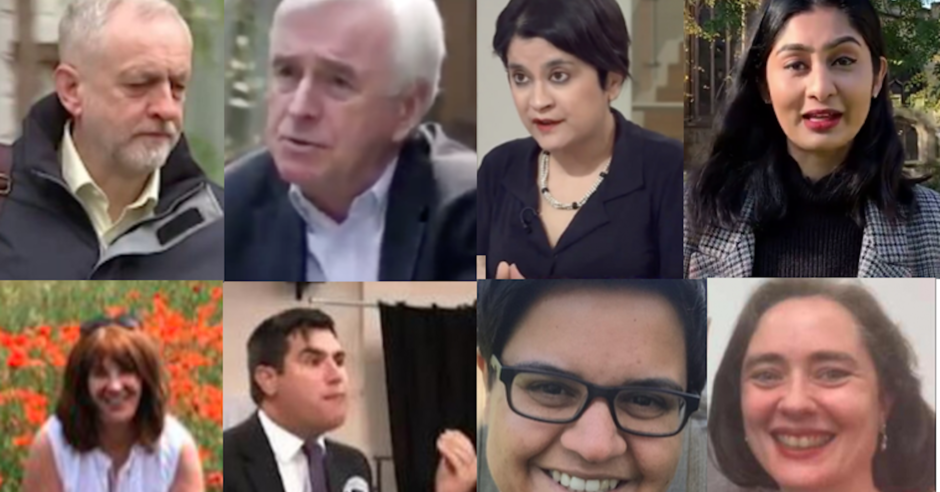 A who's who of suspended Labour Party members, Twitter trolls and controversial parliamentarians will reportedly be gathering online this evening to celebrate the birthday of former Labour leader Jeremy Corbyn and discuss how to restore the Party whip to him.
Tonight's speakers include:
John McDonnell: the former Shadow Chancellor recently tweeted a photo of an antisemitic sign which was featured at a rally that he himself attended and, notwithstanding the antisemitic slogans, chants and banners, said that he was "proud" to attend the rally. Disturbingly, Mr McDonnell also specifically encouraged his Muslim constituents to join the protests, seemingly stoking religious and communal divisions in the UK at a particularly vulnerable time for the Jewish community. Last year, Mc McDonnell was accused of sharing a platform with expelled Labour members at the Labour Representation Committee's Annual General Meeting, namely Jackie Walker and Tony Greenstein, but he claimed that it was "ridiculous" to suggest that as it was an open meeting and that he could not control who spoke. He remains the Honorary President of the controversial group.
Richard Burgon: the former Shadow Justice Secretary is best known for having stated that "Zionism is the enemy of peace" and then lied about having done so. He has also participated in rallies with suspended Labour activists without sanction. Mr Burgon is the subject of a complaint to the Labour Party by Campaign Against Antisemitism.
Shami Chakrabarti: the disgraced peer authored the whitewash report into antisemitism in the Labour Party and shortly thereafter was awarded a peerage by Mr Corbyn, who had previously pledged never to nominate anyone to the House of Lords. She recently and unironically told school pupils not to leave victims of discrimination to "stand up for themselves".
Zarah Sultana: the controversial new Labour MP has expressed her solidarity with antisemitic terrorist murderers, on the back of a surprisingly long history of unseemly comments about Jews, including telling a Jewish student that it was "privilege" that allowed them to argue for peace in the Middle East; saying that students who "go to Zionist conferences and trips should be ashamed of themselves" because they were advocating a "racist ideology"; describing Israel as a "state created through ethnic cleansing"; saying that "those who lobby for Israel" would "in the near future feel the same shame and regret as South African Apartheid supporters"; advocating for "violent resistance" against Israelis; saying that she would celebrate the deaths of Tony Blair and other past and present world leaders (for which she was forced to apologise and was defended by Labour then-frontbencher John McDonnell); writing that "the Labour Right are scum and genuinely make me sick. Is there any form of discrimination that they won't weaponise to politically point score like they've done in the past with antisemitism and now with homophobia?"; and accusing Jewish students on social media of being on the payroll of Israel's Prime Minister. Ms Sultana is the subject of a complaint to the Labour Party by Campaign Against Antisemitism.
Jo Bird: the local councillor who joined the Party in 2015 when Mr Corbyn was running for the Party's leadership has a long history of controversy relating to Jews, including renaming 'due process' in the Labour Party as "Jew process", for which she was suspended; supporting the expelled Labour activist and friend of Mr Corbyn, Marc Wadsworth, who was thrown out of the Party after a confrontation with Jewish then-MP Ruth Smeeth; and worrying about the "privileging of racism against Jews, over and above — as more worthy of resources than other forms of racism." Cllr Bird is a member of Jewish Voice for Labour, the antisemitism-denial group and sham Jewish representative organisation, and she has described Labour's institutional antisemitism as based on mere "accusations, witch-huntery and allegations without evidence". She failed in her bid for election to Labour's ruling National Executive Committee and has been investigated by Labour at least three times, latterly after reportedly suggesting that antisemitism is being privileged over other forms of racism.
Naomi Wimborne-Idrissi: the Media Officer of Jewish Voice for Labour, an antisemitism-denial group and sham Jewish representative organisation, and Vice-Chair of Chingford and Woodford Green Labour Party, has recently been suspended from the Labour Party after talking about the "weaponisation" of antisemitism and calling for Labour members to "resist" Sir Keir Starmer's efforts to address antisemitism in the Party.
Karie Murphy: Mr Corbyn's former Chief of Staff was deemed "completely unfit" for a peerage by the House of Lords Appointments Commission after being nominated by the outgoing Party leader, although this was due to serious allegations of bullying (which she denies) rather than the institutional antisemitism of the Labour Party that developed under her boss' watch.
Kerry-Anne Mendoza: the disgraced editor of the far-left blog, The Canary, has repeatedly compared Israel to the Nazis, in a breach of the International Definition of Antisemitism. She has also used violent language in protest at what she calls the "antisemitism witch hunt".
Maria Carroll: the failed Labour parliamentary candidate is the subject of a complaint to the Labour Party by Campaign Against Antisemitism.
Alexei Sayle: the activist comedian has previously claimed that allegations of antisemitism "amongst supporters of Jeremy Corbyn are a complete fabrication." He is also a patron of the Palestine Solidarity Campaign. Research conducted by Campaign Against Antisemitism revealed widespread antisemitism amongst supporters of the Palestine Solidarity Campaign. Last week, Matthew Offord MP wrote to the BBC urging the Corporation not to broadcast the episode of Desert Island Discs featuring Mr Sayle.
According to the invitation, "as well as celebrating his birthday, we will be discussing the importance of the whip being restored to Jeremy".
Mr Corbyn was suspended by the Labour Party following his disgraceful comments on the publication of the report into Labour antisemitism by the Equality and Human Rights Commission and a complaint by Campaign Against Antisemitism. He was then rapidly and controversially readmitted to the Party but the whip has not been restored to him, leaving him as an Independent MP outside of the Parliamentary Labour Party.
Not only should the whip not be restored to Mr Corbyn, but Campaign Against Antisemitism's two recent complaints to the Labour Party against Mr Corbyn should be investigated – only once an independent disciplinary system is established in the Party later this year – and he should be expelled.
Campaign Against Antisemitism has lodged a complaint against Jeremy Corbyn, holding him responsible for conduct that is prejudicial or grossly detrimental to the Labour Party, as the Leader during the period of the Equality and Human Rights Commission's (EHRC) shameful findings. Given the serious detriment that this conduct has caused, we are seeking Mr Corbyn's immediate resuspension and, if the complaint is upheld, we will be requesting his expulsion. On the day of the publication of the EHRC's report, we also submitted a major complaint against Mr Corbyn and other sitting MPs. These complaints are yet to be acknowledged by the Party, and they must be investigated by an independent disciplinary process that the EHRC has demanded and Sir Keir has promised but has yet to introduce.
The Labour Party was found by the EHRC to have engaged in unlawful discrimination and harassment of Jews. The report followed the EHRC's investigation of the Labour Party in which Campaign Against Antisemitism was the complainant, submitting hundreds of pages of evidence and legal argument. Sir Keir Starmer called the publication of the report a "day of shame" for the Labour Party.
Campaign Against Antisemitism's Antisemitism Barometer 2019 showed that antisemitism on the far-left of British politics has surpassed that of the far-right.
Campaign Against Antisemitism advocates for zero tolerance of antisemitism in public life. To that end we monitor all political parties and strive to ensure that any cases of concern are properly addressed.