Tube hero Asma Shuweikh to testify in court if charges are brought against man who harrassed multiple Jewish families on Northern Line last year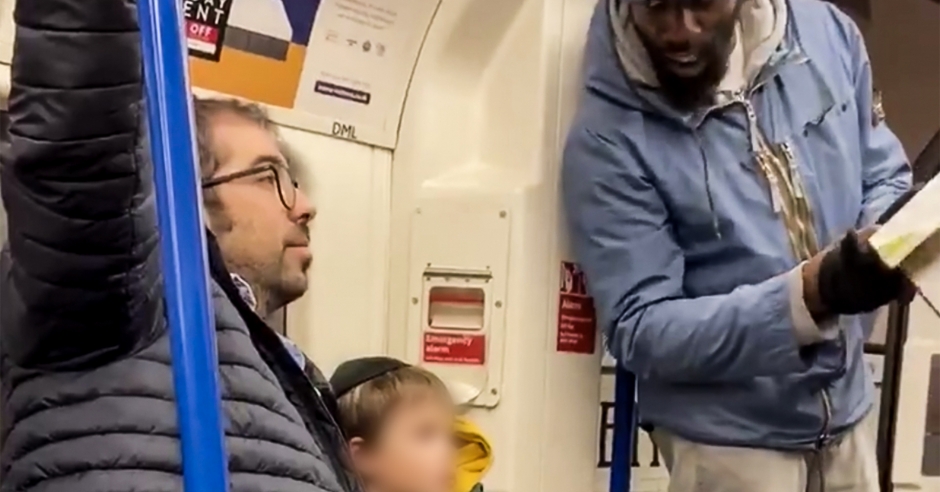 Asma Shuweikh, who made headlines last year defending a Jewish family on the London Underground as they were subjected to 20 minutes of antisemitic abuse, has revealed that British Transport Police confirmed that the suspect also harrassed another Jewish family that day, also on the Northern Line, and if the case proceeds to court, she will testify.
The incident last November was caught on video by a commuter and involved the suspect, dressed in a hooded tracksuit top and a cap, reading from what may be a bible and gesturing at a Jewish father and his sons, who are wearing Jewish skullcaps called kippot. He tells them, "I will make them of the synagogue of Satan, which say they are Jewish, and are not, but do lie," adding: "Behold, I will make them come and worship before your feet, and they will know that I have loved thee."
The Jewish man can be seen calmly putting his arm around one of his sons and comforting him, saying: "just ignore him."
An upstanding male passenger, whose face cannot be seen in the footage, confronted the abusive man, who responded by saying "I'm no Christian pastor" and threatens to punch him and telling him to: "F*** off."
Ms Shuweikh, an observant Muslim who wears a hijab, then bravely stood up for the Jewish family, telling the abusive man not to use such language in front of children. The man replied: "These people are impostors, they are trying to claim my heritage and then try and tell me that it's cool and then they start the slave trade." The man continued ranting: "It's not my opinion, it's G-d's word", but Ms Shuweikh took issue with him again and tried to reason with him, distracting him from continuing his abuse of the Jewish family. The man exited the train at Waterloo Station.
In a statement, Ms Shuweikh said that she was motivated to act by her own experiences of being attacked for her faith.
The Jewish family was later assisted by Shomrim North West London, a Jewish neighbourhood watch patrol group.
Campaign Against Antisemitism's analysis of Home Office statistics shows that an average of over three hate crimes are directed at Jews every single day in England and Wales, with Jews almost four times more likely to be targets of hate crimes than any other faith group.