CAA calls on Sir Keir Starmer to condemn MPs for event claiming that addressing antisemitism can be to the detriment of other minorities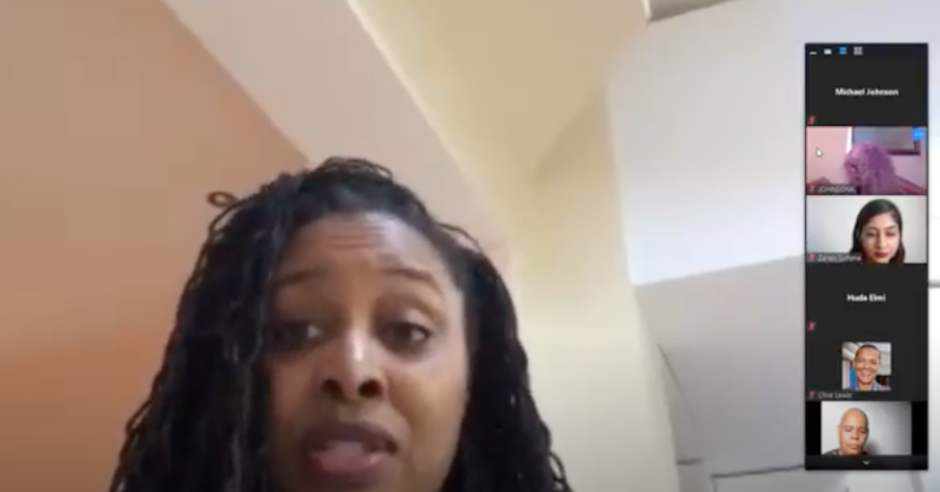 Following the leak of the Labour report into alleged factionalism in the Party's headquarters during the era of Jeremy Corbyn's leadership, a new narrative has developed in the far-left faction of the Labour Party and among its external allies, namely that addressing Labour's institutional antisemitism is somehow racist against BAME (Black Asian Minority Ethnic) people.
The essence of the new narrative is that the leaked factional report on antisemitism confirms that "institutional racism" does indeed exist in the Labour Party, but that it is against BAME people rather than Jews, and that the fixation on spurious antisemitism charges has come at the cost of recognising the Labour Party's real institutional racism crisis.
The leaked report is thus being used to preempt and undermine the investigation by the Equality and Human Rights Commission (EHRC). The EHRC launched a full statutory investigation into antisemitism in the Labour Party on 28th May 2019 following a formal referral and detailed legal representations from Campaign Against Antisemitism, which is the complainant. In the new narrative, the leaked report has supposedly beaten the EHRC to it, by purportedly confirming that the Labour Party is indeed institutionally racist – but against BAME people. The EHRC report into antisemitism is therefore little more than a distraction fuelled by allegations which were designed to damage Mr Corbyn.
The new narrative also suggests that the EHRC is itself part of the problem, as it has privileged antisemitism over other forms of racism, for example by not investigating the circumstances of the 'Windrush' scandal or the tragic Grenfell Tower fire.
A public Zoom conference was held yesterday on the "route to building an anti-racist agenda", featuring numerous figures from the Labour left, including the MPs Diane Abbott, Clive Lewis, Dawn Butler, Bell Ribeiro-Addy, Zarah Sultana and Kim Johnson.
There were several hundred people on the call, with no attempt made to control access, therefore it can be assumed that the speeches made by the speakers reflected the message that they wish to impart publicly.
During the online event, the moderator, Huda Elmi, who sits on Labour's ruling National Executive Committee, alleged that the EHRC had previously "tried to investigate and stop Young Labour from introducing equality officers, including a BAME Officer, an LGBT Officer, a Women's Officer, and a Disabled Members Rep, and it did that because supposedly the Labour Party was breaking equalities law for discriminating against young white straight men and able-bodied men." She explained that this episode illustrated "the structural disadvantages that do exist and how much we're up against."
The criticism of the EHRC might be interpreted as being in order to undermine its credibility in anticipation of adverse findings against the Party, and to suggest that the EHRC is itself guilty of prioritising certain forms of discrimination over others, and therefore that any finding of institutional antisemitism against Labour is suspect.
Neha Shah of Young Labour declared that "a proper reckoning with racism in our Party is long overdue". Regarding antisemitism, Ms Shah claimed that the Labour Right "used the Jewish community as a weapon to attack Jeremy [Corbyn]" and "deliberately obstructed the ongoing fight against antisemitism" in the Party in order to damage the leadership. She described this as the "exploitation of an entire community" for internal factional ends, thereby regurgitating the line of those behind the leaked report.
Faiza Shaheen, an activist and unsuccessful Labour parliamentary candidate, acknowledged that Labour has not been an anti-racist Party, although she clarified that she was referring specifically to anti-Black and anti-Muslim prejudice. She further claimed that there is a "hierarchy of racism", with, one presumes, certain forms of racism unfairly getting more attention than others. She suggested that mandatory training on anti-racism should be introduced in Labour, even suggesting that the highly controversial activist charity, Show Racism the Red Card, could be involved.
Zarah Sultana, a newly-elected MP with a history of baiting Jews, said that the leaked report revealed that "senior Labour Party officials…not only dismissed allegations of Islamophobia, [but] they consistently belittled Black members of Parliament and failed to act on horrific incidents of antisemitism," however she did not return to the topic of antisemitism.
Clive Lewis MP revealed that he expects the EHRC's report to reveal "institutionalised structural racism" in Labour, but he understood this as racism against black people rather than Jews, even though the EHRC is not investigating racism against black people within the Party.
Dawn Butler MP conceded that "the Party will be found to be institutionally racist, so we may as well accept that now." But like Mr Lewis, it would appear that Ms Butler's intention is to portray that institutional racism as being to the detriment of BAME people rather than Jews, despite anti-BAME racism being outside the terms of reference of the EHRC's investigation.
Diane Abbott, the keynote speaker of the conference, spoke of the importance of minorities sticking together, explicitly naming "Black, Asian, minority ethnic and Muslim people" and omitting Jews. She further lamented "white people playing the divide and rule card", which she indicates that the leaked Labour report reveals.
Elsewhere, Kerry-Anne Mendoza, the editor of the far-left website, The Canary, which is being investigated by the Government's Independent Antisemitism Advisor, has also contributed to this new narrative, saying: "We knew when this was happening that the witch hunt – in particular this antisemitism witch hunt – had a particularly strong, passionate, deep running hatred for Black women. That was clear…It was a prominent conversation on the Left. They really seemed to get their rocks off going after Black women."
Attempts to pit the Jewish and black communities against one another are not new. Claims that Jews bankrolled the slave trade, for example, are common on the far-left and gained prominence in recent years thanks to the efforts of the antisemite and expelled Labour member Jackie Walker.
It is offensive to Jews and BAME people to suggest that tackling prejudice against either community is somehow at the cost of discrimination against the other, and it is an appalling sign of the lengths to which this far-left faction will go to try to exonerate itself from its own central role in Labour's antisemitism scandal.
It goes without saying that it is appropriate for any substantiated allegations of racism to be investigated, and indeed for any form of racism within the Labour Party to be discussed. However, the use of such allegations – which have arisen in a report designed and leaked in order to give cover for racism against Jews – in order to deflect or excuse antisemitism is disingenuous and deplorable.
Gideon Falter, the Chief Executive of Campaign Against Antisemitism, said: "The odious suggestion that tackling antisemitism means discriminating against other minorities is a deplorable and disingenuous attempt at deflection by the far-left faction of the Labour Party. In anticipation of an adverse finding by the EHRC in its investigation, in which we are the complainant, this far-left faction is prepared to concede that Labour is racist but is adamant that this racism is not primarily directed against Jews. Instead, the far-left's new narrative tells that the Labour Party whistleblowers, the Jewish community, the EHRC and others have conspired to prioritise, exaggerate or invent antisemitism within Labour in order to damage Mr Corbyn and in the process discriminate against other minority communities. We are writing to Sir Keir Starmer to ask that he condemn this outrageous claim, which is nothing more than the latest expression of antisemitism-denial from the usual suspects."
In the first release of its Antisemitism in Political Parties research, Campaign Against Antisemitism showed that Labour Party candidates for Parliament in the 2019 general election accounted for 82 percent of all incidents of antisemitic discourse by parliamentary candidates.
Campaign Against Antisemitism's Antisemitism Barometer 2019 showed that antisemitism on the far-left of British politics has surpassed that of the far-right.
Campaign Against Antisemitism advocates for zero tolerance of antisemitism in public life. To that end we monitor all political parties and strive to ensure that any cases of concern are properly addressed.