CAA mobilises volunteers as Jewish children told "#HitlerWasRight", media blames "Jewish lobbies" and protestors target Jewish institutions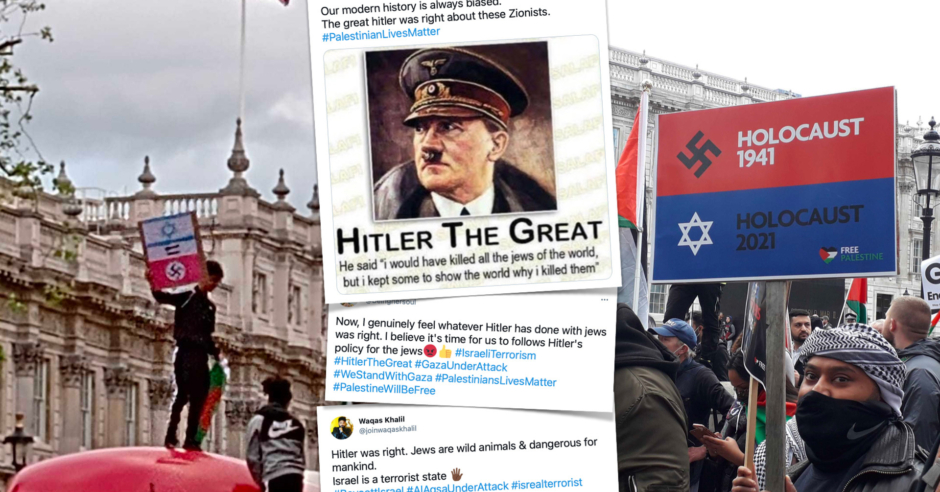 Campaign Against Antisemitism is mobilising volunteers following a significant increase in reports by members of the Jewish community of antisemitism on our streets, on social media and in traditional media in the wake of fighting between terrorist organisations and Israel.
We have been contacted by a growing number of British Jews reporting antisemitic harassment on the street and in schools, and countless attacks on social media, including praise for Adolf Hitler and the Holocaust.
On social media, abhorrent hashtags such as #HitlerWasRight, #HitlerTheGreat and #Holocaust_was_right, have all been trending internationally.
The hashtags were invariably accompanied by explanations. For example, one tweet was captioned: "Our modern history is always biased. The great Hitler was right about these Zionists".
Many directly called for the extermination of the Jewish people. For example, one tweet read "#F***theJews Hitler was right. Now I know why he like slaughtering those Goddamn Jews [sic].", and in another where one user wrote: "Now I think everyone has understand that Hitler was right [sic]."
Twitter users have also begun to spread a fabricated quote attributed to Hitler, in which it is claimed that he said: "I would have killed all the Jews of the world…but I kept some to show the world why I killed them." Influencers including Pakistani actress Veena Malik tweeted the false quote to her 1.2 million followers before deleting it later.
Meanwhile on Britain's streets, protesters in Manchester targeted a housing complex for Charedi Jews on Sunday, and in London, protesters yesterday tried to gain entry into Chelsea football stadium before burning an Israeli flag outside. Chelsea is owned by Jewish business Roman Abramovich who has pioneered a campaign to drive antisemitism out of football. Outside Downing Street, a demonstration last night featured numerous antisemitic banners comparing Israel to Nazi Germany, in breach of the International Definition of Antisemitism.
We have also received reports from Jewish people of abuse shouted at them in the streets, for example in Golders Green, a Jewish patron of a kosher restaurant reported today that she and her friend were left shaken as a driver yelled "Free Palestine" at them as they walked in the street.
In a particularly concerning development, Jewish schoolchildren are being victimised by their peers, forced to try to explain allegations put to them about a foreign conflict, with demands made that they condemn Israel or face the consequences.
The situation has not been helped by media coverage of the fighting. For example, Sky News has blamed "powerful Jewish lobbies" overseas for housing policies in Jerusalem, strengthening the perception that the Jewish Diaspora is to blame for rising tensions in the city. Campaign Against Antisemitism's most recent Antisemitism Barometer revealed that 90% of British Jews believe that media bias against Israel is used to fuel persecution of Jews in Britain.
Due to the volume of demand for our assistance, we are mobilising additional volunteers to help with the influx and to monitor online antisemitism, as well as to provide assistance to victims. If you would like to volunteer, please visit https://antisemitism.org/volunteer. If you cannot give your time, please consider donating to support our work at antisemitism.org/donate.
To report an antisemitic incident, please e-mail [email protected].
Gideon Falter, Chief Executive of Campaign Against Antisemitism, said: "We fear we may see a recurrence of the record-breaking spike in antisemitism that we witnessed in 2014, when we first established CAA due to the failure of the criminal justice system to enforce the law against anti-Jewish racists.
"This week, we have seen social media and our streets rife with antisemitic motifs, with a foreign conflict used as a pretext by antisemites to target Jewish schoolchildren, adults and institutions in Britain.
"In anticipation of a spike in antisemitism, we are mobilising volunteers to help monitor and report antisemitic incidents and provide assistance to victims.
"We continue to call on the Government to proscribe in its entirety Hamas, an antisemitic genocidal terrorist organisation that aspires to the destruction of Jews worldwide. Proscription is supported by over 90% of British Jews and will send a message of zero-tolerance of anti-Jewish hatred."
Campaign Against Antisemitism's 2020 Antisemitism Barometer revealed that an overwhelming 91% of British Jews want the British Government to proscribe the antisemitic genocidal terrorist group Hamas in its entirety.