CAA submits complaint to Metropolitan Police over officers who stood by as demonstrators shouted "We'll find some Jews there. We want the Zionists. We want their blood!'"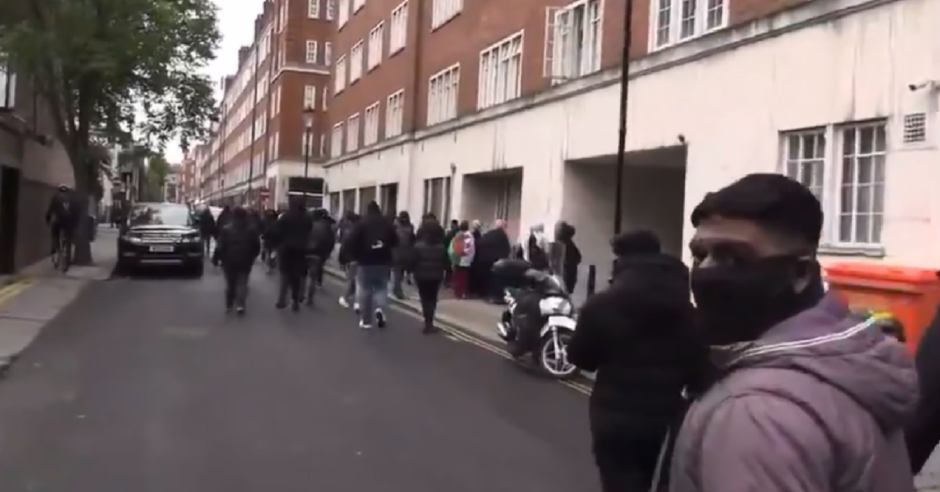 Campaign Against Antisemitism is filing a complaint to the Directorate of Professional Standards after police ignored antisemitic threats among demonstrators on Sunday who were shouting: "We'll find some Jews there. We want the Zionists. We want their blood!"
The demonstrators were trying to counter-protest a rally of the Jewish community and allies in solidarity with Israel, in Kensington. However, towards the end of the peaceful gathering, police were required to step in due to the arrival of counter-demonstrators.
After being told to leave the area by the police, the counter-demonstrators were escorted away by officers. But in a video posted online, at least one of the counter-demonstrators can be seen shouting: "We'll find some Jews there," before adding: "We want the Zionists. We want their blood."
The video appears to show policemen walking alongside the perpetrators without taking action against the incitement.
In a rally held just the day before, participants held up antisemitic banners and heard speakers who blamed Israel for antisemitism and were told that "there will be no ceasefire in our campaign". Crowds also marched in Manchester, Cardiff and elsewhere. Campaign Against Antisemitism is now reviewing a large volume of evidence from rallies and incidents over the past two weeks with our lawyers.
A spokesperson for Campaign Against Antisemitism said: "Over the past two weeks, on too many occasions the Metropolitan Police has failed to intervene against antisemitic crime and incitement on the streets of London, and in some cases officers have even joined protestors despite rules prohibiting such participation. Britain's Jews need to be proactively protected by the police at this dangerous time.
"We are submitting yet another complaint to the Directorate of Professional Standards, this time in connection with the spectacle of police indifference toward counter-protestors on Sunday screaming 'We'll find some Jews there. We want the Zionists. We want their blood!'. These threats are criminal and the police should know better than merely to escort the perpetrators away from a Jewish crowd: they should be arresting them."
Campaign Against Antisemitism's analysis of Home Office statistics shows that an average of over three hate crimes are directed at Jews every single day in England and Wales, with Jews almost four times more likely to be targets of hate crimes than any other faith group.
Campaign Against Antisemitism's Antisemitism Barometer 2020 showed that three in five British Jews believe that the authorities, in general, are not doing enough to address and punish antisemitism.