Jeremy Corbyn's glowing foreword for book claiming banks and press are controlled by "a single and peculiar race" is yet further evidence that he is an antisemite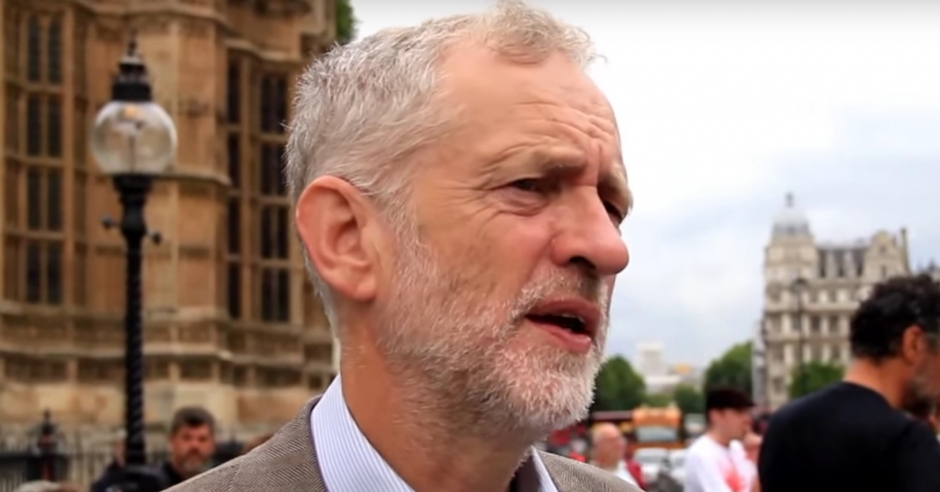 It has emerged that Jeremy Corbyn wrote a glowing foreword to a book which argued that the banks and the press are controlled by "a single and peculiar race." Mr Corbyn praised the book as "brilliant", "correct and prescient" and a "great tome."
The foreword written by Mr Corbyn was uncovered by The Times columnist Daniel Finkelstein. In 2011, Mr Corbyn agreed to endorse a new edition of Imperialism: A Study which was written by economist John Atkinson Hobson in 1902.
In the book, Mr Hobson asked: "Does anyone seriously suppose that a great war could be undertaken by any European state, or a great state loan subscribed, if the house of Rothschild and its connections set their face against it?" This clearly invokes the antisemitic Rothschild conspiracy theory. The Rothschilds established themselves as a wealthy family of bankers in the early nineteenth century. They appear in many anti-Jewish conspiracy theories as a sinister, controlling force.
In another tract, he wrote that: "United by the strongest bonds of organisation, always in closest and quickest touch with one as other, situated in the very heart of the business capital of every state, controlled, so far as Europe is concerned, by men of a single and peculiar race, who have behind them many centuries of financial experience, they are in a unique position to control the policy of nations."
Mr Hobson went on to say that: "there is not a war, a revolution, an anarchist assassination, or any other public shock, which is not gainful to these men; they are harpies who suck their gains from every new forced expenditure and every sudden disturbance of public credit".
He also argued that: "the direct influence exercised by great financial houses in 'high politics' is supported by the control which they exercise over the body of public opinion through the press".
According to The Times, Mr Corbyn wrote in his foreword: "what is brilliant, and very controversial at the time, is his [Hobson's] analysis of the pressures that were hard at work in pushing for a vast national effort, in grabbing new outposts of Empire on distant islands and shores." He added that: "Hobson's railing against the commercial interests that fuel the role of the popular press with tales of imperial might, that then lead on to racist caricatures of African and Asian peoples, was both correct and prescient".
Central to Mr Hobson's analysis of the "pressures that were hard at work" were the finance houses supposedly controlled by Jews. Mr Hobson wrote that "These great businesses — banking, booking, bill discounting, loan floating, company promoting — form the central ganglion of international capitalism."
Henry Zeffman, also writing in The Times, pointed out that Mr Hobson's antisemitism was well-known and central to his theories, for example in another book, The War in South Africa: Its Causes and Effects, released two years earlier in 1900, Mr Hobson blamed "a small group of international financiers, chiefly German in origin and Jewish in race" for the Boer War. He added that "the rich and powerful liquor trade…is entirely in the hands of Jews…the stock exchange is needless to say, mostly Jewish…the press of Johannesburg is chiefly their property."
It has also emerged that Mr Corbyn was a guest speaker at a launch for the republication of Mr Hobson's book.
Wes Streeting, Labour MP for Ilford North tweeted that: "My advice to any Labour MP today: refuse to defend Jeremy Corbyn lauding a book containing classic antisemitic tropes. If he wants to defend the indefensible he should go on the airwaves and defend himself. He has a responsibility to explain himself." He was responding to the fact that Rebecca Long-Bailey had responded to a question about whether Mr Corbyn is an antisemite on BBC Radio 4 by laughing.
A Labour Party spokesman told The Times that: "Jeremy praised the Liberal Hobson's century-old classic study of imperialism in Africa and Asia. Similarly to other books of its era, Hobson's work contains outdated and offensive references and observations, and Jeremy completely rejects the antisemitic elements of his analysis."
This latest revelation is yet further proof that Mr Corbyn is an antisemite.
Under his leadership, the once fiercely anti-racist Labour Party has become an existential threat to British Jews. Over 50,000 people have now signed our petition denouncing Mr Corbyn as an antisemite and declaring him "unfit to hold any public office."
The Equality and Human Rights Commission has begun pre-enforcement proceedings against the Labour Party following a formal referral and detailed legal representations from Campaign Against Antisemitism, which is the complainant. The pre-enforcement proceedings are a precursor to opening a full statutory investigation.
In recent months, eleven MPs have resigned from the Labour Party over antisemitism, along with numerous councillors and members.