Secret recording of second 'Free Palestine' convoy reveals antisemitic sentiments aboard leading coach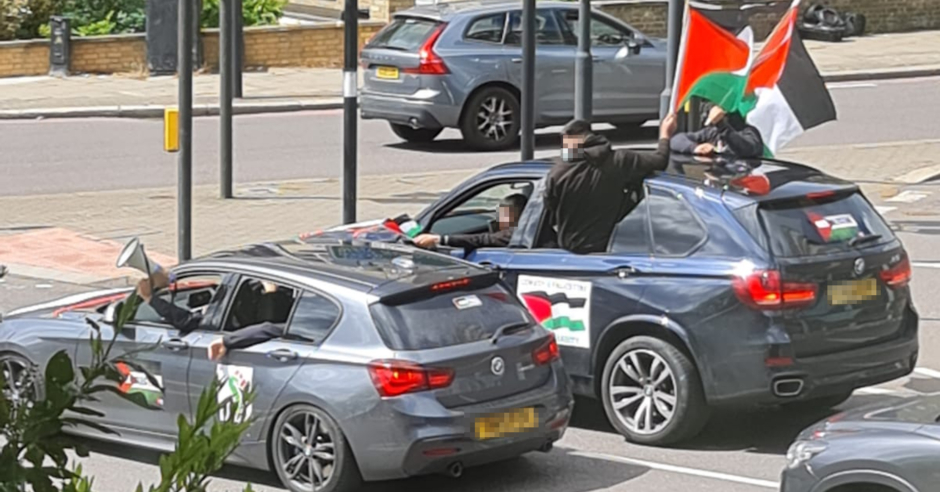 A secret recording obtained by the JC has revealed antisemitic sentiments aboard the leading coach of the second 'Free Palestine' convoy last weekend.
Demonstrators on the bus from Bradford reportedly made numerous inflammatory comments, in English and Urdu.
In one comment, a demonstrator said that Israel's new Prime Minister Naftali Bennett is "a bigger Satan than the other one, you know, Ben Net'yu [sic] or whatever his name is. This one that has come is a blatant one. I have seen his videos where he said killing children and Arabs is minor, it's nothing."
A female companion interjected: "I don't understand why are they getting away with that? I don't get it." The first speaker replied: "Because you know the UN, they are full of sh**, right."
Another interlocuter lamented the supposed inaction of the United Nations and other bodies, and the first speaker explained that they are "freemasons".
Satanic descriptions, infanticide and freemasonry are classic antisemitic tropes.
The convoy was escorted by police but evidence has emerged that it did in fact engage in antisemitic abuse of local Jews when it reached London.
The convoy ended at a rally in Downing Street the featured numerous antisemitic signs and placards. The rally was addressed by Jeremy Corbyn and John McDonnell.
Gideon Falter, chief executive of the Campaign Against Antisemitism (CAA), said: "The organisers of the convoys claim that their purpose is not to drive across the UK inciting hatred and instilling fear. They claim that those who called for Jewish children to be raped are an isolated case. This secret recording reveals the demonstrators' true colours. Thinking that they were among friends, the mask slipped. Nobody else on the bus could be heard objecting when these things were said."
Campaign Against Antisemitism's analysis of Home Office statistics shows that an average of over three hate crimes are directed at Jews every single day in England and Wales, with Jews almost four times more likely to be targets of hate crimes than any other faith group.