Evidence emerges that second convoy did again lead to antisemitism on streets of London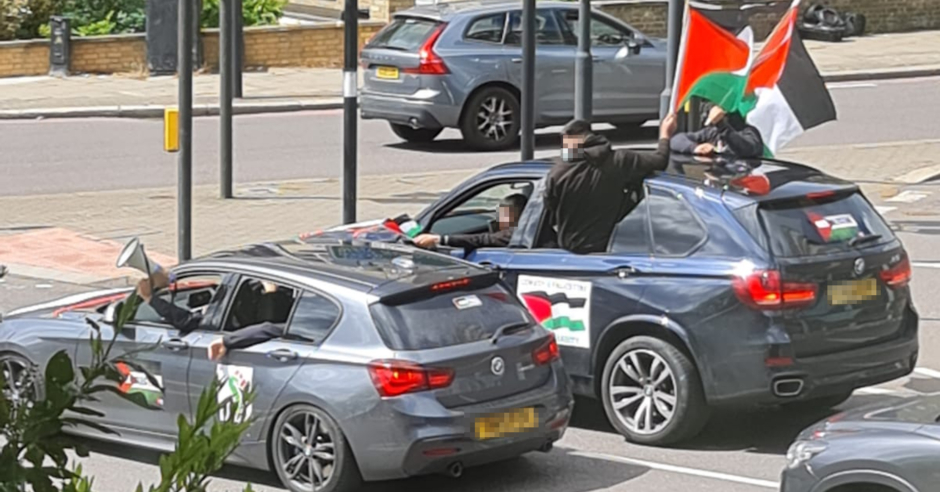 Evidence has emerged that the second 'Free Palestine' convoy did lead to antisemitism on the streets of London.
A visibly Jewish man has revealed that one driver in the 35-car convoy shouted 'Free Palestine' at him and another beeped their car horn.
The incident took place on Shabbat on Finchley Road.
The victim, who was targeted by the convoy because he wears a kippah, wrote on Twitter: "I walked down Finchley Road today wearing my kippa (Jewish skullcap) & one member of #Convoy4Palestine shouted 'Free Palestine' at me & another blew a horn at me. You are entitled to demonstrate for your cause but not to do so at people who are visibly Jewish. That is antisemitism."
Finchley Road was also where participants in the previous 'Free Palestine' convoy last month shouted "F*** the Jews…rape their daughters" through megaphones. Four men were arrested and bailed over the former incident and an alleged antisemitic incident committed in Manchester before the convoy arrived in London. Other incidents of antisemitic intimidation and even a car ramming were also reported in connection with the convoy.
The police declined a request by Campaign Against Antisemitism, supported by legal representations, to ban the returning convoy.
The convoy ultimately joined an antisemitism-infested demonstration at Downing Street that was addressed by the antisemitic former Labour Party leader, Jeremy Corbyn.
Campaign Against Antisemitism's analysis of Home Office statistics shows that an average of over three hate crimes are directed at Jews every single day in England and Wales, with Jews almost four times more likely to be targets of hate crimes than any other faith group.