CAA commends brave Muslim woman for confronting man hurling antisemitic abuse at Jewish family on Tube as police arrest suspect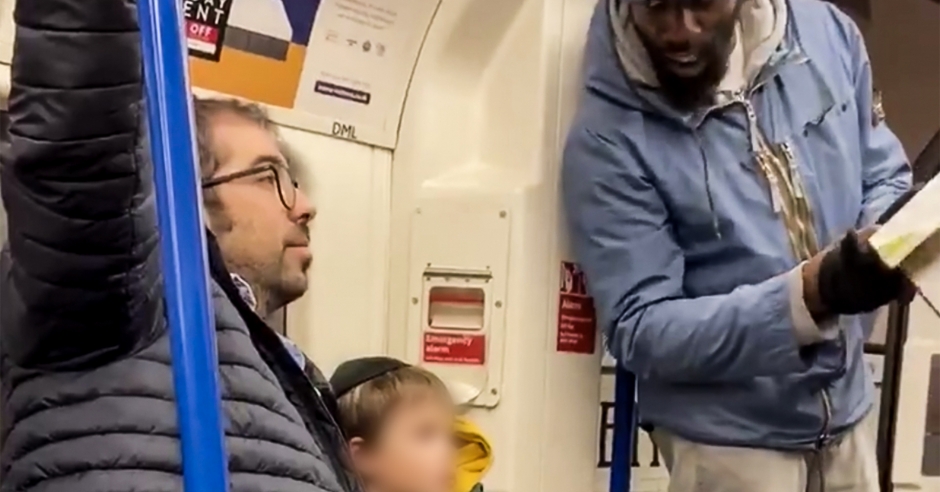 A Muslim woman has bravely stood up to a man hurling antisemitic abuse at a Jewish family on a Northern Line Underground train in London on Friday. A suspect is now in police custody.
The incident was captured on video by a commuter, Chris Atkins, and uploaded to Twitter, where it has been viewed over 3.2 million times.
It shows a man, dressed in a hooded tracksuit top and a cap, reading from what may be a bible and gesturing at a Jewish father and his sons, who are wearing Jewish skullcaps called kippot. He tells them, "I will make them of the synagogue of Satan, which say they are Jewish, and are not, but do lie," adding: "Behold, I will make them come and worship before your feet, and they will know that I have loved thee."
The Jewish man can be seen calmly putting his arm around one of his sons and comforting him, saying: "just ignore him."
An upstanding male passenger, whose face cannot be seen in the footage, confronted the abusive man, who responded by saying "I'm no Christian pastor" and threatens to punch him and telling him to: "F**k off."
The Muslim woman, wearing a hijab, who, it has emerged, is called Asma Shuweikh, then bravely stood up for the Jewish family, telling the abusive man not to use such language in front of children. The man replied: "These people are impostors, they are trying to claim my heritage and then try and tell me that it's cool and then they start the slave trade."
The man continued ranting: "It's not my opinion, it's G-d's word", but Asma took issue with him again and tried to reason with him, distracting him from continuing his abuse of the Jewish family.
The man exited the train at Waterloo Station.
In a statement, Ms Shuweikh said that she was motivated to act by her own experiences of being attacked for her faith.
Mr Atkins said: "It was the children that really got me and everyone else, he was just screaming at these children. It was horrific in every sense."
Campaign Against Antisemitism applauds Ms Shuweikh and the gentleman who courageously confronted the abusive man and defended the Jewish family, and Mr Atkins for filming the incident.
Following an appeal by British Transport Police, a suspect has been taken into custody. In a statement, British Transport Police said: "A man has been arrested in connection with an antisemitic incident on the London Underground. British Transport Police officers attended an address in Birmingham this evening, Saturday 23rd November. The man was arrested on suspicion of a racially aggravated section 5 public order offence. He remains in custody."
Campaign Against Antisemitism commends the police on their swift response. The perpetrator must feel the full force of the law.
On 8th December, regardless of religion, race or politics, Jews and non-Jews alike will gather in Parliament Square to declare that they stand together against antisemitism in the face of Jew-hatred in politics and mounting anti-Jewish hate crime.
UPDATE: a man has been arrested in Birmingham on suspicion of a racially aggravated offence in connection with this incident.