Charity Commission confirms investigation into NUS' charitable arm following letter from Robert Halfon MP and CAA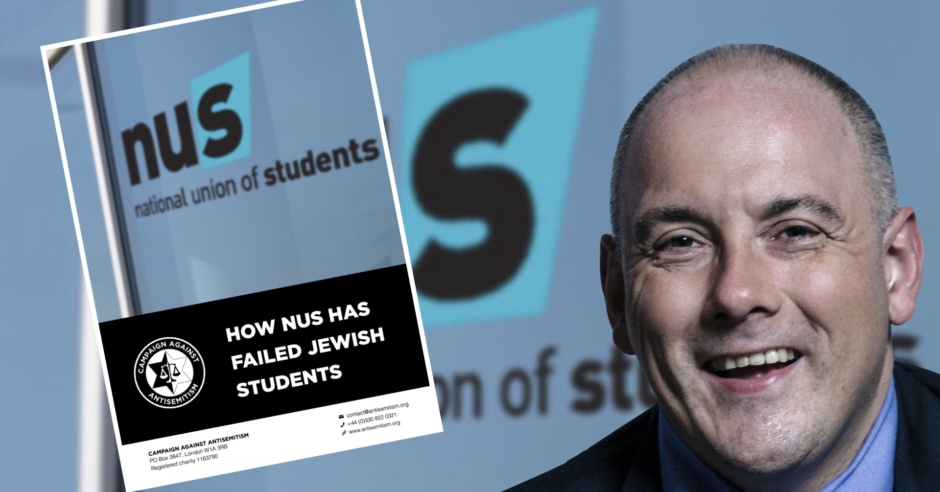 The Charity Commission has confirmed that it has opened an investigation into the National Union of Students' (NUS) charitable arm, following a letter calling on the regulator to do so from Robert Halfon MP and Campaign Against Antisemitism.
In his letter, Mr Halfon, who is the Chair of the Education Select Committee, wrote to "voice my dismay at the actions and behaviour of the National Union of Students and its trustees, in regards to their treatment of Jewish students and the Jewish community's concerns regarding antisemitism. Together with Campaign Against Antisemitism…I politely request that the Commission launch a Section 46 inquiry, pursuant to the 2011 Charities Act into the NUS and look forward to receiving your response."
Mr Halfon enclosed a dossier of evidence by Campaign Against Antisemitism detailing how NUS has failed Jewish students. He wrote that he is "particularly concerned about the enclosed dossier of antisemitic events that have taken place within the NUS over the past several years — and which come following decades of concerning trends — which was prepared by CAA."
Mr Halfon made particular reference in his letter to the recent scandal involving the rapper Kareem Dennis, known as Lowkey, who was due to headline NUS's centenary conference last month. After initially dismissing the concerns of Jewish students, who pointed out the rapper's inflammatory record, the union came under media scrutiny and eventually Mr Dennis withdrew from the event.
As the scandal erupted, Mr Halfon excoriated NUS for failing to send a representative to attend a hearing held by his committee.
This scandal was immediately followed by the election of Shaima Dallali as NUS's new President, despite her history of antisemitic tweets and other inflammatory social media posts. Prior to the election, she apologised for one such tweet.
As the dossier produced by Campaign Against Antisemitism observes, "Despite [its] ostensible and much-vaunted commitment to anti-racism, NUS has a long record of controversy in relation to Jewish students and antisemitism, dating back decades.
The dossier notes that antisemitism on campus has surged to record levels, with CST recording a 191% increase in antisemitic incidents on campus in 2021, and that Campaign Against Antisemitism's latest Antisemitism Barometer found that an overwhelming 92% of British Jews believe that antisemitism in universities is a problem.
"NUS's blind spot when it comes to inclusion of Jewish students and openness to their concerns is significant, giving rise not only to a failure of representation but also to a toleration of hostility to the needs of Jewish students within NUS and even instances of outright antisemitism. The result is tangible harm to Jewish students," the dossier explains. "As an organisation, NUS is failing in its objective to represent and advocate for all students, and, as a charity, it is failing to act for the benefit of the public."
Since the letter and dossier were published, UJS organised a mass open letter, over twenty former NUS Presidents called for action, NUS announced its own internal investigation (its third relating to antisemitism in the last two decades) and the Government severed relations with NUS, questioned the new President's election and also called for an investigation by the Charity Commission.
A spokesperson for NUS reportedly said: "We proactively contacted the Commission on 8th April to discuss how we should best keep them informed of the allegations surrounding NUSUK, which is a separate legal entity, and any action taken by NUSUK to address them. The Charity Commission have engaged with us, since 13th April, via the compliance visits and inspections team. We are still in the process of responding to any further questions the regulator may have and note their statement that they have 'made no finding of wrongdoing at this time'."
A spokesperson for the Charity Commission told Civil Society News: "We have opened a compliance case into NUS Students' Union Charitable Services in relation to the recent allegations made about the National Union of Students and the impact on the charity. We are engaging with the trustees and assessing all of the available information to inform any next steps."
If any students are concerned about antisemitism on campus or need assistance, they can call us on 0330 822 0321, or e-mail [email protected].