Not a single Labour MP joins hundreds of British Jews demonstrating against racist Labour in Parliament Square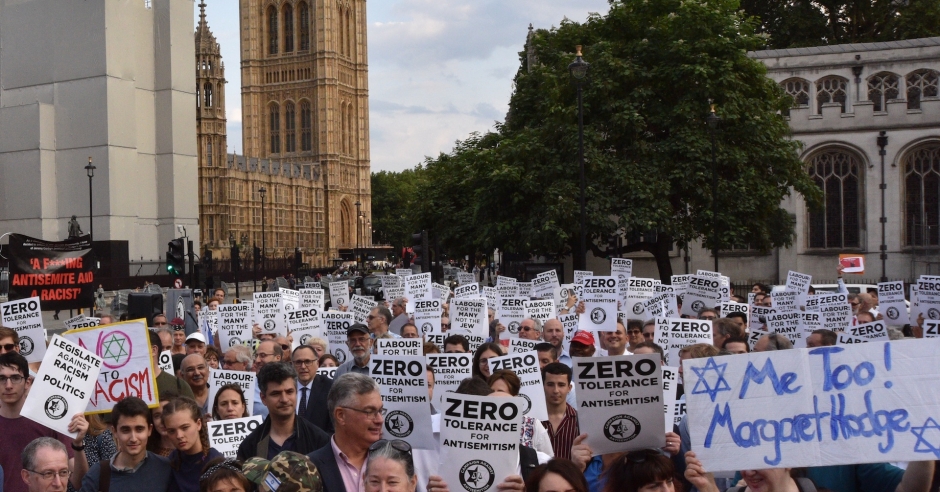 Not a single Labour MP joined the 700 British Jews – and many non-Jews – who gathered this afternoon in Parliament Square to demonstrate against the institutional racism of the Labour Party.
While many Labour MPs were unable to be present due to prior commitments, the crowd was astonished to find that not a single Labour MP had joined them, with numerous speakers remarking that harassment of Labour MPs who attended previous demonstrations and the Labour Party's disciplinary action against Jewish Labour MP Dame Margaret Hodge for calling Jeremy Corbyn an "antisemite", is chilling dissent in the Party.
The demonstrators called for a new law against discrimination in political parties due to Labour's attempt to rewrite and butcher the International Definition of Antisemitism, and heard from speakers of all faiths decrying antisemitism in the Labour Party. Their message was clear and consistent: the Labour Party has now stooped so low that it is a racist, institutionally antisemitic organisation.
Addressing the crowd, LBC radio presenter Iain Dale revealed that he had never been to a protest, but felt compelled to stand in solidarity with British Jews, saying: "I have never ever been on a demonstration before. I have never spoken at a demonstration before. I am not a Jew. But you don't have to be Jewish to recognise what is happening in the Labour Party."
The demonstrators also heard from renowned libel lawyer Mark Lewis, who said: "I am a libel lawyer, but let me tell you that the words 'Jeremy Corbyn is a racist' are not defamatory, they're true. If he wants to sue about that, he can do, but he is a racist, he leads a racist Party and anyone who supports that Party is supporting racism."
Ghanem Nuseibeh, Chairman of Muslims Against Antisemitism, was cheered for telling antisemites in the Labour Party: "Do not hide behind pro-Arab, pro-Muslim or pro-Palestinian causes to justify your racism. We as Muslims do not need your support. We do not need the support of antisemites in the Labour Party."
To applause, Labour Against Antisemitism spokesman Euan Phillips said of the Labour Party's attempt to redefine antisemitism: "They're trying to shift the goalposts again and make it easier for antisemites to stay in Labour…It's the politics of the 1930s."
Reflecting on Jewish history, Rabbi Andrew Shaw remarked: "It is shocking that I have to think about the modern day Labour Party in the same way as I think about those in our history who have tried to destroy us."
MPs and peers from other parties were spotted in the crowd and some took the stage to offer words of solidarity, including Theresa Villiers MP and Lord Stuart Pollak. The speeches can be watched on our Facebook Live stream.
Gideon Falter, Chairman of Campaign Against Antisemitism, said: "The last time that we gathered in Parliament Square, our message was 'Enough is enough'. The Jewish community has given the Labour Party every possible opportunity to veer from the path it is on, but in defiance of British Jews and even his own MPs, Jeremy Corbyn has doggedly dragged the once anti-racist Labour Party into the depths of racism. By trying to redefine antisemitism his way, Jeremy Corbyn has left no doubt that he is the leader of an antisemitic institution, and he is perfectly happy with that. The Labour Party should be abandoned by all decent people."
The demonstration, which was called with only 30 hours' notice, attracted coverage on BBC, ITV and Sky News.