Rapper Ice Cube approvingly tweets antisemitic image from mural that Jeremy Corbyn defended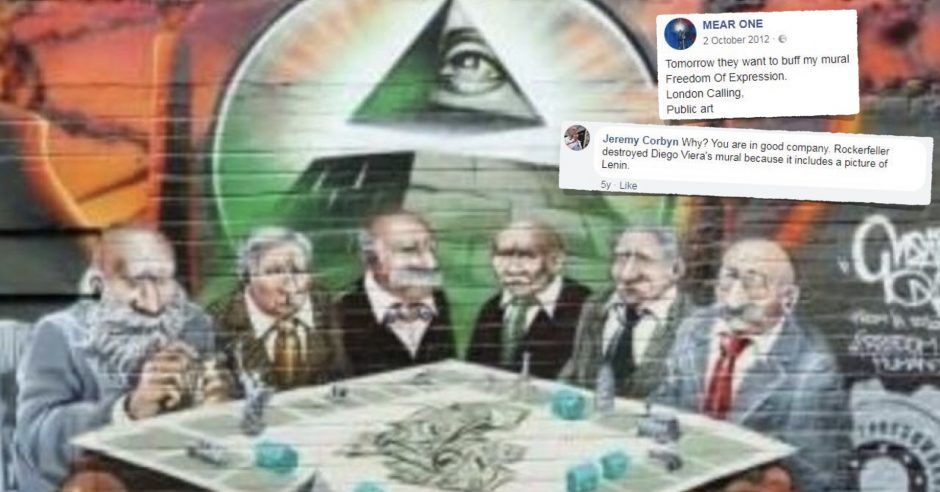 The rapper Ice Cube has been condemned for posting – and subsequently refusing to remove – a tweet of the image known to British Jews from the mural that former Labour Leader Jeremy Corbyn defended, before backtracking.
Ice Cube, a musician whose real name is O'Shea Jackson, tweeted the picture that originated on a wall in London's East End in October 2012 after the Los Angeles-based street artist Mear One painted the image, which featured apparently-Jewish bankers beneath a pyramid often used by conspiracy theorists playing Monopoly on a board carried by straining, oppressed workers, several of whom had dark or black skin. The mural, called Freedom for Humanity, was widely perceived as antisemitic, and was eventually removed.
Ice Cube tweeted the same image, which now featured a caption: "All we have to do is stand up and their little game is over". Ice Cube wrote in his tweet: "F*** the new normal until they fix the old normal!" His comment appears to be juxtaposing the 'new normal' social and economic condition resulting from the COVID-19 pandemic with the 'old normal' of racial hatred, opposition to which has been expressed in worldwide protests following the racist killing of George Floyd.
The rapper has refused to take down the tweet.
It is inexcusable to sully the noble cause of fighting anti-black racism by using expressions of anti-Jewish racism. Racism cannot be combated by recourse to other forms of racism.
There have been other recent instances of this appalling trend, including in the Labour Party.
Ice Cube has previously courted controversy, including in his song 'No Vaseline', the lyrics of which include the lines "It's a case of divide-and-conquer/'Cause you let a Jew break up my crew" and "'Cause you can't be the N**** 4 Life crew/With a white Jew tellin' you what to do/Pullin' wools with your scams."
Campaign Against Antisemitism continues its robust engagement with social media companies over the content that they enable to be published, and we continue to make representations to the Government in this connection.
https://twitter.com/icecube/status/1269277079914209282