Jeremy Corbyn defended large public "antisemitic" mural on "grounds of freedom of speech"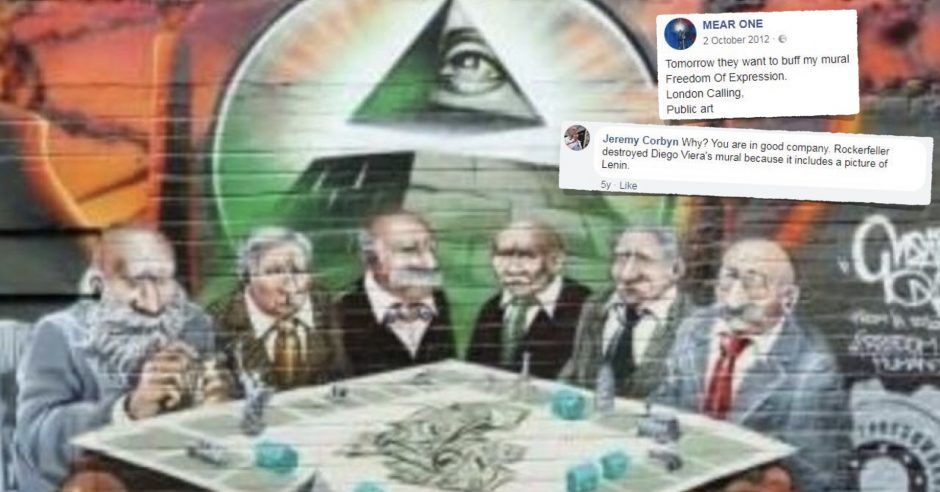 It has emerged that Jeremy Corbyn defended the public display of a huge mural that even his spokesman admits is antisemitic on the "grounds of freedom of speech".
In October 2012, Los Angeles-based street artist Mear One, painted a wall in London's East End which featured apparently-Jewish bankers beneath a pyramid often used by conspiracy theorists playing Monopoly on a board carried by straining, oppressed workers.
Following complaints, the mural was due to be removed, prompting Mear One to post on Facebook: "Tomorrow they want to buff my mural. Freedom of Expression. London Calling, Public art."
Mr Corbyn commented: "Why? You are in good company. Rockerfeller [sic] destroyed Diego Viera's [sic] mural because it includes a picture of Lenin."
On Friday, the Labour Party issued two statements. The first said that the mural was antisemitic, despite a statement issued by Mear One to the contrary, with a Labour spokesman saying: "In 2012, Jeremy was responding to concerns about the removal of public art on the grounds of freedom of speech. However, the mural was offensive, used antisemitic imagery, which has no place in our society, and it is right that it was removed."
Following an outcry, the second statement was issued, from Mr Corbyn himself, saying: "I sincerely regret that I did not look more closely at the image I was commenting on, the contents of which are deeply disturbing and antisemitic. The defence of free speech cannot be used as a justification for the promotion of antisemitism in any form. That is a view I've always held."
Mr Corbyn's spin doctors ask us to believe that Mr Corbyn did not notice the antisemitic imagery in the mural that he was defending and that he was merely defending free speech. Mr Corbyn has a very well-known history of association with antisemites, including leaping to the defence of despicable blood-libeller Sheikh Ra'ed Salah whom the Home Secretary banned from the country and disgraced conspiracy theorist Reverend Stephen Sizer, but in each case his spin doctors claim that he was not defending their antisemitism. In the past two weeks we have seen two examples of Mr Corbyn's membership of or participation in deeply antisemitic Facebook groups, which his spin doctors dismissed as accidental.
Mr Corbyn prides himself on being authentic, but his excuses grow more incredible with each passing week. Perhaps the simplest explanation is that the authentic Jeremy Corbyn subscribed to the authentic antisemitism of the far-left, which smears Jews as the pinnacle of the the exploitative capitalist elite, and which paints Israel as a colonial Jewish base from which to subjugate the world. This past week, we have been unable to keep up with the torrent of antisemitism stories pouring out of Mr Corbyn's Labour Party. Mr Corbyn's spin doctors should stop taking us all for fools and let their leader's handiwork speak for itself.
Under Jeremy Corbyn, the Labour Party has been seized by racists. Jeremy Corbyn is at home amongst them, having spent his political career seeking out and giving his backing to Holocaust deniers, genocidal antisemitic terrorist groups and a litany of Jew-haters. This is the point of no return: Britain must stand up for its Jewish community against the racists in control of the Labour Party. To be silent is to condone. On 8th April at 2pm, the British public will take a national stand against antisemitism in London. Join us – please register for updates on the venue and speakers at antisemitism.org/jaccuse and use our Facebook event to invite friends.