Oxford branch of Black Lives Matter apologises for promoting event using antisemitic mural that Jeremy Corbyn defended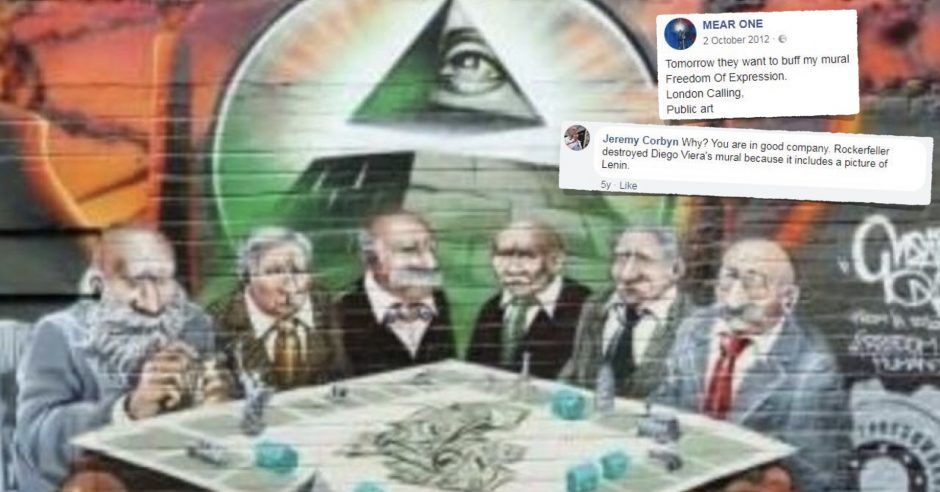 The Oxford branch of the Black Lives Matter (BLM) movement has apologised for using the antisemitic 'Freedom of Humanity' mural as a cover photo for a Facebook event.
The mural originally appeared in East London in October 2012 after an outcry. In 2018 then-Leader of the Labour Party, Jeremy Corbyn, was discovered to have defended the mural, which featured apparently-Jewish bankers beneath a pyramid often used by conspiracy theorists playing Monopoly on a board carried by straining, oppressed workers, several of whom had dark or black skin.
After a local councillor criticised the advertisement, Oxford BLM issued an apology, saying that the matter was "deeply concerning and the person who used the image is deeply sorry. We absolutely do not condone the image used and have since removed it. We will use this time to learn from their mistakes and ensure every person who attends our events feels safe. We stand resolutely against antisemitism, and see our struggles for liberation as interconnected."
The mural has recently been promoted without apology by the American rapper Ice Cube, also in connection with the Black Lives Matter movement. It is inexcusable to sully the noble cause of fighting anti-black racism by using expressions of anti-Jewish racism. Racism cannot be combated by recourse to other forms of racism.
A spokesperson for Campaign Against Antisemitism said: "The use of a blatantly antisemitic mural – which has even been in the news in recent years due to Jeremy Corbyn's defence of it – to promote an event is unacceptable, and we are pleased that the Oxford chapter of the BLM movement removed it within a few hours and issued an apology promising to learn from the mistake. It is regrettable that the national BLM movement did not show similar contrition when it tweeted that Zionism 'gagged' Britain yesterday. BLM should aspire to be a movement against racism that unifies people and achieves lasting change, not a movement that spreads hatred and achieves lasting division. You cannot fight prejudice with prejudice."