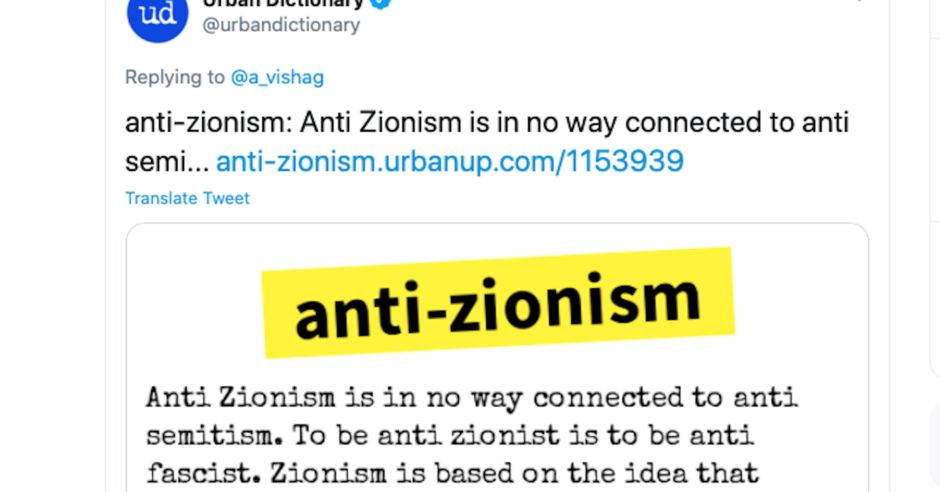 The robotic Twitter handle of the online crowd-sourced dictionary of slang words known Urban Dictionary has promoted an antisemitic entry on the website about "anti-Zionism".
If someone sends the Twitter handle a term that features on the controversial website, it will automatically provide a screenshot of the definition.
A Twitter user asked the handle to provide a definition of "Zionism" but instead got a definition for "anti-Zionism", which read: "Anti-Zionism is in no way connected to antisemitism. To be antizionist is to be anti-fascist. Zionism is based on the idea that millenia old literary myth is the basis for nationhood and that religion (which is a matter of choice) is genetically predetermined, both of which are clearly shite. Zionists believe that they can turn up in a country and kick out the indigenous population, as did Hitler. Zionists are fascist." (emphasis in original).
The definition has received, at time of writing, 2,715 thumbs up compared to 1,433 thumbs down. These ratings determine how prominent the definition is as opposed to alternative definitions for the same term.
According to the International Definition of Antisemitism, "Drawing comparisons of contemporary Israeli policy to that of the Nazis" is antisemitic.
A spokesperson for Campaign Against Antisemitism said "Comparing Zionism to Nazism is textbook antisemitism, which has become all too common on Urban Dictionary. Those behind the website have been slow to act against racism on their platform, but in the past we have successfully pressured them to delete gratuitously antisemitic entries by going after their advertisers. We will not hesitate to do so again if Urban Dictionary does not remove this entry and prove that it is capable of administering a site that doesn't incite hatred."
Campaign Against Antisemitism recently and successfully pressured advertisers to withdraw from Urban Dictionary due to its promotion of antisemitism, and the website removed a particularly offensive entry as a result. In the past, the website has removed other gratuitously offensive terms, but is generally slow to act against racism on the website.