CAA reveals that BBC journalist Nimesh Thaker, now under investigation by the BBC, shared antisemitic posts and trolled BBC colleagues in his own name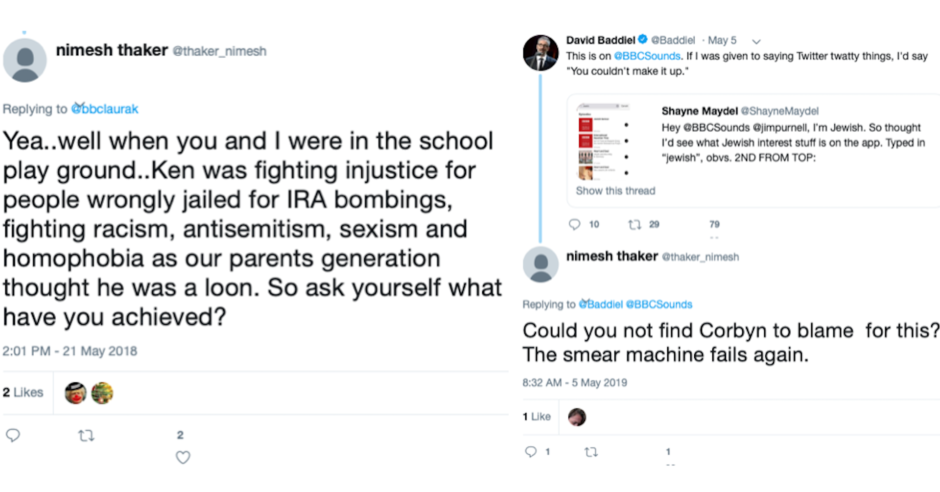 Campaign Against Antisemitism can reveal that the BBC journalist, Nimesh Thaker, who has recently been criticised for antisemitic comments on his anonymous Twitter account, also had another – now-deleted – Twitter account in his own name, which he used to post antisemitic material and criticise other BBC journalists.
Using the handle, @thaker_nimesh, Mr Thaker, who has been a BBC journalist for more than twenty years at BBC World News, posted tweets describing antisemitism accusations against Jeremy Corbyn and the Labour Party as "smears" and trolled public figures who were campaigning against antisemitism.
He used the account to troll Campaign Against Antisemitism and to harass the editor of the Jewish Chronicle and the actress and writer Tracy-Ann Oberman, tweeting at them dozens of times. He has also retweeted controversial political activists who themselves have come under fire for antisemitism, such as the notorious antisemite Jackie Walker, trolled Labour MPs over antisemitism, and defended Ken Livingstone and supported the disgraced former Labour MP, Chris Williamson.
As with Mr Thaker's subsequent anonymous Twitter handle, @BotheredThat, Mr Thaker openly used his @thaker_nimesh handle for work purposes, such as booking interviews on the BBC. He also used the handle to criticise the BBC and his colleagues, such as BBC Political Editor Laura Kuenssberg, whose Twitter account he accused of being "officially the Tory fan club message board" and whom he urged to "do some digging…what is the money for journalism please," among other claims.
Abandoning this personal account in favour, apparently, of pseudo-anonymity, Mr Thaker then adopted the handle @BotheredThat for both work and abusive tweets, accusing antisemitism campaigners of "smears" (see here, here, here, here, here, here, here, here and here for examples) and claiming that antisemitism campaigners believe that anyone who criticises Israel is an antisemite,
According to BBC guidelines for employees, "All BBC activity on social media, whether it is 'official' BBC use or the personal use by BBC staff is subject to the Editorial Guidelines and editorial oversight in the same way that our on-platform content is. We should take particular care about maintaining our impartiality on social media, both in our professional and personal activities […] BBC staff should avoid bringing the BBC into disrepute through their actions on social media."
Campaign Against Antisemitism submitted a complaint to the BBC about Mr Thaker some weeks ago, and the BBC has confirmed that an investigation is underway.
A spokesperson for Campaign Against Antisemitism said: "The BBC must swiftly and transparently investigate Nimesh Thaker for his blatant breaches of the Corporation's social media policy, including posting appalling comments online, using an account in his own name as well as an anonymous account.
"More broadly, this should be a moment of reflection for the BBC, whose relations with the Jewish community have been strained for many years. If licence fee payers are to have confidence in the broadcaster, it must show zero tolerance for antisemitism by its employees – on screen and off."
Mr Thaker was approached for comment.