CAA writes to Julie Morgan MS over invitation to Holocaust Memorial Day commemoration that omits reference to Jews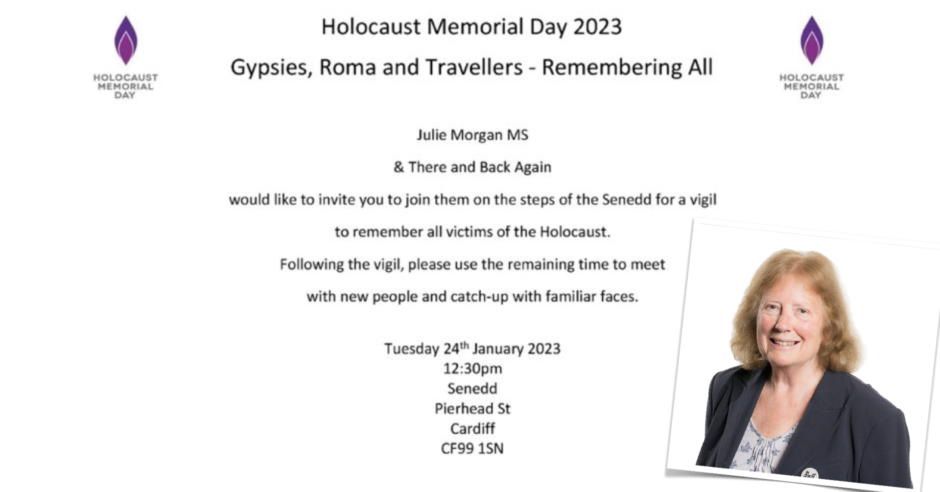 Campaign Against Antisemitism has written to a member of the Welsh Parliament after she issued an invitation to a Holocaust Memorial Day commemoration that omitted any reference to Jewish victims of the Nazis.
In her invitation, Julie Morgan MS, a member of the Welsh Labour Party, referenced Gypsies, Roma and Travellers and emphasised that the event was about "Remembering All", but made no reference at all to Jews.
While other minorities suffered brutal treatment at the hands of the Nazi regime, an estimated six million Jewish men, women and children were murdered by the Nazis, representing around a third of the entire global population. It was for the systematic and industrial slaughter of the Jews by the Nazis that the word "genocide" was coined and to which the term "Holocaust" principally refers.
There has been a long and absurd trend of dissociating the Jews from the Holocaust and its commemoration. The Welsh Labour Party must give no suggestion that it participates in or endorses this trend. This is particularly so given the recent scandals that have engulfed the national Labour Party with regard to its relationship with the Jewish community.
Campaign Against Antisemitism has written to Ms Morgan calling for the invitation to be amended to include a reference to the primary victims of the Holocaust, and urged that memorialising the murder of Jews remains at the heart of what this important day signifies and teaches.
Ms Morgan is the Deputy Minister for Social Services, and Welsh First Minister Mark Drakeford has been notified.
A spokesperson for Ms Morgan reportedly said: "This is a long-standing annual event being sponsored in Julie Morgan MS's capacity as an individual Senedd Member. The event has always received cross-party support and ties in with the annual Holocaust Memorial Day event at the Senedd. This is an inclusive event, and as the invitation makes clear, the event aims to remember all victims of the Holocaust, including those who can often be forgotten about."
Campaign Against Antisemitism advocates for zero tolerance of antisemitism in public life. To that end we monitor all political parties and strive to ensure that any cases of concern are properly addressed.
UPDATE: Ms Morgan has apologised and re-issued the invitation.