Labour refuses to say what will happen to Councillor who posted caricature of hook-nosed bloodthirsty Jew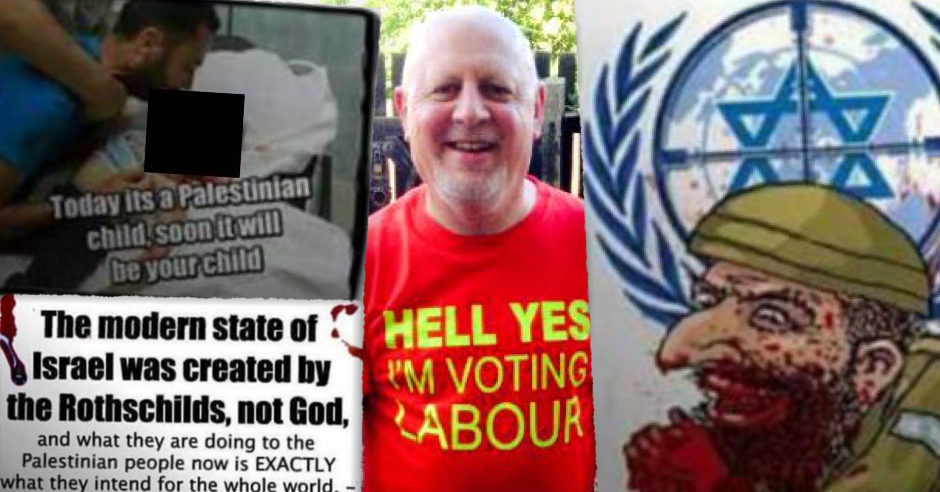 The Labour Party is continuing to refuse to comment on cases of antisemitism, and refused today to condemn or say what will happen to Councillor Andrew Slack, who posted an antisemitic image on Facebook.
The image stated that "The modern state of Israel was created by the Rothschilds, not God, and what they are doing to the Palestinian people now is EXACTLY what they intend for the whole world." The image then shows a photograph of an injured baby with the caption "Today its [sic] a Palestinian child, soon it will be your child" along with a caricature of a hook-nosed Jew, his hands soaked in blood, licking blood from his lips, next to a UN logo with a Star of David replacing the map of the world at its centre.
The image is a modern day blood libel, claiming that bloodthirsty Jews are seeking to harm non-Jewish children. It also uses an extremely antisemitic caricature and explicitly alleges that Jews and Jewish bankers seek world domination.
Councillor Slack told the Guido Fawkes political blog: "I wish to apologise for an offensive post which I shared for a short time without properly reading one content, especially anyone of the Jewish faith. I also apologise to my Labour Party colleagues and point out that it had no connection with any organisation which I am a member."
When Guido Fawkes asked the Labour Party to comment on what would happen, and whether they condemned one of their Councillors for posting of image, they used absurd new rules introduced by Shadow Attorney General Baroness Chakrabarti to simply say: "We do not comment on individual's membership status." The Councillor himself has now admitted that he has been suspended, but the Party still refuses to comment and in any case suspensions for antisemitism in the Labour Party tend not to last very long or have any significant consequences.