Swastika scrawled on campaign board outside Jewish home in Golders Green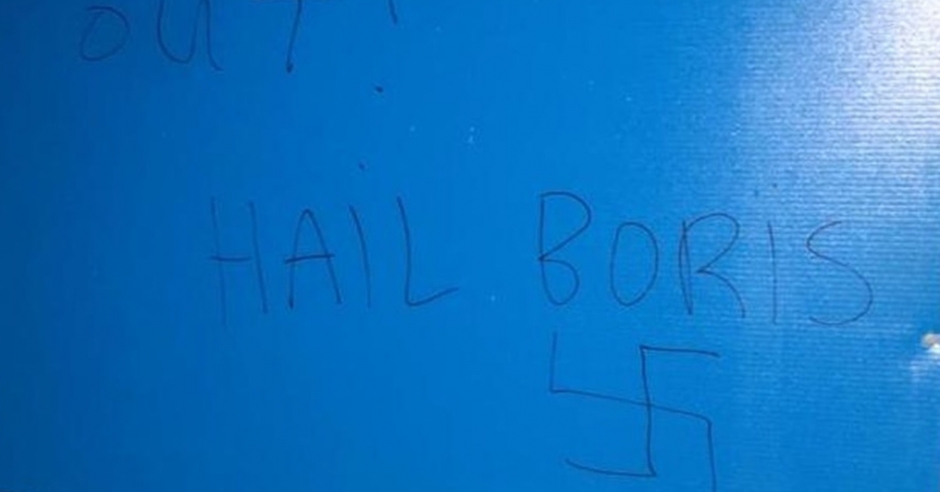 A swastika and messages comparing the Prime Minister to Hitler were scrawled on a campaign board in Golders Green.
The offensive messages were graffitied onto material promoting the local Conservative candidate outside a Jewish home.
The incident was reported by Shomrim North West London, a Jewish neighbourhood watch patrol.
It is understood that this followed a separate, similar incident, which was also reported to police.
Barnet Council reportedly dispatched a team to both locations to remove the graffiti.
A Spokesperson for Shomrim North West London said: "It is incidents like these which bring the issue of antisemitism into sharp focus. This is the second incident reported to Shomrim in the last week of antisemitic graffiti daubed in Golders Green. Shomrim are committed to supporting victims of all hate crime. We urge any victims of Antisemitism to come forward and we will support you in reporting these incidents to police, and provide you with the necessary support.
On 8th December, regardless of religion, race or politics, Jews and non-Jews alike will gather in Parliament Square to declare that they stand together against antisemitism in the face of Jew-hatred in politics and mounting anti-Jewish hate crime.
Campaign Against Antisemitism's Antisemitism Barometer 2019 showed that antisemitism on the far-left of British politics has surpassed that of the far-right.