The Independent reports on its own "story containing antisemitic conspiracy theory" after Rebecca Long-Bailey is sacked for sharing it, but the newspaper does not apologise for publishing it in the first place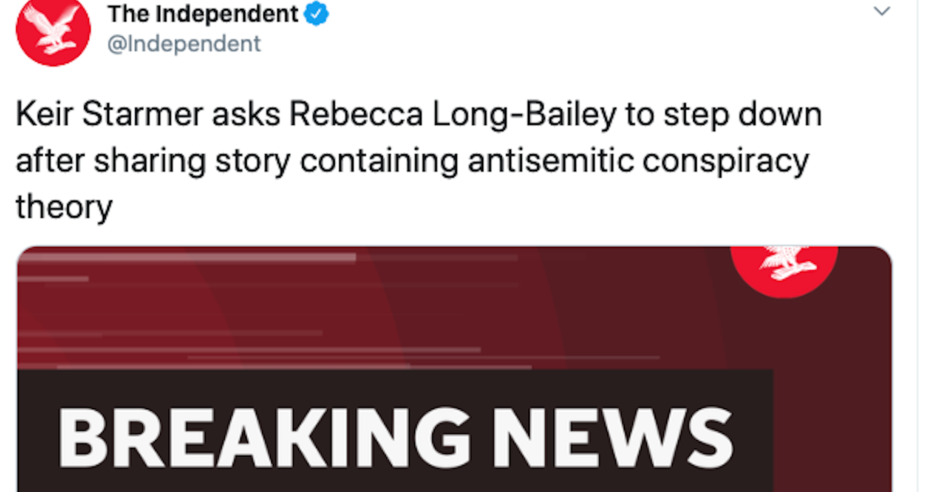 The Independent online newspaper has reported that "Rebecca Long-Bailey has been sacked from the shadow cabinet after she shared an article containing an antisemitic conspiracy theory" but has not apologised for publishing the article in the first place.
The article was an interview with the actress Maxine Peake, in which she conspiratorially suggested that Israel was to blame for the racist killing of George Floyd.
After Rebecca Long-Bailey shared the tweat and reportedly refused to take it down (offering only a clarification), Sir Keir Starmer dismissed her as Shadow Education Secretary.
The Independent has now reported on the dismissal brought about by its article, but disgracefully has not itself apologised for publishing the offensive material in the first place.
"Sir @Keir_Starmer's swift and firm action in this case appears to indicate that he is taking our comments on board and has shifted up a gear." pic.twitter.com/Nm22UYpJ25

— Campaign Against Antisemitism (@antisemitism) June 25, 2020