CAA and CoE's Diocese of Manchester launch our Love Thy Neighbour teachers' guides, as featured on BBC Teach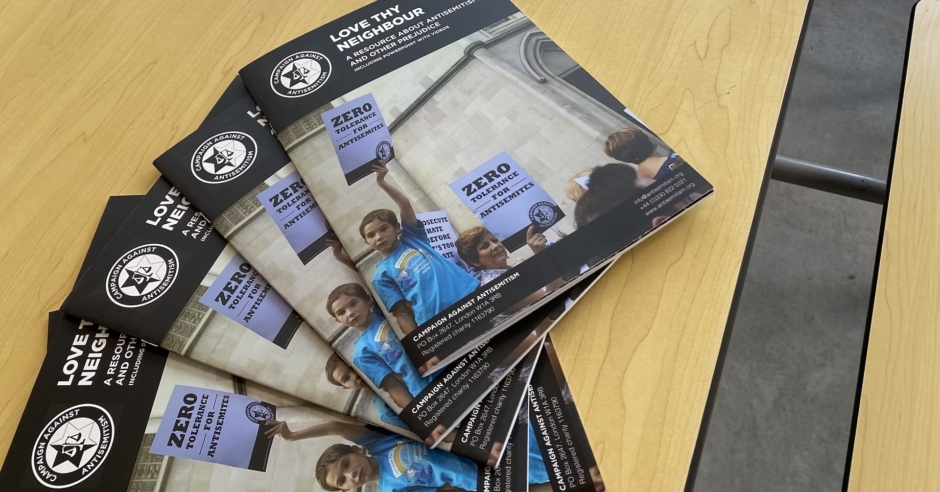 Campaign Against Antisemitism, together with the Church of England's Diocese of Manchester, launched our Love Thy Neighbour teachers' guides, which are featured on BBC Teach.
The launch of the free resource yesterday at Canon Slade School in Bolton was hosted by the school's Rachel Braithwaite, and was attended by local teachers as well as Terry Hart, the Adviser for Religious Education and Christian Distinctiveness for the Diocese Of Manchester; Revd. Canon Steve Williams, the Chair of the Council of Christians and Jews and the Bishop of Manchester's Interfaith Adviser; Russell Conn, the President of the Jewish Representative Council of Greater Manchester and Region; and David Arnold, a former President of the Council and Holocaust educator.
The guides deal with antisemitism, providing historical background, a useful introduction to the Holocaust and also addressing newer manifestations of anti-Jewish racism that children and adolescents are likely to encounter online, as well as discussing prejudice and hatred more generally.
This free KS2/KS3 resource is designed to enable teachers to plan lessons and assemblies on the topic with ease, with versions of the guide specifically tailored to Church of England schools, Roman Catholic schools and non-denominational schools, while fulfilling numerous required learning objectives in the national curriculum.
You can download the guides here or visit BBC Teach here
Judith Hayman, Outreach Presenter at Campaign Against Antisemitism, said: "For years I have visited schools, talking about Judaism, the Holocaust and antisemitism, and about race hatred and prejudice more generally, and have spoken to about 30,000 school pupils. But there is only one of me, and there are over 40,000 schools in England and Wales. Through CAA and with the help of my friend Canon Steve Williams, we are now able to bring this critical topic to thousands of pupils, taught by their own teachers. With a record rise in antisemitic incidents right now, these lessons are more urgent than ever."
Binyomin Gilbert, Programme Manager at Campaign Against Antisemitism said: "Centuries after the blood libel, Jewish people are still more than four times likelier to be the targets of hate crime than any other faith group in England. To tackle antisemitism, it is not enough to be reactive; we have to be proactive in our education and our cross-communal relations. Jewish educators cannot conquer this problem alone, which is why we have created these extraordinary teachers' guides, to empower teachers to play this vital role."
The guides have received considerable praise:
Revd Canon Steve Williams, the Bishop of Manchester's Interfaith Adviser, said: "With effective illustrations, and well-researched stories, this material offers memorable encounters that will open minds, change perceptions and help the pupils to identify and tackle discrimination and prejudice today – as well as spotting the deadly seeds of what these develop into."
Anita Peleg, the Chair of Trustees, Generation 2 Generation Holocaust Education Charity, said: "Love thy Neighbour is an extremely useful guide to antisemitism, I am sure it will be helpful not only to History and R.E. teachers when teaching about the Holocaust but also for those involved in Citizenship education and promoting the need for empathy and understanding of others."
Alastair Ross, A Religious Education adviser in Tameside, said: "Classroom resources are very welcome and help to provide information and examples that support teachers in delivering challenging and accurate lessons. This is a sensitive area and good factual understanding is a key foundation."
Paul Bastin, a Year 5 Teacher, said: "This high quality, contemporary, fact heavy resource is the ideal way to introduce and/or consolidate learning on this highly emotive subject."
Revd Nathan Eddy, the Interim Director of the Council of Christians and Jews, said: "Antisemitism is on the rise, and it is changing in truly alarming ways. This resource features a range of voices, Christian, Jewish and other faiths, and is an excellent tool to combat this prejudice — and others. Highly recommended."