CAA calls for disciplinary action against BBC Arabic journalist who shared article calling controversial Prof. David Miller's accusers "Israel lobbyists"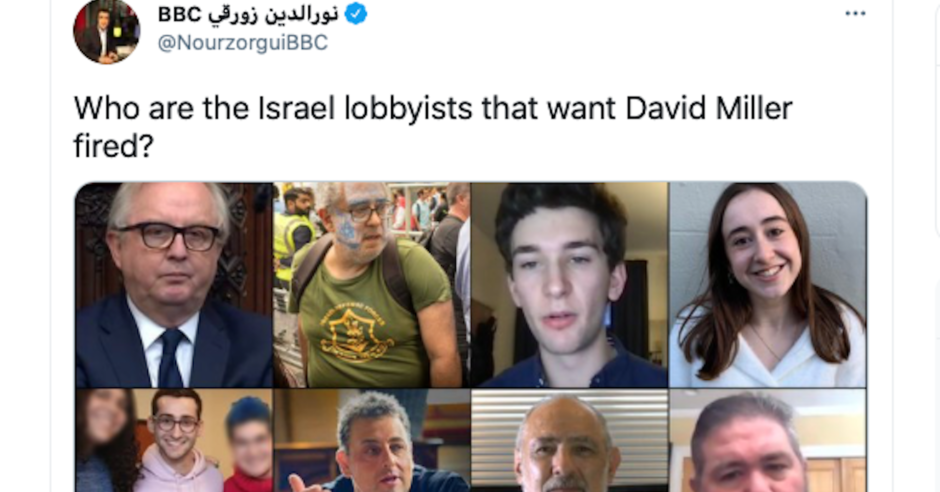 A BBC journalist has shared an article on Twitter which has defended Prof. David Miller over recent inflammatory comments that he has made.
The article shared by Nour Eddine Zorgui, titled "Who are the Israel lobbyists that want David Miller fired?" referred to Zionism as "Israel's racist ideology".
The article was published by The Electronic Intifada, an online news outlet which has also previously attacked Campaign Against Antisemitism.
We have written to the BBC regarding disciplinary action against the journalist.
This is not BBC Arabic's first foray into controversy relating to Jews.
Prof. Miller, a Professor of Political Sociology, is a conspiracy theorist with a history of controversy relating to Jewish students, and the letter was prompted by his latest outburst, when he asserted that "Zionism is racism", declared his objective "to end Zionism as a functioning ideology of the world" and accused the Bristol University Jewish Society of being part of a worldwide Zionist conspiracy, adding that it is "fundamental to Zionism to encourage Islamophobia and anti-Arab racism". At the same online event, Prof. Miller also observed that the Jewish Society and the Union of Jewish Students are Zionist, thereby implying that Jewish students (and the wider Jewish community) inherently "encourage Islamophobia and anti-Arab racism".
He also portrayed the International Definition of Antisemitism as an attack on free speech and accused the Israeli Government of engaging in an "all-out attack" on the global Left as part of an "attempt by the Israelis to impose their will all over the world". In comments reminiscent of the darkest years of the United Nations, Prof. Miller insisted that "Zionism is racism" and asked how "we defeat the ideology of Zionism in practice", "how is Zionism ended" and about the way "to end Zionism as a functioning ideology of the world".
Campaign Against Antisemitism's Antisemitism Barometer 2020 revealed that two thirds of British Jews are deeply concerned by the BBC's coverage of matters of Jewish concern, and 55% by its handling of antisemitism complaints.
Campaign Against Antisemitism monitors traditional media and regularly holds outlets to account. If members of the public are concerned about reportage in the media, they should contact us at [email protected].