CAA launches new antisemitism teachers' guide for non-denominational schools, in addition to existing guides endorsed by BBC Teach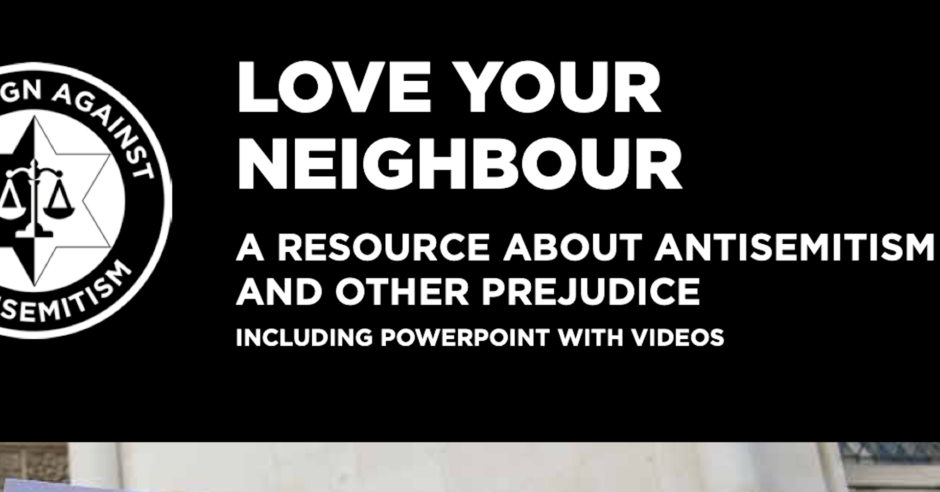 Campaign Against Antisemitism has published a new teachers' guide on antisemitism for non-denominational schools, to complement our existing guides designed for Church of England and Catholic Schools which have been endorsed by BBC Teach.
The new guide, Love Your Neighbour, is, like the other two guides, intended for use with an accompanying student-friendly PowerPoint presentation, which is also available on our website and through BBC Teach.
Our existing guides – Love Thy Neighbour, designed specifically for Church of England schools, and Love Your Neighbour, for Catholic schools – have also been updated to cover new cultural developments and manifestations of anti-Jewish racism, including with reference to the social media platform TikTok, Black Lives Matter and the antisemitic grime artist Wiley.
These guides, like so many of our projects, represent the hard work of our dedicated expert volunteers, who have poured their wealth of experience in education and teaching antisemitism to young people into these guides.
Binyomin Gilbert, Programme Manager at Campaign Against Antisemitism, said: "We are extremely proud of our teachers' guides, which, thanks to the efforts of our tireless volunteers, have enabled countless schoolchildren of all ages to learn about antisemitism from their own teachers. These guides provide teachers with accessible resources to teach a complex topic and satisfy important requirements of the national curriculum. Following the success of our guides in the Church of England and Catholic school systems, we are delighted to launch our non-denominational guide for wider use in schools across the country. We continue to pursue innovative ways to discharge our mandate to educate society, including our youth, about the dangers of antisemitism and what they can do to stand up against it."